This £5 serum is bought every 3 seconds – and you need it in your skincare stash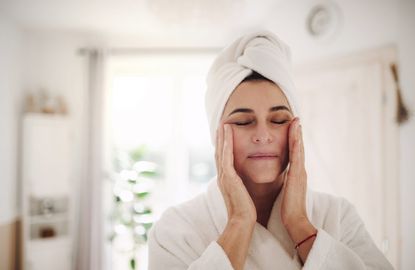 (Image credit: Getty)
Welcome to woman&home'sonline shoppingguides, where we revealwhere to buythe most popular and top-rated products. This piece is about The Ordinary's mega-hyped serum, but you may also be interested in our edits ofcomfortable non wired bras (opens in new tab), thisL'Oreal offer on the cult serum that sells every minute (opens in new tab), and the perfectMarks & Spencer jeans for post-lockdown life (opens in new tab).
Contrary to popular belief, you don't have to shell out a fortune on pricey skincare products to achieve a perfect complexion.
The Ordinary is a no fuss, gimmick-free skincare brand that provides all of the powerhouse ingredients needed to achieve your skin's optimum state, at a seriously low price point.
With influencers, skin experts and beauty pros backing The Ordinary's rise to stardom in the skincare world, it's no surprise that one product in particular sells one every three seconds.
Yep, the simple but seriously effective brand's combination of niacinamide and Zinc flies off the shelves every day and is a saving grace elixir for millions around the world.
What does niacinamide do?
Niacinamide, also known as vitamin B3, is a must-have ingredient when it comes to your regime.
The topical vitamin helps to decongest skin and reduce the appearance of redness, blemishes and acne.
It's also great for regulating the oiliness of the skin and has been shown to strengthen the skin's barrier function, helping to prevent water-loss from dehydrated complexions.
All in all, it's a vital addition to the lotions and potions in your skincare collection and can be used alongside the likes of hyaluronic acid, retinol and glycolic acid.
Niacinamide 10% + Zinc 1%, £5.30, LookFantastic (opens in new tab)
SHOP NOW:Niacinamide 10% + Zinc 1%, £5.30, LookFantastic (opens in new tab)
It's not recommended to use niacinamide with vitamin C products and you should make sure you're clued up on what skincare ingredients you can mix together to avoid damaging the skin.
The Ordinary's 10% blend of the stuff combined with 1% of Zinc is a perfect purchase for those looking to benefit their face in a multitude of ways for a bargain price.
It's had loads of rave reviews from impressed shoppers too.
'I love this product! I've struggled with horrible acne during lockdown so tried this and it has made such a huge difference! It has kept my skin clear and I have an overall glow that wasn't there before. I've already purchased my second bottle for when this one runs out,' one wrote, dubbing it their 'new essential'.
'Such a lightweight formula that spreads easily with very little. Makes my skin texture very smooth and quickly reduced discolouration. Obviously takes a few days to notice the difference as with any new skincare but use twice a day after cleansing before moisturiser and it works a treat,' penned another.