L'Oreal Paris' cult serum sells every minute and it's almost 50% off on Amazon
The wait is over!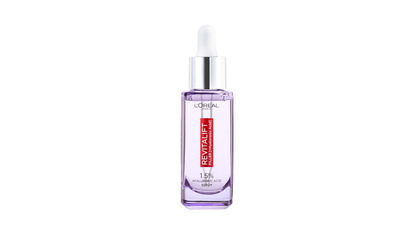 A popular L'Oreal Paris serum made its way across the pond for the first time a few months ago - and now it's on sale!
The Revitalift Filler 1.5% Hyaluronic Acid Serum - which sells every minute in the US finally launched in the UK back in February.
So what's the secret behind this best-selling product?
Hyaluronic acid (opens in new tab).
That's because this L'Oreal product contains not one but two different types.
Hyaluronic acid can attract up to 1,000 times its weight in water, which helps to keep moisture in the skin - keeping it hydrated and glowing. This also help to reduce signs of dryness and dehydration.
It's made up of macromolecules which smooth the skin, as well as micro molecules which are able to penetrate deeper levels of skin, to give a hydration boost.
BUY NOW: Revitalift Filler 1.5% Hyaluronic Acid Serum, Now £14.15, Was £24.99, Amazon (opens in new tab)
L'Oreal Paris serum can be used both morning and night, but because hyaluronic acid is a humectant (which means it draws moisture from its surroundings) it's best applied to damp skin, straight after cleaning, otherwise it might dry skin out.
But what puts this product above others on the high street is its concentration of hyaluronic acid (1.5%) - which is higher than most everyday products.
It's also enough to help with reducing fine, dehydration lines - this can be seen in just six weeks.
And, if the reviews are anything to go by, the product certainly won't disappoint.
One happy customer commented, 'This serum is the best serum I have ever had. My friend had used three bottles of this serum and recommended me to use it. The texture is good.'
Considering how popular this product is in the US, we're guessing it's likely to fly off the shelves here, too.
So best snap one up quickly, to avoid disappointment.
Lizzie Thomson is a regular contributor to woman&home, and also contributes to Metro.co.uk, Ideal Home, Culture Trip, and Evening Standard, covering all things lifestyle.