Jennifer Coolidge's new curtain bangs are the epitome of iconic
Jennifer, who is having something of a renaissance, just debuted a new bangs hairstyle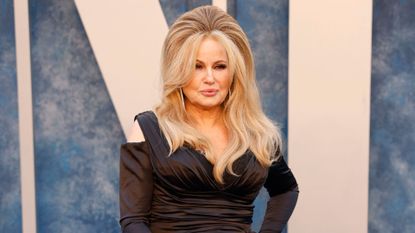 (Image credit: Getty Images)
Jennifer Coolidge (aka, Queen of Everything) recently debuted a new bangs hairstyle - and it's so good, we can't look away.
Jennifer Coolidge is always impressing us with her incredible beauty and fashion looks. After her most recent stints on hit shows like White Lotus, as well as movies like Shotgun Wedding, fans can't seem to get enough of the hilarious celebrity - so when she posts a picture of a new hairdo, all eyes are on her.
Everyone is talking about her newest hairstyle - a trendy, yet timeless take on a curtain bangs style, which has been on the rise in popularity since 2020.
Jennifer has been rocking a bit of a '60s, Brigette Bardot hairstyle for a few years, but her bangs really became pronounced in the above Instagram photo, with her front fringe pieces styled to perfection.
We're also obsessed with the way she teases the crown of her head for some extra volume, which of course only adds to those vintage, blonde bombshell vibes she's going for.
Bangs hairstyles are undoubtedly uber popular, with Anne Hathaway's waterfall bangs and Julia Roberts's hair transformation providing inspiration - and we're loving that Jennifer took a more subtle approach to the styling technique.
"The thing that I like most about curtain bangs is that they can be tweaked to suit everybody—they can be done on any face shape," Fekkai stylist Elidona Pjetraj told woman&home. "This is because you can style them in so many ways: straight, waves, natural shape, with a ponytail hairstyle or pinned back."
In order to style curtain bangs, we'd recommend using a tool like the Revlon One-Step Hairdryer ($60).
Plus, a fringe (regardless of length) is a great way to freshen up your haircut if you're feeling a bit blah about your hairstyle - and there's no better time of year to treat yourself to a salon appointment than summertime.
In her Instagram video, Jennifer delivered some exciting news to fans: she will be visiting Sydney, Australia this summer to talk to fans of The White Lotus alongside the director of the show, Mike White. The tour, which will take place on June 10, will be held at the Aware Super Theater, where the pair will discuss how White Lotus came to be, plus what's potentially in store for the show's future. Mike has already announced that the third season will be filmed in Thailand, but hopefully, there will be some mention of what's to come for season 3.
Madeline Merinuk is woman&home's US lifestyle news writer. She covers celebrity, entertainment, fashion, and beauty news but is also obsessed with internet trends - you can find her reciting trending TikTok sounds out loud at any given time.
After winning multiple student journalism awards for her investigative work, she graduated from Hofstra University in 2021 with a B.A. in Journalism. After graduating, she worked at today.com, the digital site for the Today Show, where she wrote pop culture news and interviewed big-name personalities like Emily Ratajkowski, Haley Lu Richardson, Emma Corrin, and more.
Her personal interests, in no particular order, are: cheese, Joni Mitchell, reading, hot yoga, traveling, having multiple chapsticks in every handbag at all times, and dancing to ABBA songs as if she were in the Mamma Mia movies.