Julia Roberts' big hair transformation is majorly inspiring us to get this haircut
Julia Roberts' hair transformation is giving us serious bang inspiration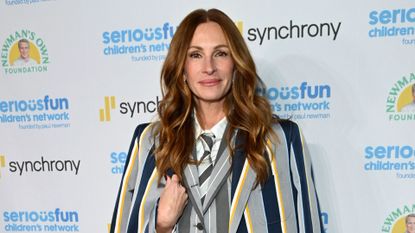 (Image credit: Getty Images)
Julia Roberts has always been known for her amazing, long locks - but her recent hair transformation just might be the best one she's ever done.
Every once in a while, it's good to switch up your hair - it makes you feel like a new person (even if you're Lisa Rinna, who swapped her trademark shaggy bob for a controversial bowl cut.) Julia Roberts recently took this principle into action and debuted a brand-new hairstyle, and we have to say, it's insanely chic.
Recently, on Instagram, Julia posted a pic of her new 'do: a super stylish fringe. If you've been looking to get bangs, let Julia be your inspiration.
Even though, of course, Julia looks great no matter what her hairstyle is, this bangs style certainly elevates her every day look. She first debuted the hair at a Watches and Wonders event in Geneva, Switzerland - and the look is making us want to cut our own hair ASAP. Obviously, we advice against this and suggest reaching out to your most trusted hair stylist to get the job done - you don't want a Florence Pugh in A Good Person situation on your hands.
At the event, the actress was celebrating her partnership with luxury jewelry brand Chopard, where she also joined a panel discussion to talk about sustainability.
Julia consulted her tried-and-true hair guy, Serge Normant, who has done her hair in the past for this new look. "❤️new hair cut!" he captioned his post that revealed Julia's new style.
Throughout the trip, she had some various outfits that we've had our eye on, too. She wore a super chic, light grey pantsuit one night, which featured a tailored blazer and a super trendy (but not cringey) matching vest.
She also wore a stunning, long-sleeved black dress, styled by Elizabeth Stewart (who has been working with Julia for years!). She paired the long black dress with a beaded, turquoise necklace and a matching turquoise ring, both by her brand partner, Chopard - giving us major spring outfit inspiration, as clearly she looks amazing in any dress.
Elizabeth captioned her post of Julia, "@sergenormant banging out bangs in Geneva with @juliaroberts who is wearing a glorious necklace and ring by @chopard."
Other people loved her look, too. "I love it. She looks great!" someone commented on the post. Another said, "She's looks like a rockstar, so pretty!"
We couldn't agree more.
Highbrow Hippie, who colored Julia's hair, also shared some insight as to how she perfected this look for the star.
"With any makeover, one knows the hair shape is paramount, and a good rule of thumb is to paint to the shape and compliment what is done once the cut is established," they said on their Instagram. "And, if a fringe is a part of the plan, the most important color approach is to make sure it has a balanced amount of dimension to give it movement."
Madeline Merinuk is woman&home's US lifestyle news writer. She covers celebrity, entertainment, fashion, and beauty news but is also obsessed with internet trends - you can find her reciting trending TikTok sounds out loud at any given time.
After winning multiple student journalism awards for her investigative work, she graduated from Hofstra University in 2021 with a B.A. in Journalism. After graduating, she worked at today.com, the digital site for the Today Show, where she wrote pop culture news and interviewed big-name personalities like Emily Ratajkowski, Haley Lu Richardson, Emma Corrin, and more.
Her personal interests, in no particular order, are: cheese, Joni Mitchell, reading, hot yoga, traveling, having multiple chapsticks in every handbag at all times, and dancing to ABBA songs as if she were in the Mamma Mia movies.