See Jennifer Coolidge sing in the trailer for her hilarious new movie, Shotgun Wedding
Jennifer Coolidge plays the mother of Josh Duhamel in this upcoming film - and she's funny as ever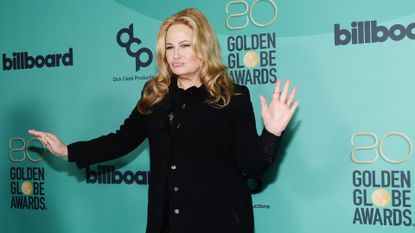 (Image credit: Getty Images)
woman&home newsletter
Sign up to our free daily email for the latest royal and entertainment news, interesting opinion, expert advice on styling and beauty trends, and no-nonsense guides to the health and wellness questions you want answered.
Thank you for signing up to . You will receive a verification email shortly.
There was a problem. Please refresh the page and try again.
In a new trailer for Shotgun Wedding, we see Jennifer Coolidge have a go at a talent we've rarely seen of her in the past: singing.
Jennifer Coolidge, who fans are saying is having something of a renaissance these days (although we've always believed she was top-tier), will be starring in the new movie Shotgun Wedding, poised to air on January 27 on Amazon Prime Video. The movie is about a couple played by rom-com natives Josh Duhamel and Jennifer Lopez who gather their family and friends for their picture-perfect destination wedding, and Jen is set to play the mom of Josh's character, Carol - and she perfectly fits cliche "monster-in-law" trope. If we believe anyone in Hollywood could perfectly hit the nail on the head playing such a character, it's definitely Ms. Coolidge herself.
At the very beginning of the trailer, we see Jennifer Coolidge, who has now reached iconic status, dressed in quite an eccentric outfit, complete with a large, floppy hat and a frilly, floral-print dress. And, in what is quite the entertaining opening to a trailer, she starts on an amusing rendition of the song "I'll Be" by Edwin McCain.
But this isn't the first time Coolidge has sung in front of the camera. On an episode of the FOX hit show Glee, Coolidge plays the mother of Brittany S. Pierce, where she sings "I'm So Excited" by The Pointer Sisters along with Gloria Estefan and other stars from the cast - which, obviously, is equally hilarious as her singing stint in this trailer.
As the wedding preparations for Darcy and Tom (Jennifer Lopez and Josh Duhamel, respectively) get underway, the couple begins to get cold feet. Then, suddenly, the whole family is taken hostage, and Tom and Darcy are forced to put their teamwork skills and love to the test in order to save everyone.
Although the plot of the movie is gripping enough, Jennifer Coolidge completely steals the show in the trailer, not only because of her amusing "I'll Be" cover, but also because of the plethora of one-liners she delivers in true JCool fashion as well.
Jennifer, who recently won a Golden Globe on Tuesday night in the best supporting actress in a limited series/anthology category for her iconic role as Tanya in The White Lotus, opens the trailer with a funny example of her character's overbearing behavior. "I've been looking forward to this moment ever since baby Tommy was cut out of my abdomen!" she says to Darcy (Lopez).
The trailer also reveals a clip of Coolidge firing off what appears to be an assault rifle, hopefully in order to rescue the wedding party - and, of course, while wearing a fabulous outfit. We have no doubt our queen will save the day.
Madeline Merinuk is woman&home's US lifestyle news writer. She covers celebrity, entertainment, fashion, and beauty news but is also obsessed with internet trends - you can find her reciting trending TikTok sounds out loud at any given time.
After winning multiple student journalism awards for her investigative work, she graduated from Hofstra University in 2021 with a B.A. in Journalism. After graduating, she worked at today.com, the digital site for the Today Show, where she wrote pop culture news and interviewed big-name personalities like Emily Ratajkowski, Haley Lu Richardson, Emma Corrin, and more.
Her personal interests, in no particular order, are: cheese, Joni Mitchell, reading, hot yoga, traveling, having multiple chapsticks in every handbag at all times, and dancing to ABBA songs as if she were in the Mamma Mia movies.