How to cut men's hair at home - you asked and J-Lo's hairdresser answered
'How to cut men's hair at home' was the most Googled beauty question in 2020.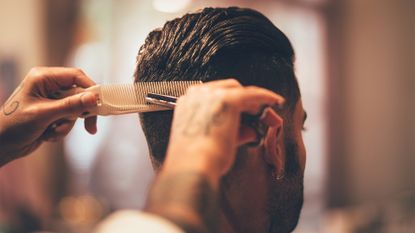 (Image credit: GettyImages-915640558/wundervisuals/Getty Images)
woman&home newsletter
Sign up to our free daily email for the latest royal and entertainment news, interesting opinion, expert advice on styling and beauty trends, and no-nonsense guides to the health and wellness questions you want answered.
Thank you for signing up to . You will receive a verification email shortly.
There was a problem. Please refresh the page and try again.
Google has just revealed that 'how to cut men's hair at home' was the most searched beauty question of 2020.
Forget all those juicy skincare ingredients like hyaluronic acid (opens in new tab) or vitamin C (opens in new tab), it was the boys who stole the show this year.
The beauty landscape has certainly changed in 2020. With salons and hairdressers having spent much of the year closed due to Covid-19 (opens in new tab) safety concerns, we've taken matters into our own hands.
So it comes as no surprise that at-home beauty solutions have been the focus of our Google searches. As well as devouring skincare tutorials, it seems we had a lot of hair questions - from how to give yourself a trim (opens in new tab), to how to highlight your hair at home (opens in new tab)and do hair plopping for those of us blessed with curls.
All in all, we have a new-found appreciation for how skilled our hairdresser is. Thankfully we also have this handy tutorial from Chris Appleton (opens in new tab), hairdresser to J-Lo (opens in new tab)and Kim Kardashian (opens in new tab), to help us with the finer points of how to cut our other half's hair at home.
To cut men's hair at home successfully, Appleton recommends the following:
Step 1: Invest in the right kit
Clippers, actioning clips, scissors and comb are musts.
Step 2: Section the hair out so you know what's going to be short and longer
"Take a section from the temple area and follow it through to the bone at the back of the head. Clip to one side."
Step 3: Choose a longer clipper head
"Just before you start cutting make sure you go for a head size that's longer than you're used to. You can always go bit shorter afterwards but if it's your first time you want to have room to play with."
Step 4: Start at the front above the ear and work to that back bone
"Always start at the front by the ear and take the clippers up to the top of the section. When you get to the top, make sure you get a flicking action with your wrist. Follow that all the way to the back of the head. Do the same on the opposite side."
Step 5: How to fade out your hair
"Create a fade using a shorter head on the clipper. Follow the same guide line as before but only take the clippers half way up the section and flick your wrist."
Step 6: Take out the clips and blend the top of your hair into the lower section
"Wet the top bit down with a little water. Take a section on the side and cut it so it blends in with the shortest hair on this area."
Step 7: How to cut the top and fringe
"Imagine a half circle shape on the top of the head. Cut to the desired length over the half moon and move from the back of the head to the front. Pull the fringe backwards up on itself. Then when you cut it, you create a bit more length at the front."
Tip: "Go in longer than you want. You can always go in after to sharpen it up and go in a bit shorter and always follow that guideline."
Fiona Embleton is a beauty writer who is now Acting Beauty Editor at Stylist. She is obsessed with Isabel Marant and cats.