This Blockbuster eyeshadow palette pays homage to the 90's — and it might just be our favorite nostalgic beauty item yet
An iconic nod to the VHS-renting days of yore, the newly-launched palette features 12 vibrant matte shades, each named after film genres you'd see in the store.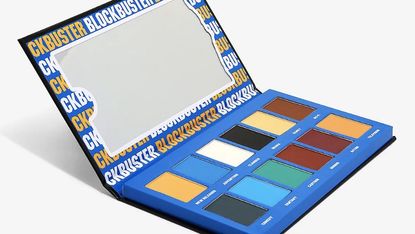 (Image credit: Hot Topic)
The best eyeshadow palettes leverage quality, functionality, whimsical color story, and more recently, creative design theme: an arcane yet important element in makeup innovation.
Today's cult-status eyeshadows exceed formula, as many brands now underscore notable cultural phenomena in their messaging to win the hearts (and hard-earned cash) of shoppers. Look at the sold-out Polly Pocket palette (opens in new tab) by Hot Topic, for instance. Both nostalgic and playful, this pastel makeup novelty harnesses the universal appeal of Polly Pocket, the greater toy collection, and her fictional world: all of which exist in a bygone era when life seemed simple.
So it should come as no surprise that the same retailer, which ushered in unique fashion aesthetics like normcore, scumbro, and goth, just released a Blockbuster-themed eyeshadow palette (opens in new tab). The palette captures 1990's zeitgeist in its glory — particularly our affinity for renting blue-and-yellow VHS tapes. It's currently available for purchase online at hottopic.com and in stores, retailing for $13.52 instead of $16.90 today only.
Blockbuster Eyeshadow Palette
Specifications
Price: Now $11.83, typically $16.90
Shade No.: 12
Key Features: Cruelty Free
The palette's outer packaging resembles a literal Blockbuster rental tape down to the granular details, a thoughtful spin on the classic cassette turned historical relic. Inside features 12 vibrant shades in blue, yellow, white, black, green, and neutral hues, each named after the video rental chain's genre-specific aisles: New Releases, Adventure, Classics, Drama, Family, Sci-Fi, Comedy, Fantasy, Cartoon, Horror, Action, and Television.
The Blockbuster palette is ideal for those who have penchants for quirky collector items, memorabilia, and surprisingly functional tchotchkes. At under $20, it's an affordable yet versatile option that can be used in conjunction with additional palettes. To get the most out of this buy, we recommend mixing the palette's colors with a wide variety of pigments, from nude-toned to fuschia-inspired and everything in between.
If you're big on blendability, however, we suggest investing in a palette better suited for long-term wear and use, like the Bobbi Brown Real Nudes: a favorite that's earned our cannot-live-without stamp of approval.
Shop Now
Dominique worked as a shopping writer at Woman & Home and while with the brand she covered products, sales and deals, and market news across categories. Before joining the team, she penned stories as an editorial fellow at Insider Reviews, the affiliate commerce team at Insider Inc./Business Insider. The bespectacled NJ transplant specializes in commerce journalism, women's lifestyle content, and hoarding makeup—much to her mother's dismay.