Bobbi Brown Real Nudes will make you want to wear a full face of make-up again
Bobbi Brown Real Nudes is our Autumn beauty fantasy come true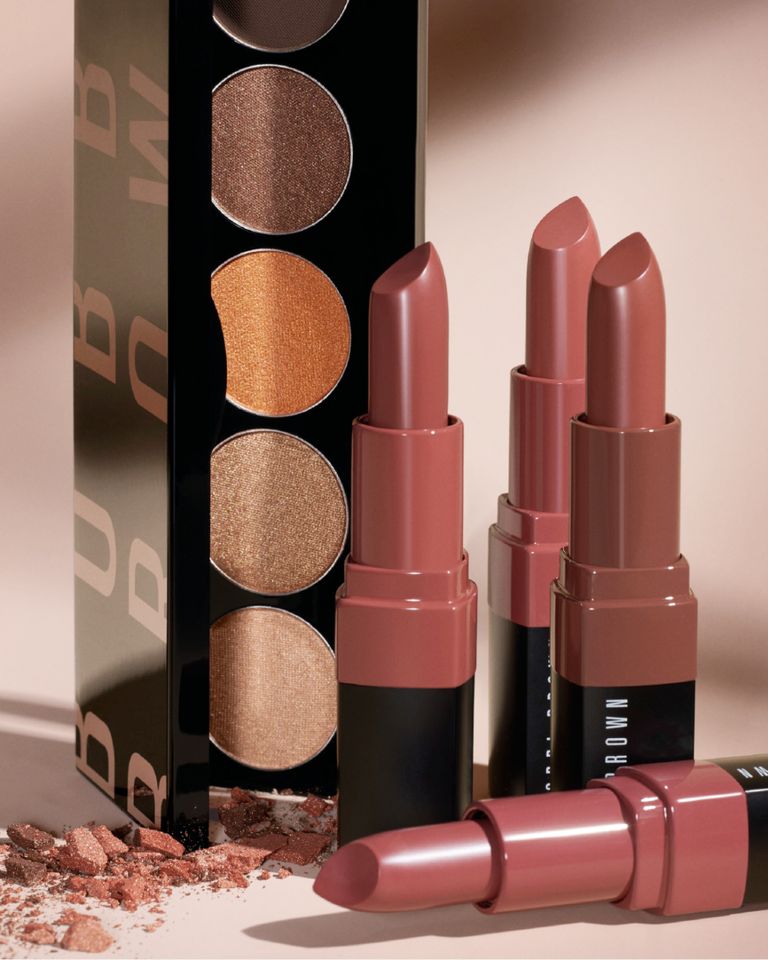 As beauty brands go you can always count on Bobbi Brown to read the collective mood.
Currently I'd say that mood is somewhere between 'my god it's cold', 'what month is it?' and a simple, succinct 'meh'. Yes the year is disappearing in front of our eyes. No, we probably can't jet off for some last-ditch sunshine before the slushy months are upon us.But all is not lost - here comes Bobbi Brown Real Nudes, a collection of creamy, toasty autumnal make-up joy to warm your cockles.
The AW20 range from the brand that always nails the natural make-up look is a masterclass in grown-up glamour. In short: You'll want everything.
It includes 10 newnude lipstick shades in the moisturising Crushed Lip Color range, all designed to suit a variety of skin tones.
For eyes we get three pick and mix palettes with a similar focus on inclusivity. Each contains five shadows in a mixture of satin and matte finishes with pink, beige, caramel and chocolate undertones.
The shades are flattering, textures blendable and combinations wearable. So wearable in fact that they might just break you out of that 'can't be bothered' 2020 beauty funk. I'm speaking from experience here.
I type this wearing Crushed Lip Colour in Italian Rose, a beautiful pink with brown undertones. And after months of working in 'owt but a slick of balm it feels like a treat to be coated in properly-pigmented lippie.
There's nothing wrong with going make-up free when you fancy it. But there's also plenty right with a glamorous pick-me-up as the nights draw in.
I think a lot of us could use one of those right now.
What's in the collection?
Bobbi Brown Real Nudes Crushed Lip Color
SHOP NOW: Bobbi Brown Crushed Lip Color in Brownie, £22.05, Johnlewis.com
SHOP NOW: Bobbi Brown Crushed Lip Colour in Blondie Pink, £22.05, Johnlewis.com
Doing away with the offensive notion that nude means pink only, this collection was tested on real women to create a spectrum of natural-looking lipsticks. The formula is enhanced with beeswax, Vitamin E and C and comes in ten shades. Blush, Buff, Sazan Nude, Blondie Pink, Brownie, Blue Raspberry, Italian Rose, Cocoa, Rich Cocoa and Dark Chocolate.
Bobbi Brown Real Nude Eye Shadow Palettes
SHOP NOW: Bobbi Brown Real Nude Eyeshadow Palette in Blush Nude, £30.60, Johnlewis.com
SHOP NOW: Bobbi Brown Real Nudes Eyeshadow Palette in Golden Nudes, £30.60, Johnlewis.com
It's rare to find a palette lacking that one duff shade you'll never use - let alone three - but here we go! Bobbi Brown say these have been, "developed based on tones naturally found on eyelids." Which must be the secret to ensuring every shade is a corker.
The Blush Nudes work well on my Celtic complexion but everyone will find shades to flatter between amongst the Blush or deeper Stonewashed Nudes and Golden Nudes.
As woman&home's Senior Beauty Editor, Fiona Mckim has tried more beauty products than she's had hot dinners and nothing makes her happier than raving about a brilliant beauty find on womanandhome.com or her instagram grid (@fionamckim if you like hair dye experiments and cute shih-tzus)

Fiona joined woman&home as Assistant Beauty Editor in 2013, working under legend Jo GB, who taught her everything she needed to know about the industry (clue: learn about ingredients and employ extreme cynicism).
In a previous life, Fiona studied journalism back home in bonnie Scotland and honed her skills as a features writer at publications including Junior and Prima Baby, with a brief and terrifying stint on the showbiz gossip pages of a tabloid newspaper in between. She's a skincare fanatic who can't resist adding an extra step to her routine if it's all the rage in Japan, loves fragrance, has fun with makeup and never turns down the chance to test a new hair tool. Basically, she loves it all.

When not slathering herself in self tan or squinting at a tiny ingredients list on a moisturiser, you'll probably find Fiona enjoying something to do with food - cooking it, eating it, cajoling her friends into trekking across London to try a hyped pop-up in a dirty car park.
Come to think of it, the hot dinners and beauty products are probably about even.