Adele relies on this Charlotte Tilbury product on natural days to get her 'just walked off the beach' glow
Adele revealed the Charlotte Tilbury product she can't live without when it comes to her no-make-up make-up look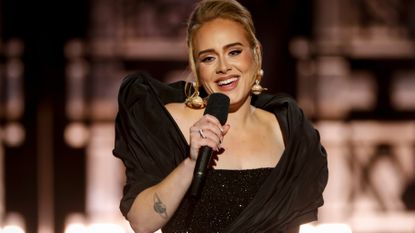 (Image credit: Photo by Cliff Lipson/CBS via Getty Images)
Adele has shared a rare insight into her beauty routine, revealing her Charlotte Tilbury must-have for nailing the ultimate no-make-up make-up look, discussing her go-to products that she uses on days she wants to look like she's "just walked off the beach".
Adele, who has been wowing the beauty world with her new signature blow-dried hair style for the '30' album era, sat down with YouTube sensation Nikki de Jager to take part in her iconic "Power of Make-Up" series.
As she appeared on the NikkieTutorials channel to have one half of her face glammed-up and the other left bare, Adele delved into the details of her own beauty regime and disclosed some must-hear details about her brows, her make-up routine and her nails—as well as her "drab" real name and her ex husband's "mindnumbing" guilty pleasure (opens in new tab).
While Adele no doubt has access to the most sought-after make-up professionals in the world as well as a stash of the best beauty products (opens in new tab) the industry has to offer, she admits that she is far from a dab hand at doing her own make-up.
"I can't do lip liner to save my life," she laughed.
"They just get bigger and bigger if I do it myself. I look ridiculous. I look like I'm drunk, crawling in from the night before."
And the Tottenham-born Grammy winner isn't one for a full face of glam every day.
Adele explained that a super natural, glowing and bronzed look is her staple look—and there's one particular Charlotte Tilbury product she relies on to give her complexion that lit-from-within radiance.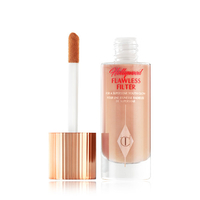 (opens in new tab)
Hollywood Flawless Filter, £34 (opens in new tab) ($44 (opens in new tab)) | Charlotte Tilbury
Loved by Adele herself, the Charlotte Tilbury Hollywood Flawless Filter is the ultimate shortcut to illuminated skin. Perfect for use as a base beneath your make-up, on its own or for finishing glowing touches.
Describing her off-duty beauty for days away from the glitz of work, Adele told Nikkie, "If I have my hair out natural it's quite wavy and curly, so I'll do that. I'll literally just put on Charlotte Tilbury [Hollywood Flawless Filter], that glowy thing.
"Then I put a really nice bronze highlight pretty much all over my face. I look like I just walked off the beach."
She also chatted about the beauty skill she nailed during lockdown last year, confessing she no longer heads to the salon to achieve the perfect brows.
"I actually learned how to dye my own brows in the pandemic. I used to go every week because I really am fair," the busy mom-of-one, who shares nine-year-old son Angelo with ex Simon Konecki, said.
"One day I did a load of research, watched a YouTube video, ordered all the products on Amazon and I just do it once a week on my own now."
And it's brows that are Adele's essential when it comes to her appearance, along with her nails.
"A brow and a nail and you're ready to go.
"I love a brow. But also if I don't dye my brows, like these are dyed, I look like Voldemort," she joked with Nikkie.