Luxury London spa hotels worth splashing out on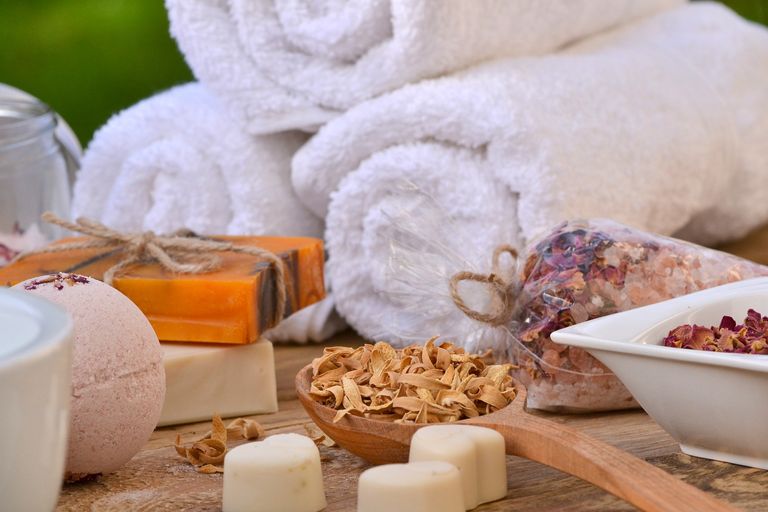 Looking for London spa hotels? From day spas to overnight breaks, you'll find wellness bliss at these gorgeous central London spas.
The fast pace of the city can soon get to any visitor, so spend a day or night in a central London spa. These are the best London spa hotels worth splashing the cash for.
Best London spa hotel for: When money is no object
Located in one of London's most exclusive hotels, The Bulgari Spa stays true to its luxurious name. With interior design hewn from onyx and Italian glass, this serene two-storey spa promises "the most advanced beauty, grooming and health-enhancing treatments available today" - but this level of opulence comes at a hefty price.
Treatments are five-star, and include entry to all areas of the spa - which is just as well, given that a 60-minute massage costs from £130. If you're looking for all-out sublime luxury, this is the place for you.
How much? The cheapest treatment we could find was a 30-minute foot massage for £70. The most expensive? A 24 carat gold facial, which costs £450 for 70 minutes.
More like this:The best spa hotels in ScotlandMore like this: Spa weekend recommendations: our pick of the best luxury spas
Best London spa hotel for: Modern luxury
With it's chic, minimal decor and soothing ambience, once you've arrived at Beauty & Melody's relaxing spa, you'll instantly forget the hectic London streets that reside above it.The interiors have an extra wow factor, considering that they come complete with specially commissioned Versace wall tiles.
Enjoy a rejuvenating treatment in one of the discreet treatment rooms, or relax in the ocean-themed spa, complete with sauna, steam room and jacuzzi.
How much? One of the specialist facial treatments on offer - such as theHyaluronic Smooth and Fill Facial - will set you back £95, while a massage is £75 for 50 minutes.
More like this: Our favourite theatre breaks in London
Best London spa hotel for: When you're feeling frazzled
Draped in white curtains, with meditation beds and minimal furniture, Agua is as much of a mental retreat as a physical one - perfect if you're craving calm. The treatment list is long and varied, with traditional rituals and a few holistic favourites such as reiki, Indian head massage and reflexology.
The Pyjama Package is designed to soothe troubled sleepers, with a calming organic facial and relaxing bespoke massage - plus strawberries and Champagne tucked away in the cosy 'slumber pods'.
How much? 80-minute Pyjama Package from £130.
Best London spa hotel for: Old-school glamour
The Dorchester Spa is positively dripping with 1930s Art Deco glamour - with a chandelier made of 72,000 real pacific pearls, nine treatment rooms, a manicure and pedicure salon, and midnight blue relaxation room.
Treatments are focused on nourishment, with wraps, facials, and massages inspired by techniques and rituals from all over the world. If you're in the mood to indulge, the Spatisserie serves light meals and afternoon tea - with food and spa packages available if you want to make a day of it.
How much? 60-minute Dorchester Swedish massage from £120; £170 for 90 minutes. Four-hour packages - including treatments, lunch and use of spa facilities - from £362 per person.
Best London spa hotel for: Fitness fans
This new members' health spa calls itself a 'luxury club for life' - an exclusive cocoon for the rich and famous - and those who can spare £150 for a day pass. Inside you'll find La Prairie spa treatments, Bodyism personal trainers, and bespoke beauty treatments by much-loved British spa brand ila.
The interior design is equally luxurious, with silk wallpaper, wood panelling, and a private gold changing room. Relax in a hydrotherapy pool, unwind with a mint-infused rain shower, then kick back in the spa lounge with butlers on hand.
How much? Book to 'stay and spa' for full access to the health club, 24-hour butler service throughout your stay, 60-minute treatment, and breakfast. £640 per night, for two guests.
Best London spa hotel for: Historic luxury
Tucked away in the cellar kitchens of this famous Victorian hotel, St Pancras Spa is inspired by its history, with original brick archways and beautifully-restored tile floors.
Cocooned in this subterranean hideaway, you'll find a treatment menu full of classic rituals: think hot stone and aromatherapy massages, repairing facials and full-body scrubs. These tried-and-tested favourites do the job perfectly.
How much? 60-minute 'Ultimate Aromatherapy Experience' massage from £105; 90 minutes from £150.
Best London spa hotel for: Natural remedies
The Berkley is slap-bang in the middle of London - next to Sloane Street and Hyde Park - but its spa feels like it's a hundred miles away. Bamford Haybarn is wholly inspired by the countryside, from the fresh lavender bouquets and organic lotions and potions, to the straw bales in the treatment rooms (yes, really).
The Haybarn's ethos is deep-rooted in natural remedies: rose extract lends its calming and nurturing qualities to massages, while geranium-infused moisturiser soothes after a full-body exfoliation. The Bamford Foot Massage is the ultimate balm for worn-out pins - a treat after travel or life in high heels.
How much? 60-minute deep tissue massage from £135; 90 minutes from £175.
Best London spa hotel for: Something a little different
On the banks of the Greenwich Peninsula, this characterful hotel spa draws influence from its historic location: exotic silks, mosaic tiles, and sumptuous rugs abound. The result is welcoming and luxurious, and its treatments are equally inviting.
Try the spa's signature Meridian Time Ritual - a restorative experience designed to soothe your body and mind. It begins with a gentle body brushing, a nourishing body wrap, then a heavenly scalp massage. A bespoke facial is the treatment's finale: if you're like us, you'll be sound asleep in no time.
How much? Meridian Time Ritual: £149 per person, 105 minutes.
Best London spa hotel for: Five-star holistic indulgence
Mandarin Oriental is synonymous with sleek Asian opulence - and The Spa doesn't disappoint. Everything inch of this indulgent hideaway is designed to soothe the body and soul, from the amethyst crystal steam rooms to the Zen colour therapy relaxation area. Treatments are lengthy (the shortest is 50 minutes) and holistically-inclined, and there's a separate sanitarium for female and male clients.
The Signature Spa Therapy treatment is just the kind of MOT your body deserves - with a full-body massage (developed in consultation with Chinese medicine experts), and nutrition and exercise guidance.
How much? Signature spa treatments from £240, lasting 1 hr 50 mins. 50-minute Aromatherapy Facial from £125.
Best London spa hotel for: Mindful luxury
"Corinthia London is quite simply the Next Generation of Spa," purrs the website of this five-star haven. It's a bold claim, but we're won over by Espa Life's blend of traditional treatments, holistic ethos, and forays into Mindfulness in its spa and fitness offerings. Restless sleepers should try the Mindful Sleep package, to encourage peaceful slumber.
As you would expect from the Corinthia, this is a beautifully-designed retreat with state-of-the-art sauna, steam room, ice fountain and vitality pool - to name but a few. Many of its packages are seasonal - for example Spring Essentials, which features a full-body scrub, massage, facial and manicure.
How much? Spring Essentials package £380 - including lunch, 3 hr 25 mins of treatments, and a glass of Champagne.
Best London spa for:natural ingredients
The Rosewood spa is renowned for its stunning spa facilities, but an exciting new addition to the experience is natural brandMaison Caulières. The French brand originated in theLoire Valley Châteaux over 250 years ago, where the Desforges de Caulières family cultivated sunflowers, rapeseed and linseed.
Now the brand has teamed up with Sense, A Rosewood Spa to create a range of massages that incorporate cold-pressed oils that are super nourishing for the skin, thanks to their high concentration of fatty acids.
While not strictly a hotel, this new London spa's stunning interiors earned its place in our edit. With decor dreamed up by the people behind London's sumptuous member's club Annabelle's, the complex offers a day spa, hair salon, restaurant and shop, with wellness treats on offer in abundance.Linnaean takes its name from the Swedish naturalist Carl Linnaeus, and there are nods to nature throughout the spa's areas. The menu is mainly plant-based, using seasonal ingredients, so you can enjoy a nourishing meal after your spa experience.
Facials are Linnaean's hero treatments, with a range of experts that have used their world-renownedexpertise to craft signature facials that will leave you glowing. Susanne Kaufmann's treatmentsdraw upon ancient methods from traditional Chinese medicine, whileDr Barbara Sturm has developed an extraordinary approach to achieving youthful and vibrant skin, using mesotherapy and ultrasound.
How much? Facials start at £64 for a Facial Discovery treatment by Susanne Kaufmann. Massage from £60 for 30 mins. Packages available on request.
Lottie is an NCTJ-trained journalist, an experienced travel writer and an expert in creating compelling digital content.
Lottie has been in the travel writing business for nearly a decade and has writing and photography bylines at The Telegraph, The Times, The Independent, the i and National Geographic Traveller. She's done broadcast work for BBC Radio 4 and have contributed to a number of guidebooks and coffee table titles during her career.