Ranked: the best European family holiday resorts recommended by mums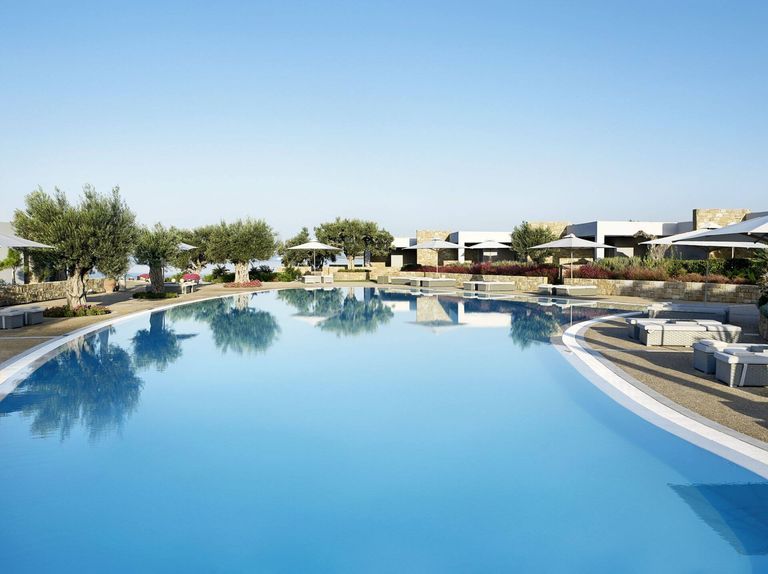 Over 120 mums on Facebook shared their recommendations for the best family holiday resorts. Here are the results.
Family holidays are where we make our best memories, but booking them can be a total nightmare with so much choice out there. Knowing which family holiday resorts to book, how to get the best price and what facilities to look for is something of a minefield for many.
"When I'm asked by my clients to find them a great family holiday I make sure the resort is child and family focused, with separate sleeping areas for the children, well equipped accommodation so that parents can pack less of the essentials and a child friendly splash pool," explains Becki of bookitbecki.com, who spends her time helping travellers find the best options for them.
More like this: The best family festivals for 2019
"[I usually look for places] within walking distance of a beach and resorts that offer flexible childcare options so parents can have some 'me time'."
But we can't all rely on someone else to search for and book our family holidays. So who's advice should you trust? Other mums, of course. On Facebook, 120 mums recently shared their top recommendations for the best all inclusive family resorts and hotels.
Here are top picks, counting down from eight to the most popular family holiday resort of all:
This Polynesian-themed resort is a fun getaway for the family. There's an onsite waterpark with slides and multiple pools, as well as learning labs and workshops that teach kids all about natural sciences and marine life. Rooms are in cabins or lodges, sleeping up to seven people and have a rustic feel with thatched roofs and natural woods throughout. They do discounts for large families as well as single parents, offering kids-go-free or 50% off based on the size of your group.
An affordable option for all, the Protur Safari Park has excellent family-friendly facilities. With all the usual bits like pools and villas and kids clubs, it's the sheer array of activities that got us at this hotel. You can try everything from archery to water polo to climbing, and kids can partake in t-shirt painting or mini discos.
With two themed villages, there's ample choice at the Aliarthon resort. Choose from the Ionian or Aegean villages, which both have incredible facilities for kids and families alike. Expect gorgeous villas and brilliant family-focused hotels, and in the Ionioan village there are activities like bowling, cycling, golf and even football.
With its own waterpark on site, there's no wonder this amazing family holiday resort was named one of the best in Europe. There are family rooms with a sliding partition so you can have privacy even when you go to bed, and some of them even have swim-up access. There's children's entertainment throughout the summer, and a spa for parents who need a spot of pampering.
The Ikos hotel brand have some excellent family holiday resorts (one of them is even in the top spot in this list), and Oceania in Halkidiki is no exception. With a kids club, crèche and football academy there's plenty to keep the kids entertained while mum and dad enjoy the Anne Semonin spa or simply lazing on the beach.
Halkidiki proved popular among the Facebook mums surveyed, so don't be put off just because it's not an idyllic island. Sani Resort covers over 1,000 acres of Halkidiki coastline and countryside and has a multitude of hotels and resorts within it. There are hotels specifically tailored for families, like Sani Beach.
You can book suites with multiple rooms or entire villas, and Sani Beach is, unsurprisingly, right on the sand, so you won't need to go far to get the kids in the water.
The luxury hotel rooms and villas at Martinhal have been designed with families in mind, and there's no coastline quite as spectacular as the Algarve – it was recently voted the best beach destination for the sixth year running, after all.
Base yourself here and you'll get a perfect mix of luxury and family-friendly fun. There's a kids club, tennis and football academies and even a baby concierge for new parents who need a break. No wonder it's so popular with Facebook's intrepid mums.
With a healthy lead, Ikos Olivia on mainland Greece was the most-recommended family holiday resort by mums on Facebook. The five-star resort is set on the gorgeous coast of the Halkidiki region in northern Greece and has wooed mums all over the UK.
It has 22 acres of landscaped gardens, four swimming pools and a private beach, and plenty for the kids. There's an activity club for all ages, one just for teens and a football-specific club should you have any serious fanatics in the family.
Rooms are bright and airy with blue notes throughout, complementing the azure oceans beyond, and two-bedroom bungalows are perfect for the family.
Lottie is an NCTJ-trained journalist, an experienced travel writer and an expert in creating compelling digital content.
Lottie has been in the travel writing business for nearly a decade and has writing and photography bylines at The Telegraph, The Times, The Independent, the i and National Geographic Traveller. She's done broadcast work for BBC Radio 4 and have contributed to a number of guidebooks and coffee table titles during her career.