Jennifer Aniston on her journey from heartbreak to contentment and just why she was so late to the Instagram party
Jennifer Aniston is an undeniable powerhouse—but she's also extremely relatable. These are her words of wisdom when it comes to life and love...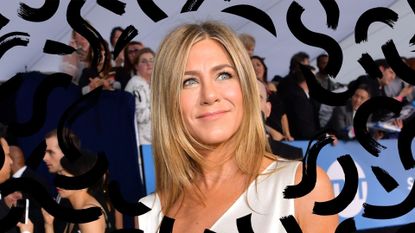 (Image credit: Future/Getty Images)
We shine a spotlight on powerful and inspiring women like Jennifer Aniston to tell you more about their daily lives and most relatable moments. Our in-depth profiles cover everything from how these women juggle work and play, to their most important relationships, and the pearls of wisdom they have to offer other women—with no detail spared.
---
Jennifer Aniston catapulted onto our TV screens back in 1994 as Rachel Green on Friends and has provided endless joy ever since with her clever quips and unmatchable warmth. Jennifer has always been a champion for women, candidly discussing the pressures women face when it comes to aging, relationships, and children. We take a look at the woman behind the headlines—and the sage advice she has to share.
As well as a great actor, Jen is an all-around trend-setter (who could disagree that Jennifer Aniston's outfits are a masterclass in effortless style?) and a record-breaker, thanks to the 'Rachel' being one of the most requested cuts of the '90s and beyond. But aesthetics is merely the tip of the iceberg when it comes to Jen. From her remarkable career to the highs and lows of marriage (and divorce) and the truth behind *those* too-good-to-be-true David Schwimmer rumors, let's dig a little deeper, shall we?
What is Jennifer Aniston starring in now?
Jennifer Aniston is currently starring in Apple TV+ series The Morning show alongside close pal Reese Witherspoon. The series offers an inside look into the modern workplace through the lens of two television hosts and has been described as "like therapy" for Jennifer, having spent her entire life in front of a camera.
Speaking to the LA Times (opens in new tab), she said, "That show was 20 years of therapy wrapped into 10 episodes. "There were times when I would read a scene and feel like a whole manhole cover was taken off my back." On why she found the critically acclaimed series "cathartic," Jennifer added, "Cathartic, yes, and also interesting for me to look at how I always have tried to normalize being fine and 'everything's great, you know, this is all normal,' and then there are moments when you have your private breakdown. "To actually look at it from an actor brain observing it and acknowledging it, I had to look at it as opposed to pretending it doesn't exist."
The Morning Show Season 2 recently launched on Apple TV+ and is currently unavailable to stream on any other platforms.
What is Jennifer Aniston's net worth?
Jennifer Aniston's estimated net worth is currently sitting at around $300 million. Not only is she one of the most famous and sought-after actors in Hollywood, but she's also a director, producer, and co-founder of the production company, Echo Films—which means she has several revenue streams.
During the first season of Friends, each main cast member took home $22,500 per episode. This was later boosted to $40,000 per episode in season two. As the popularity of Friends continued to rise, so did their salaries. And the cast ended up earning $750,000 per episode in seasons seven and eight and $1 million per episode in the final two seasons—making them the highest-paid actors of all time.
This worked at around a $90 million base salary, before taking into account royalties. Although Friends has been off our television screens since 2004, the cast still rakes in a huge amount of money for royalties as it continues to stream worldwide. It is thought each member of the cast can earn $10-20 million a year in royalties alone.
How old is Jennifer Aniston?
Jennifer Aniston arrived into the world on 11 February 1969, making her 52. She was born to Greek-born actor John Aniston and his wife Nancy Dow in the Sherman Oaks neighborhood of Los Angeles. Jennifer was just 25 years old when she filmed the Friends pilot, and some say she hasn't aged a bit since those fresh-faced days.
According to Jennifer, staying loyal to SPF, eating good food, and living a relaxed lifestyle are all key factors to her youthful complexion. "I do believe when you are eating sugar and bad food, your face, body, and energy levels will show you the results of that," she told The Times (opens in new tab).
In fact, she wishes she'd started taking care of herself from a younger age and is now "obsessed with skin health", with a strict skincare routine.
"I inherited good skin from my dad," she said. "But one thing I would have to say to my younger self is, 'Don't take that for granted,' because you do have to maintain that. It does have a shelf life."
Jennifer believes there needs to be a shift in the conversation surrounding the aging process. She recently told Allure (opens in new tab), "Very little offends me, but what I do think is becoming dated are things like, 'Oh, you look great for your age.' Because at a certain point, you should start to look like s**t. Because that's what that is implying."
Is Jennifer Aniston Greek?
Jennifer Aniston's father John Aniston was Greek and her grandfather, Louis Grieco, was from Italy—which means she has mixed heritage. She lived in Athens and Crete for a short time when she was just five years old, but only speaks "a little bit" of Greek. Her father was most famous for playing a Greek character on Days of Our Lives—a soap opera that became a huge part of Friends when Joey starred in the same series. Jennifer's Greek roots were actually honored in an episode of Friends when her character, Rachel Green, tried to save Chandler and Monica's wedding when it looked like Joey wouldn't make it for the ceremony.
Trying to find another celebrant to replace him, Rachel stumbled across a Greek Orthodox wedding between the "Anastasakis" and "Papasifakis" families. Anastasakis was the family name her father was given when he was born in Crete. He later changed it to Aniston when he migrated to the United States.
Does Jennifer Aniston have siblings?
Jennifer is the only child her parents John and Nancy had together, but she has two step-siblings. John Melick III is her step-brother from Nancy's first marriage to John T. 'Jack' Melick Jr and Alexander Aniston is her half-brother from her father's second marriage to Sherry Rooney.
Eilish Melick—the daughter of John recently revealed she was pregnant with her first child, making Jennifer a soon-to-be Great Aunt.
Does Jennifer Aniston have children?
Jennifer Aniston has never had children. But that hasn't stopped the incessant interest in her personal life and decision not to. Despite her well-published stance of finding the prospect "quite honestly, kind of frightening," Jennifer still felt the need to defend herself recently over the barrage of pregnancy rumors she has faced over the years.
Jennifer Aniston shut down pressure on women to have babies, saying, "We don't need to be married or mothers to be complete. We get to determine our own 'happily ever after' for ourselves. Yes, I may become a mother someday … But I'm not in pursuit of motherhood because I feel incomplete in some way, as our celebrity news culture would lead us all to believe.
"I resent being made to feel 'less than' because my body is changing and/or I had a burger for lunch and was photographed from a weird angle and therefore deemed one of two things: 'pregnant' or 'fat'."
Back in 2016, the Friends star penned an opinion piece begging people to stop with the questions, in which Jennifer Aniston responded to baby adoption rumors."The sheer amount of resources being spent right now by press trying to simply uncover whether or not I am pregnant (for the bajillionth time... but who's counting) points to the perpetuation of this notion that women are somehow incomplete, unsuccessful, or unhappy if they're not married with children," she wrote for the Huffington Post (opens in new tab).
"We get to decide for ourselves what is beautiful when it comes to our bodies. That decision is ours and ours alone. Let's make that decision for ourselves and for the young women in this world who look to us as examples." She recently praised therapy for helping her through the "tough stuff" that comes with fame.
When did Jennifer Aniston and Brad Pitt split up?
Just like Rachel's on-off and on-again relationship with Ross Geller in the hit sitcom, Jennifer's own love life has been a hot topic for decades. Let's face it, whoever Jennifer Aniston dates ends up in the spotlight, but perhaps her most notable celebrity relationship was her marriage to Brad Pitt. The showbiz couple went on their first date in 1998 after being set up by their managers.
After a year of trying to keep their romance under wraps, the pair went red-carpet official in September 1999 at the Emmy Awards. Just one year later the couple tied the knot in a Malibu wedding and Jennifer spoke publicly about them being in it for the long haul.
She said, "You know if there's ever an argument, it's not like you can go, 'Screw you, I'm outta here!' You're there for the long haul.
"It's a beautiful thing to actually realize that for the first time, to have that knowing. It takes the heat and the weight out of things." In 2001 Brad Pitt made a guest appearance in an episode of Friends—"The One with the Rumour"—and fans at the time loved seeing their two worlds collide.
Sadly just four years later the couple announced their separation with a moving statement. It read, "We would like to announce that after seven years together we have decided to formally separate. For those who follow these sorts of things, we would like to explain that our separation is not the result of any of the speculation reported by the tabloid media.
"This decision is the result of much thoughtful consideration. We happily remain committed and caring friends with great love and admiration for one another. We ask in advance for your kindness and sensitivity in the coming months."
At the time, Brad Pitt's alleged affair with Angelina Jolie—who he went on to marry in 2014—was blamed for the couple's split.
They met on the set of Mr and Mrs Smith in 2005, just months before Jennifer and Brad announced their split. Brad and Angelina—who have since split and are currently going through a divorce, with Brad reportedly "heartbroken and isolated" from his children—denied claims they hooked up while Brad and Jennifer were still married.
Despite this, Jennifer spoke openly about how hurtful it was to see him move on with Angelina so quickly. "There was stuff printed there that was definitely from a time when I was unaware that it was happening," she confessed. "I felt those details were a little inappropriate to discuss. That stuff about how she [Angelina] couldn't wait to get to work every day? That was really uncool."
Are Jennifer Aniston and Brad Pitt back together?
Despite their split and Brad's subsequent marriage to Angelina, Jennifer and Brad managed to remain amicable. "We're not in daily communication," she told the Hollywood Reporter (opens in new tab) in 2015. "But we wish nothing but wonderful things for each other. Nobody did anything wrong. You know what I mean? It was just, like, sometimes things [happen]. If the world only could just stop with the stupid, soap-opera bulls**t. There's no story."
But, fast forward to 2020 and there may be a story indeed. The pair have grown close again after Brad and Angelina announced their divorce in 2016, followed by Jennifer and her then-husband Justin Theroux revealing their plans to separate in 2018.
While it all just seemed like hearsay (and perhaps too good to be true) Brad and Jennifer delighted fans with a very cozy reunion at the 2020 SAG Awards. The former couple ran into each other on the red carpet and subsequently sent the internet into meltdown as body language experts claiming (opens in new tab) their reunion suggested "unfinished business" and "lingering chemistry and affection".
Ever since that very public display, the rumor mill has been in overdrive as to whether these two will rekindle their romance, with even Brad Pitt's mother "rooting" for him to re-marry Jennifer Aniston.
But Jen has denied the claims and said they're just friends. "Brad and I are buddies, we're friends," she told Howard Stern.
Who is Jennifer Aniston dating?
Jennifer Aniston has been back on the dating scene ever since splitting from her second husband, Justin Theroux, in 2018. Jennifer was most recently linked to Friends co-star David Schwimmer after it was revealed that the pair had a mutual crush on set.
The pair spent ten years together filming the hit sitcom, in which their two characters—Ross and Rachel—had their own turbulent love journey. But it wasn't until the Friends reunion—which aired earlier this year to celebrate the show's 25th anniversary—that the pair's secret chemistry off-screen was unveiled.
During an interview with host James Corden, David (who played Ross) confessed, "The first season I had a major crush on Jen. And I think we both, at some point, were crushing hard on each other," he continued. "But it was like two ships passing because one of us was always in a relationship, and we never crossed that boundary."
Jennifer stuck to the script on that and told Howard Stern, "We were in relationships, it was always never the right time, and it wouldn't have worked. The beauty of that was that whatever feelings we had we just literally channeled everything into Ross and Rachel," she continued. "And I think that's maybe why it resonated the way it did. But no, we never—on my life, and Courteney [Cox] and Lisa [Kudrow] would know and can vouch for me," she added.
Months later an insider told Closer (opens in new tab) that the pair had rekindled their spark following the reunion and were officially dating. "After the reunion, it became clear that reminiscing over the past had stirred up feelings for both of them and that chemistry they'd always had to bury was still there," the source claimed.
"They began texting immediately after filming and, just last month, David flew from his home in New York to see Jen in LA."
The source added, "They've been spending time at Jen's home, where she's cooked dinners in the evenings, and have enjoyed quality time together, chatting and laughing." Sadly David's rep poured cold water on the rumors.
---
More from woman&home:
---
When was Jennifer Aniston with Justin Theroux?
Jennifer and Justin started dating back in 2011 after working together on the set of Wanderlust. He went on to propose on her 41st birthday and the couple tied the knot in 2015. They announced their separation just two years later in 2017, with Justin denying any drama was to blame for their divorce.
"That's a narrative that is not true, for the most part," he told Esquire (opens in new tab). "People create narratives that make themselves feel better or simplify things for them. That whole 'This person likes rock 'n' roll, that person likes jazz. Of course!' That's just not the case. It's an oversimplification."
He continued, "Like it or not, we didn't have that dramatic split, and we love each other. I'm sincere when I say that I cherish our friendship. We can not be together and still bring each other joy and friendship. It would be a loss if we weren't in contact, for me personally."
While some may say Jennifer has had two failed marriages, the actor doesn't see it that way. "I don't feel a void. I really don't. My marriages, they've been very successful, in [my] personal opinion," she admitted. "And when they came to an end, it was a choice that was made because we chose to be happy, and sometimes happiness didn't exist within that arrangement anymore."
Which movies has Jennifer Aniston starred in?
It's safe to say Jennifer Aniston hasn't struggled in the acting department following her incredibly successful stint on Friends. She's starred in over 39 movies in the years and has scooped a Golden Globe Award, Primetime Emmy Award, and two Screen Actors Guild Awards across her thirty-year career.
A full list of Jennifer Aniston's filmography:
She's the One (1996)
Dream for an Insomniac (1996)
'Til There Was You (1997)
Picture Perfect (1997)
The Thin Pink Line (1998)
Waiting for Woody (1998)
The Object of My Affection (1998)
Office Space (1999)
The Iron Giant (1999)
Rock Star (2001)
The Good Girl (2002)
Bruce Almighty (2003)
Along Came Polly (2004)
Derailed (2005)
Rumour Has It (2005)
Friends with Money (2006)
Room 10 (2006)
The Break-Up (2006)
Marley & Me (2008)
Management (2008)
He's Just Not That Into You (2009)
Love Happens (2009)
The Bounty Hunter (2010)
The Switch (2010)
Just Go With It (2011)
Horrible Bosses (2011)
Five (2011)
Wanderlust (2012)
We're the Millers (2013)
Life of Crime (2013)
Horrible Bosses 2 (2014)
Cake (2014)
Unity (2015)
Mother's Day (2016)
Storks (2016)
Office Christmas Party (2016)
The Yellow Birds (2017)
Dumplin' (2018)
Murder Mystery (2019)
---
More from woman&home:
---
As well as her income from Friends, Jennifer Aniston gets paid on average $8 million per movie she stars in, plus the income she can earn from celebrity endorsements.
Jennifer also recently launched her own haircare line, LolaVie and also invests in property. It is thought Jennifer owns at least $10 million worth of property in New York.
Does Jennifer Aniston have Instagram?
Yes. Jennifer Aniston nearly broke the internet back in 2019 when she finally joined the social media network. Her Instagram debut saw the platform momentarily crash and she set a Guinness World Record by hitting 1 million followers in just five hours and 16 minutes.
She was also responsible for blowing up her Friends co-stars' Instagram accounts, with each of them gaining over 1 million followers thanks to a shout-out by Jennifer. Her first post on the platform was a selfie with her Friends family, captioned, "And now we're Instagram FRIENDS too. HI INSTAGRAM."
Having come late to the party when it comes to Instagram, Jennifer confessed she's gone to great lengths to not get addicted to Instagram. "I decided to get two phones," she told the Los Angeles Times (opens in new tab). "So one sits in my office and when that [Instagramming] has to happen, I'll commit to that."
Given the intense scrutiny that Jennifer's private life has had over the years, it's no surprise she was cautious about joining the platform. Opening up on her reasons behind not having Instagram back in 2017, she admitted, "For me, it's self-preservation. There's enough written about me out there and enough that's not true. There's one school of thought, which is, 'Why don't you be on social media and really show who you really are?' And I don't need to…This is the one place I have that's really protected and is mine and is what my life is without a camera rolling or paparazzi or media exposure."
But she did feel like she was missing out on current affairs. "I don't feel I'm missing out, but I do sometimes feel that I'm not keeping up or that things are happening at a speed at which I'm going to be left behind in the dark ages."
Georgia writes across Woman & Home and Good to Know and specialises in all things royal. Previously labelled the "Queen of the royals," Georgia knows the whose who and what's what when it comes to the monarchy. When she's not eagerly following the royal family, Georgia enjoys shopping and self-care. She lives with this motto in mind; "if your dreams don't scare you, they aren't big enough."