Dawn French's big life lessons—from 'grieving' her marriage to Lenny Henry to moving on in Cornwall
Dawn French is one of the funniest women in the business, but what is she like behind the scenes?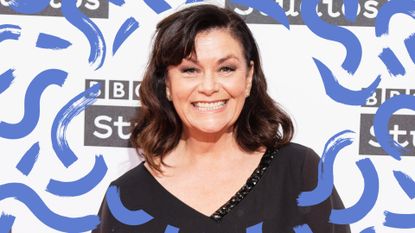 (Image credit: Getty Images/Future)
We shine a spotlight on inspiring women like Dawn French to tell you more about their daily lives and most relatable moments. Our in-depth profiles cover everything from how these women juggle work and play, to their most important relationships, and the pearls of wisdom they have to offer other women—with no detail spared.
---
Dawn French has been the UK's resident funny woman since breaking onto the scene back in the '80s. She's provided countless laughs on French & Saunders and Vicar of Dibley and continues to serve fans with regular funny content via her social media channels. But away from the limelight and behind the scenes, Dawn has fought several battles of her own.
From losing her father to suicide aged 19, turning to adoption after years of fertility struggles, and moving on from a very public split from husband-of-25-years, Lenny Henry, things haven't always been plain sailing for Dawn. So how has the comedian kept on smiling? And what wisdom does she have to share with the rest of us?
How old is Dawn French?
Dawn French was born on 11 October 1957, making her 63 years —and Dawn is certainly keen to grow old gracefully. Unlike some women who dread the aging process, Dawn has always been incredibly open to the prospect of getting older, often referring to her current age as her "autumn" years. After years of grueling TV schedules filming The Vicar of Dibley and French and Saunders, Dawn's priorities have changed in life and the comedy actress now craves the "quiet" life.
"I am enjoying the place I'm in," she said a few years ago. "I realize I'm right there in autumn and I can't see the point in resisting it. This is what 60 looks like."
Dawn recently shared a candid picture on Instagram, embracing her gray hair. She captioned the picture, "Going lighter bit by bit to happily welcome the grey… with an undercut surprise..! Hello there woman in her 60s…." How refreshing!
Where does Dawn French live?
Having spent years in London, Dawn relocated to Cornwall in 2006 and recently sold her beloved home in Fowey and moved to a lesser-known part of the coast. Citing her reasons behind the decision to retreat to Cornwall, she told Fearne Cotton's Happy Place podcast she found city life "overwhelming". There always seemed too much to do in London for Dawn. "I find the clutter of it overwhelming. I think I'm not meant for a city… that isn't the real me. The real me is quiet."
Whereas in Cornwall, Dawn feels calm. "There is, without a doubt, the beauty here. I can do nothing but connect with that. It makes me calm, it makes me happier and it sort of enthuses my mind with better ways of thinking.".
Having grown up in Cornwall, Dawn feels a sense of belonging by the coast. "I find quiet there. I have been noisy all my life and loved it but essentially I am a quiet person," she added. "I've gone back to where my family are. The sense of my mum is there and that is home for me."
Who is Dawn French's mum?
Dawn French was born in Wales to Felicity Roma and Denys Vernon French. Her father committed suicide when Dawn was just 19. She enjoyed an incredibly close relationship with her mum right up until her death aged 77 in 2012 and paid tribute to her "inspirational" character.
Left school at 16.... honourary doctorate in her 70's for all her phenomenal achievements. My mum. Missing her today. ❤️ pic.twitter.com/BrHoLCqmVSMarch 14, 2021
See more
Dawn French's mother dedicated her life to helping others and was the driving force behind several drug and alcohol rehab centers. She even advised the government on drug-related issues. Dawn—who took time out of work to care for her mother towards the end of her life—was shocked at how quickly her condition deteriorated.
"Mum was well at Christmas and dead in March, so it was terribly quick," she revealed at the time. At first, we thought she had ­pneumonia and I think she did have pneumonia. But then we discovered that was on top of lung cancer. We got a diagnosis of that on the Friday and she was dead by the following Thursday."
---
More from woman&home:
---
On the legacy Roma left behind, Dawn told the Daily Mirror (opens in new tab), "My mum was the most amazing woman, who had a quietly remarkable life but helped many, many people. If I had even a quarter of my mother's strength I'd be extremely grateful. That would get me through, most certainly."
Despite her amazing achievements, Roma didn't revel in the publicity of it all. "She just did it very, very quietly and helped a lot of people."
Does Dawn French have children?
Dawn has one daughter Billie and two stepchildren, Lily, 29, and Olly, 26. The Vicar of Dibley star famously keeps Billie—the daughter she adopted with ex-husband Lenny Henry when she was just two weeks old—out of the spotlight, but she has previously spoken about their complex relationship.
Opening up about their challenges, Dawn—told The Sunday Telegraph (opens in new tab), "I haven't got a kid who wants to read with me and have adventures with me, I've got a different kind of kid who's a different kind of set of challenges and that's been my lesson. Our relationship exists in a bizarre kind of process of peacetime, small battles, war. The peacetime is much more than the other two energies, but we have our wars."
Despite their differences, it seems Dawn and Billie are in a better place now that Billie is in her late twenties. "My biggest test and my biggest joy," she said of her relationship with Billie. "But it is unbreakable."
Revealing more in an interview with Hello! (opens in new tab), she said, "We have the same amount of mother/daughter friction that any mum and daughter have, it's no more or less. But I've learnt a lot about her. And she's learnt a lot about me."
Dawn and ex-husband Lenny ended up adopting after years of fertility struggles. Opening up to Fearne Cotton on her Happy Place podcast, Dawn explained, "I knew I wanted to definitely be a mother that was a very strong instinct. Then what happened was my body wouldn't let me be a mother and everything kept failing all the time for all sorts of reasons. We had to make a big decision, to put aside IVF and go for adoption."
While it took them a while to become parents, Dawn said she learned a lot from her own mother on how to parent successfully. "I certainly have the face of my mother but I think we were very different people. She was very gentle and I have a shorter temper. But I've tried to emulate her as a parent," she told the Daily Mirror (opens in new tab). "I think the greatest lesson I learnt from Mum about mothering was to try to be selfless."
Although Dawn keeps family life very private, she did thrill fans with a rare snap of Billie earlier this year. Sharing a close-up picture of a pair of lips, Dawn wrote, "Some lips I love."
Billie is seen in the photo trialing two different shades of lipstick to create a heart shape and fans love her bold style. "Gorgeous Billie I presume," wrote one online user, while another said, "So random, I love it!"
Does Dawn French have a husband?
Yes, Dawn is married to Mark Bignell—a 56-year-old therapist. The pair tied the knot back in 2013 and live together in Cornwall with their cat Mowzer and dog Goodie. The comedian met Mark through a charity he co-founded with her late mother, Hamoaze House. And he had no idea who she was before they met.
"I'm not boasting, but you'd actually have to have not watched television for the past 20 years to have avoided me, and he'd managed to do just that," Dawn told Saga magazine (opens in new tab).
After splitting from her husband of 25 years, Lenny Henry, in 2010, Dawn wasn't looking for love when she met Mark. "I 100% thought I would be on my own—but that didn't bother me. I was enjoying having time to myself," she told Closer (opens in new tab).
"I thought it would be sad if I didn't have a cuddle with somebody again… but I didn't need to live vicariously through a man and I didn't need a knight in shining armour, I'm not sentimental like that. And then of course that is when I met him, just a couple of days later."
Are Dawn French and Lenny Henry still friends?
Dawn felt "broken" following the breakdown of her 25-year marriage to Lenny Henry ten years ago but the pair have managed to remain incredibly close friends. While it took Dawn a long time to "grieve" their marriage, the couple has come out the other side. "I have mended myself. I have seen what happens if you stay broken. When I was single I found my new self. But I think it is OK to grieve over a relationship," she told the Mirror (opens in new tab).
"Remarkably, we seem to have shifted with relative ease from a 25-year marriage to a lasting friendship. I am amazed by us—there is no war, we've turned out to be the best of friends," she said during an appearance on Loose Women last year. "There were lots of good years but one tricky last year. I am amazed by us—there is no war, we've turned out to be the best of friends."
Naturally being in the public eye made their split even tougher. Lenny told The Express (opens in new tab), "It is a strange job, showbiz, because you are in the public eye. You are in a goldfish bowl. We just got through it like every family does.
"We had a child and we just wanted to get through it and be normal and love her and be respectful to each other and just carry on. There was no secret to it. We got through it and we are raising our child and that is all there is to it really. Like everybody. Like normal people."
---
More from woman&home:
---
How did Dawn French's weight loss happen?
Dawn French hit headlines back in 2014 when she lost over 7st. And while there were rumors about how and why she'd decided to shed the pounds, Dawn revealed it was all to do with an upcoming operation and nothing to do with vanity.
She said, "When I was due to have my hysterectomy the doctor told me that if I could lose some weight before the op, they would be able to do it via keyhole, and I would recover in three weeks or so. Otherwise it would be big open surgery, and three months to recover."
While her weight loss certainly set tongues wagging, Dawn assured it was far from miraculous, and more practical. "I set about dropping a few stone," she confessed on her 30 Million Minutes tour. "No magic wand, just tiny, joyless low-cal eating and lots more walking for weeks and weeks. It was grim. I lost seven-and-a-half stone. I could have the keyhole surgery. Great. That's all it was, practical."
Fast forward seven years and the star recently discussed how her weight has a tendency to fluctuate, but is unfazed by weight gain.
Speaking on French & Saunders: Titting About, Dawn confessed, "I've gone back to being an entire barrel but do you know what, I'm going to be 63 this year, I don't give a f***, I really don't, so long as I can walk. I'm not going to be stingy to myself anymore. I never did dislike anything about my body, even when I was very, very fat. I refuse to be forced to dislike myself.
"I used to get really angry when I did lose weight, people going, 'You look so well,' as if you looked awful before—rewarding you for managing it, which is not easy, I accept that. But I didn't want people to give me approval. It's so patronizing."
What are Dawn French's books about?
Having had a hugely successful career in comedy, Dawn turned her hand to writing in 2010 when she penned her first novel, A Tiny Bit Marvellous.
Since then, the star has written three more books—According to Yes, Oh Dear Silvia
and Because of You, and is officially a number one bestselling author. Opening up on her writing methods back in 2016, Dawn admitted she uses a "pencil and a lined pad" to get her ideas down. The TV star also revealed she works "office hours" in a bid to feel productive. "I basically work office hours and if I do that I feel like I've put the time in," Dawn confessed in the WH Smith How Do You Write? video series (opens in new tab).
"Now, whether I've written two words in that time or whether I've written two pages or twenty pages (never) then who knows, that can really vary and that will depend. My mood at the end of the day will utterly rely on whether I've written anything any good."
What's Dawn French's new book?
Dawn French's latest book, Because of You explores the nature versus nurture debate and is described as a "tear-jerker," in which the power of a mother's love will be tested to its limits. And it's something Dawn—who recently reunited with Jennifer Saunders for a TV special—has experience with, having shared a rocky relationship with her daughter, Billie, over the years.
On why she chose this topic, Dawn told the Guardian, (opens in new tab) "I wanted to investigate what would happen if you really challenged the idea of: who is your parent? Somebody steals a baby at the beginning of this book. That shouldn't be something you could ever, ever forgive—but I've tried to write a character that you might forgive for doing that."
On her own experience of nature and nurture with her adopted child, Billie, Dawn explained, "I have thought about this a lot, and the nature/nurture balance is clearly different with every kid. My relationship with my daughter has confounded everything I expected.
"The things I thought I'd be great at I failed at a bit… Like I thought, 'Oh, we'll have to really prepare for when she wants to meet her biological family.' I always thought that's something that's part of your emotional contract, if you like, with an adopted kid. And yet I have a daughter, who despite all my determination that she should feel comfortable to do [that], showed no interest. Absolutely none."
---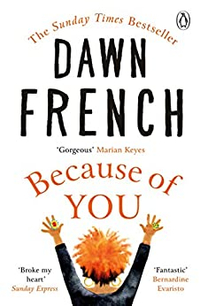 (opens in new tab)
Because of You by Dawn French | $10.59/£7.49 (opens in new tab) | Amazon
Because of You tells the poignant tale of motherhood told from multiple perspectives. A tear-jerker that will stay with you long after the last page.
---
What was Dawn French's breakthrough role?
Dawn's breakthrough role was alongside long-term friend, Jennifer Saunders, in their comedy sketch show, French & Saunders, which launched in 1987. The series featuring the comedy duo ran from 1987 to 1993 and sky-rocketed both their careers.
Following on from that, Dawn's longest-running solo project was her starring role in BBC's The Vicar of Dibley, in which she played Geraldine Granger. She also starred in Little Britain as Vicky Pollard's mum and even in Harry Potter and the Prisoner of Askaban, in which she played the Fat Lady.
Are Dawn French and Jennifer Saunders still friends?
Yes, the comedy duo is the best of friends and have been since they met studying drama at Royal Central School of Speech and Drama. The pair even shared a flat during their time there.
Despite not seeing each other regularly, Dawn and Jennifer Saunders—who recently confessed "comedy has changed" amid 'woke' culture when discussing the return of Absolutely Fabulous—remain firm friends.
Opening up about how they kept in touch during the Covid-19 global pandemic, Dawn said, "We see each other all the time anyway as friends. We're not very good on Zoom. I'd rather be on the phone with her or we text each other a lot.
"If we don't get to see each other much, we just pick up where we left off. There's never a guilty gap. It's not a friendship that you have to feed on a regular basis to keep it topped up. It's very secure."
But, that's not to say Dawn hasn't felt her fair share of envy at Jennifer's success without her. Speaking on Glamour Magazine's podcast, #HeyItsOk (opens in new tab), Dawn admitted, "I had to step away from doing the sketch show we were in the middle of writing, we'd booked the studios and everything, to go home and be quiet and have my kid there... She goes on with Ab Fab. Ab Fab becomes huge, and so I sit and watch Jennifer just collecting many awards and bouquets.
"She had no discernible talent whatsoever until that moment, and then she came through on the inside lane, and apparently she was talented all the time," the actress continued. "I didn't know that, I thought I was the funny one... When I saw that happening it was a huge amount of envy. Right in your belly in a place you don't want it, and it's bile-y and it tastes bad and it's all-consuming."
Thankfully Dawn overcame her jealousy and the pair remain incredibly close.
Georgia writes across Woman & Home and Good to Know and specialises in all things royal. Previously labelled the "Queen of the royals," Georgia knows the whose who and what's what when it comes to the monarchy. When she's not eagerly following the royal family, Georgia enjoys shopping and self-care. She lives with this motto in mind; "if your dreams don't scare you, they aren't big enough."