Christmas card etiquette rules only old schoolers will know
From knowing which card to buy, when to send them, and what you really should write, our expert Julia Llewellyn Smith has all the insider info you need to send the perfect Christmas cards this year!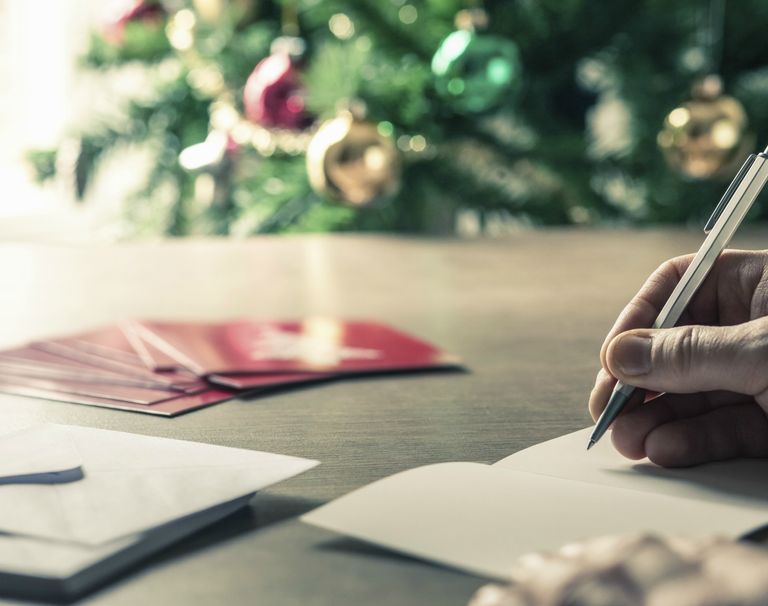 Revive the lost art of Christmas card sending with these tips...
Sending and receiving Christmas cards has fallen out of favour in recent years. Blame it on the rise of technology or packed diaries, but finding the time to sit down at home and scribe messages to loved ones seems the least of our priorities during a busy festive season.
However, in our latest issue, Julia Llewellyn Smith argues why the ritual should make a comeback. 'To me, cards are as essential a part of the Yuletide tradition as the turkey, tree, crackers and the Christmas Eve row with my husband about why on earth he has no present for his mother, deeming it somehow to be my duty,' she writes. 'I adore pushing the wodge of carefully stamped envelopes into the postbox and decorating my shelves with the festive images I've received.'
What's more, she's not alone. A recent Royal Mail survey showed that 80 per cent of people would prefer a physical card over an e-card. If that's you and you'd like to give someone an early Christmas present, just make sure you follow thesetraditional etiquette rules. Make those stamps count...
Keep a proper list
Make this the final year you squander 65p sending unrequited season's greetings into the ether - or hang your head in shame when poor old Aunty Ada's card arrives too late to be reciprocated. Write a list of everyone you receive a card from, including names (of ALL family members - "and the kids" won't cut it) and addresses. And not on a dog-eared old envelope.
A Word doc, or - even better - a Google spreadsheet, will save you time, money and hassle in the long run, says William Hanson, author of The Bluffer's Guide to Etiquette. Make a list of those who don't return your Christmas wishes, too, so you can save your pennies in the future... Give them one last chance to rectify their mistake for benevolence's sake, but after two strikes, they're O.U.T.
Choose wisely
According to Hanson, sending a Christmas card which doesn't support a charity is "tantamount to social hara-kiri" (i.e. ritual suicide by disembowelment). The RNLI is "the toff charity of choice, although Macmillan and Great Ormond Street Hospital are also very smart".
Etiquette specialists suggest picking traditional images. Not sure whether your recipients will welcome a religious image or message? Play it safe with 'Season's Greetings', robins and snowscapes. If you opt for a family portrait, make sure it's well done - remember, this image will be adorning mantelpieces - or lining bins - up and down the country...
Never send e-cards
Five years ago, they marked you out as an innovatory dispenser of Christmas magic. In this day and age, though, no one under the age of 75 is likely to be impressed by an animated elf. Your family and friends will resent the fact that you didn't invest in a small fortune's worth of stamps and a bumper pack of ballpoints.
Forget the round robin too. I always look forward to receiving these round robin newsletters, but not really for the reasons the family sending them hope," Weston admits. "You are a family, not a not-for-profit organisation."
If they're a close friend, they'll be familiar with the ins and outs of your year already. And if they're not - sorry, you're bragging.
Write something, anything
And yes, you do have to handwrite them - names (yours and theirs) and addresses (recipient's and return) at the bare minimum. You might think printed address labels make you look fancy, but unless you are, at the very least, the reigning monarch of a small country, they should be avoided. Etiquette experts are also adamant that, if someone is important enough to be included on your list, they merit a personalised message. It doesn't need to be more than a sentence or two long, but it does need to avoid using the words, "Hope to catch up with you soon!" if you haven't seen each other in seventeen years.
Don't sign your pet's name
If you're sending a card to a confirmed crazy cat/dog lady/gentleman, go ahead and add signatures, paw-prints - the works. If not, though, keep the sign-off to two-legged family members.
Use 'love' sparingly
Save 'love', 'with love' and 'love from' for those you are genuinely close to. 'Best wishes' works better for more distant acquaintances and business associates. And there's no need to add 'to' - according to Weston, this "smacks of primary school English. The names alone, no need for the preposition, will suffice."
Use the right envelope
Yep, as 'social correspondence', your Christmas cards' envelope flaps should always be triangular - who knew? Straight flaps should be reserved for business correspondence only.
Address them correctly
Not sure about the correct way to address them? Here's how, according to Weston...
Married couple - Mr & Mrs R. Smith Unmarried man - H. Jones, Esq (if he owns property - Mr H. Jones, if not)Unmarried woman - Miss C. Roberts (Ms is not used socially)
Widowed woman - Mrs R. Smith (R being the initial the late husband's first name)
Divorced woman - Mrs I. Smith (I being the initial from her first name)
Two men - Messers Cranshaw & Davidson Two women - Miss Flinders & Miss Davis
Send them early
But not too early! The 8th December is about right. You can display your own from around the 10th (as long as you've accumulated more than a handful by this point). Should you be in the address book of "anyone of note", their card should be tucked away "almost apologetically, somewhere discreet," Weston advises.
Lauren is deputy editor at woman&home.com in the UK and became a journalist mainly because she enjoys being nosy. With a background in features journalism, Lauren has worked on the woman&home brand for four years. Before woman&home Lauren worked across a variety of women's lifestyle titles, including GoodTo, Woman's Own, and Woman magazine. After starting out working for a local paper in Yorkshire, her journalism career took her to Bristol where she hunted out stories for national papers and magazines at Medavia news agency, before landing a job in London working as a lifestyle assistant.
Lauren loves helping people share their stories, bringing experiences to life online, honing her interview techniques with everyone from authors to celebrities, headteachers to local heroes. As well as having a good nose for a story, Lauren has a passion for the English language and years of experience optimizing digital content to reach the widest audience possible. During her time at w&h, Lauren has worked on big brand campaigns like the Amazing Women Awards and assisted in developing w&h expert-approved Buyer's Guides—the place to go if you're looking to splash out on an important purchase and want some trusted advice. In addition to her journalism career, Lauren also has a background in copywriting for prestigious brands such as Inhabit Hotel, eco-development K'in in Tulum, social enterprise The Goldfinger Factory and leading London architect Holland Harvey, using language in all its glorious forms, from detailed guidebooks to snappy social content.
A big fan of adventure, Lauren is also a keen travel writer and loves sharing tips on where to find the best places to eat, drink, and be merry off the beaten track. Lauren has written a series of travel guides for London hotels and loves sharing her insights into a destination's cultural and culinary offerings. If you need a recommendation on any UK destination, she's more than happy to help. At the weekend, you'll usually find her hanging out with her pet cat (or anyone else's pet she can get her hands on), escaping to the countryside, or devouring a good book.
Follow her adventures @laurenkatehughes
Twitter: @laurenkhughes
LinkedIn: Lauren Kate Hughes
Email: lauren.hughes@futurenet.com