This is why you might feel lonely at Christmas - plus, small ways to ease feelings of loneliness
Expert advice on how to beat feeling lonely at Christmas and where to get help when needed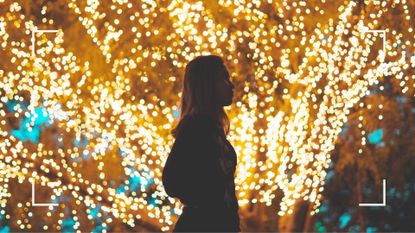 (Image credit: Getty Images)
woman&home newsletter
Sign up to our free daily email for the latest royal and entertainment news, interesting opinion, expert advice on styling and beauty trends, and no-nonsense guides to the health and wellness questions you want answered.
Thank you for signing up to . You will receive a verification email shortly.
There was a problem. Please refresh the page and try again.
There are plenty of reasons why someone may feel lonely at Christmas, even though it's supposed to be a time full of festive cheer - and sometimes, it can have nothing to do with being physically alone.
The festive season is painted as a magical period full of time spent with loved ones. But, for some people, it can be difficult to navigate. It can intensify pre-existing feelings of loneliness, bring up trauma from difficult Christmas times in childhood, be the first year a person is spending the holiday alone or without a loved one, or can come at the end of a difficult year. Understanding what triggers your feelings of loneliness at Christmas is key to knowing how best to navigate the festivities this year.
Whether you're concerned about the price of loneliness over Christmas yourself, or concerned about how a loved one far away from you will deal with loneliness this year, we've spoken to a range of psychologists to offer advice and guidance on what can be a very difficult time of year.
Why do people feel lonely at Christmas?
It's this feeling that Christmas should be a 'magic' time of year that can trigger feelings of loneliness, explains chartered psychologist Dr Katherine Coutsoudis (opens in new tab). "We're constantly reminded what a wonderful time of year it is, with an emphasis on social engagements and family togetherness. For those who don't have this in their lives, they may feel their sense of loneliness reinforced."
Julia Samuel MBE (opens in new tab), a leading psychotherapist specializing in grief, agrees. "I think it's more pre-existing feelings of loneliness and isolation that are intensified over Christmas," she says. "It might be that across the rest of the year they have distractions, a busy schedule, or responsibilities that might take one's mind away from their emotional state but the Christmas period can often come with at least a couple of days break from this."
Common reasons why a person might feel lonelier at Christmas also include:
They are already struggling or going through a difficult time
They have had bad past experiences at Christmas time
They are spending their first Christmas without a loved one who has passed away
They are missing a family member who is not there for the holidays
They have difficult family situations and there are Christmas dilemmas to solve
They have mental health challenges that make social situations overwhelming
How to combat loneliness at Christmas
1. Reflect on how you felt last year
Thinking about the moments that triggered loneliness for you last Christmas can help you to plan your holiday differently this year."Reflect well in advance," advises couples and family therapist Dr Kalanit Ben-Ari (opens in new tab).
"There's no single way to address loneliness during this holiday. Some people might long for connection and relationships, while others want space for themselves. Consider what it is you long for and what may help to support you during Christmas," she adds.
2. Plan ahead
This time for reflection will help you identify your triggers and create a plan for the holiday that will make things much more manageable.
"If you have challenging family relationships, make a plan for how much time you spend with them. You might choose to go for lunch but not stay the night, for instance," suggests Dr Elena Touroni (opens in new tab), a consultant psychologist and co-founder of The Chelsea Psychology Clinic. "If you're worried about spending Christmas alone, start reaching out to friends now to see if you can plan fun things to do, even if they're not on Christmas Day itself."
3. Do activities that make you feel good
Focusing on making Christmas about you and the things you enjoy can alleviate feelings of loneliness. Whether that be picking up your favorite festive food, indulging in a long bubble bath on Christmas day, or going for a Christmas day walking meditation session, do the things that make you feel good.
You could also sign up for online or in-person festive workshops, join a book club and catch up on reading, or get involved in Christmas charity events.
4. Volunteer to help others
Using your free time over the Christmas period to help others in need can give you lots of purpose and structure to your day. "Supporting other people who are struggling can bring a sense of community and take our minds off our struggles," says Dr Touroni.
Look out for local charities seeking a helping hand. "There are plenty of them [charities] that need help at this time of year, and it can be enormously life-affirming, as well as being, surprisingly, a positive environment to find yourself in," adds Dr Coutsoudis, who practices from The Soke (opens in new tab), a multi-disciplinary mental health center in the UK.
5. Connect with others every day
Whether that be in person, on the phone, or via video call, Dr Coutsoudis emphasizes just how important it is to speak to someone every day over the holidays.
If you live alone, work from home, or have the holidays off work, you might miss socializing with the people you normally see daily. In advance, schedule phone calls or make plans to meet up, even if it's just for a walk in the park.
6. Reach out for support
If you're struggling over the holidays, reach out to a loved one or a mental health charity that can support you during this time. This works both ways too, if you know someone who is dealing with difficult feelings over the holidays, it's always worth reading up on how to support someone with depression and loneliness.
"Be honest with others about how you're feeling," advises Dr Coutsoudis. "Ideally, you would meet in person to talk, but if that's not feasible then do it on a call. If this feels too difficult, send a text or email and express that you're struggling. If people are aware, then they can offer more valuable care and support."
"Others may relate to what you're saying, which can feel supportive," adds Dr Coutsoudis. If you don't have family or friends you feel comfortable discussing this with, talking with a stranger might feel less daunting. If that's the case, have a look at the contact details below, and get in touch with a mental health charity.
In the US:
Crisis Text Line: Available 24/7, you'll be connected with a crisis counselor for support via text. Text HOME to 741741 or visit the website (opens in new tab).
Talk To Someone Now: Available 24/7 across the United States, you can call this line if you need emotional support or are worried about a loved one. Call 1-800-273-8255 or visit the website (opens in new tab).
In the UK
Campaign Against Living Miserably (CALM): Open from 5 pm to midnight 365 days a year, and offers listening services, information, and webchat support for anyone who needs it. For support 0800 58 58 58 or visit the website. (opens in new tab)
Samaritans: Open 24/7, 365 days a year, and offers support via phone, email, post, and a self-help app. For support call 116 123 or visit the website (opens in new tab).
Ciara is the former digital health editor at womanandhome.com and has covered all things health and wellbeing from fitness to sleep to relationships. She's always on the lookout for new health trends, innovative fitness gadgets and must-read wellness books.
Originally from Ireland, Ciara moved to London to study journalism. After graduation, Ciara started her career at Goodhousekeeping.com. Ciara qualified as a meditation teacher with the British School of Meditation in 2020, and outside of her day-to-day now runs her own meditation school called Finding Quiet. She is all about bettering that mind-body connection but believes wellness looks different to everyone.