8 Christmas dilemmas we've all faced—and how to solve them
Navigate the most common Christmas dilemmas this holiday season with the help of our experts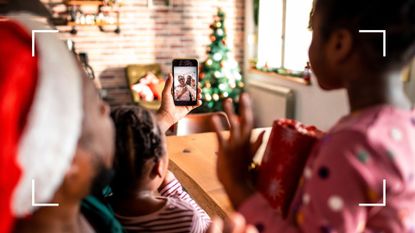 (Image credit: Future/Getty Images)
woman&home newsletter
Sign up to our free daily email for the latest royal and entertainment news, interesting opinion, expert advice on styling and beauty trends, and no-nonsense guides to the health and wellness questions you want answered.
Thank you for signing up to . You will receive a verification email shortly.
There was a problem. Please refresh the page and try again.
The festive period is almost upon us, but it's not always mistletoe and wine, and it can often bring with it some common Christmas dilemmas, from loneliness at Christmas time, to family arguments.
From the last-minute shopping and arguments over Christmas decorating ideas, to Christmas dinner preparation (see our turkey size cooking guide to master your calculations), plus the big decision of which family to visit over the holidays—it can be a stressful time.
"Every Christmas has the potential to be a wonderful time with family, a stressful and upsetting experience, or anything in-between," explains psychologist, author, and couples therapist Dr Kalanit Ben-Ari. To help you solve the most common Christmas dilemmas and enjoy the season as stress-free as possible, we spoke to psychologists and relationship experts for their top tips.
The most common Christmas dilemmas
1. To-ing and Fro-ing from house to house
Deciding where to spend Christmas is the trickiest of tasks. To-ing and fro-ing from house to house on the special day can leave you spending most of your Christmas in the car, stuck in traffic with kids bickering in the back seat—not the jolliest scene.
"Trying to keep everyone happy over Christmas is likely to be a real challenge, as we're all going to have ups and downs around the festive period as we do at any other time," says Grace McMahon, life coach at Being Well Family. To tackle this, our experts suggest:
Make flexible plans—planning gives us a sense of control that can settle some of the stress and anxiety that comes with the festive season. And, when there are lots of families involved, being flexible is key. "Try not to make rigid, time-scheduled plans, so that when the weather inevitably causes a problem, or there's a lot of traffic or you're running late, it doesn't cause too much stress," McMahon advises.
Compromise and communicate—tossing up which family to prioritize visiting over the holidays isn't a pleasant conversation, but compromise and communication are key for this chat. "You might have differing opinions on who you [and your partner] would like to see, or there might be some challenging relationships to navigate within your family. Try to come to a fair solution that meets most of your mutual needs," says McMahon. If you're single, spend time self-reflecting on how you would like to feel this Christmas, what your expectations are, and what's important to you, suggests Dr Ben-Ari.
Accept the stress—while Christmas is a lovely time for family to get together, it would be unrealistic to expect it to run totally smoothly. "Whether it's a moody teenager missing their friends, a difficult parent demanding to have their way, or lots to do and barely any time [it will be stressful]," explains McMahon. "Our moods around the festive season are going to fluctuate and that's okay. So when the bad mood does hit, just accept it and try not to force a smile on everyone."
2. Unwanted gifts
Every year, there's always one person around the Christmas tree who finds themselves unwrapping a gift that either totally misses the mark or is something they already have. Things become even more awkward if the gift giver is sat across from them, eagerly awaiting a delighted reaction. It's a Christmas dilemma we've all faced, but it can be navigated by showing gratitude and getting specific. "Learning to ask for what you want can be all that is needed," says Dr Ben-Ari.
If you find yourself faced with the dilemma, you should:
Show gratitude—sometimes it's better to pretend. Even if you know the gift will go unused, thank them for their efforts and know that you can regift it at a later date or donate the present after the holidays. "Just make sure you don't regift it back to them," warns McMahon.
Be specific—if you've got a specific taste or a gift in mind, and feel comfortable sharing your wish list with close family or friends, be sure to do this next year to avoid any awkward gift-giving. "If people are asking, they want to know what you'd like, so tell them or give an idea that they can get creative with—it's a stressful time and a gift guide can make the shopping process much easier," adds McMahon. If you don't really want or need a gift, you could ask for a charity donation instead.
3. Organizing complex sleeping arrangements
Whether it's your daughter's new boyfriend or your brother's family, getting the house prepped for Christmas guests can be rather overwhelming.
"If your celebrations have huge numbers to accommodate for, you've downsized and don't have space for your children, their children and the dog, or you're venturing somewhere new, complex sleeping arrangements can cause us stress and that's the last thing we need to be able to rest over the festive season," says McMahon. To navigate this, our experts say:
Discuss arrangements in advance—if you're headed somewhere new, ask your host where you'll be sleeping so you can prepare yourself. If you're the one hosting, give your guests a heads up on the plans. "Knowing what we're headed for can help us to feel at ease in different or new situations—or ones that we can predict will be chaos," explains McMahon.
Pack sleep aids if you're away from home—whether it's your own pillow, earplugs, or your comfiest pajamas, bring whatever helps you fall asleep at home.
Accept your sleep quality might not be so great—sleep is important, and good sleep hygiene even more so. But, with the chaos of Christmas comes acceptance that your sleep might not be great over the holidays. "If we can accept the nights away are going to be somewhat sleepless, we can take some of the stress out of trying to sleep when we're there. And, everyone's in the same boat, it might be something to laugh about together through sleepy eyes and yawning over breakfast," says McMahon.
4. A new person at the dinner table
Tradition and Christmas go hand-in-hand for many of us, but as we grow and our children age, it's likely a new face or two will pop up at the dinner table over the holidays. Whether that's your child's new partner or your brother's fiancée, despite how much you might like them, it can be difficult to navigate a new face at the table.
"Be a family where people feel at home, wanted, valued, and would love to come back," says Angela Karanja, adolescent psychologist and founder of Raising Remarkable Teenagers. This is the goal, but it's okay if you still find this aspect overwhelming.
"If your traditions are firm or change isn't your thing it can be daunting to host new people over an already stressful time," explains McMahon. To help you navigate this with ease, you should:
Be inclusive—whatever your traditions are, make space for the new people to be involved. "Be mindful of including them in conversations, making good eye contact, or remaining in close proximity to them, so they can feel included at all times," says Dr Ben-Ari. McMahon also suggests finding out dietary requirements so there's no awkward realizations right before you dig into your famous holiday meal.
Be mindful—while it's a different type of Christmas to you, for the new face at the table it's a totally different Christmas, and that might be difficult for them. "Not being with our own family can be difficult, adjusting to new people can be difficult, and trying to fit into the dynamic can be nerve-wracking. Allow them space to be a bit quiet or reserved, acknowledge their usual Christmas might be different to this, check in with them throughout the day," suggest McMahon.
See it as an opportunity—what better time to get to know a new face a little better than over turkey, wine and mince pies?
Let go of your fears—many people spend the festive season fretting their house isn't ready for guests. "Most people would rather visit a house filled with warmth and laughter, than a cold uninviting mansion," says Karanja. "Let go of your fears and prepare your heart to receive them joyfully."
5. Missing a child who's flown the nest
Despite how much you may want to put it off, there will come a moment when your child or another family member decides to spend Christmas elsewhere—whether that be with their new girlfriend's family or abroad with friends for a sunny holiday away.
"This can be particularly tough when it's the first time they're not with us, or if the family dynamic is different without them there," explains McMahon. If you're struggling with the idea of not having your children with you over the holidays, our experts suggest:
Communicate with those around you—talking with others about how you're feeling will make you feel less alone, and there may be family and friends around you who have experienced the same situation and can share their wisdom.
Think about your needs—if spending Christmas without your child is a stress or worry for you, ask to join another family member's Christmas. And, organize an alternative day to celebrate with your children, such as St Stephen's Day or New Year's Eve. If that's not possible, Dr Ben-Ari suggests arranging a video call over the holidays so you can still connect.
Consider your child's perspective—you might be sad to spend the holidays without them by your side, but remember they will be experiencing a different type of Christmas, too. "It's okay to be upset about this, it's okay to talk about the difficulty together, it's okay to be encouraging even if it's not what you really want," says McMahon.
6. Couples bickering over the holidays
There's always one couple who can't stop bickering in a room full of festive cheer. "It's understandable given the huge pressure and expectations our culture places on this single event, it can lead to tension within couples and a breakdown in communication," explains Dr Ben-Ari.
"It's no one else's place to judge or question the relationship, but it doesn't exactly make for a tranquil environment to enjoy the festivities does it?" adds McMahon. Whether it's you, your parents or your brother and his partner, knowing how to deal with Christmas bickering and get the festivities back on track can make all the difference.
Take time out—taking five minutes for a breathing meditation alone in the middle of the chaos, or half an hour for a nap and reset is okay. Just because Christmas is about socializing with family and friends doesn't mean you can't take time to yourself when you need it.
Laugh about it—if the bickering isn't heated, laughing about it with the couple in the spotlight can lighten the mood. "Laugh it off if you can and see the funny side, it's not Christmas without some tears or quick come-backs right?" says McMahon.
Talk to them—without judgment pull the culprit aside, suggests McMahon. "Explain it's difficult to be around, it causes tension for everyone else, or that it's not the vibe for this year," she adds.
Find a release—if you feel yourself getting riled up, or can sense a family member is, take a moment for a healthy release. Avoid topping up wine glasses and instead, take your dog for a stroll around the block or find a task to keep you busy until you feel calmer.
7. Kids spending lots of time online
Long gone are the days when your children spent the holidays building Lego models or playing with their new toys—now, they're attached to the devices in their hands, and can barely manage a 'hello' to guests.
"As annoying as it is to try to converse with a teen buried in their phone, it's worth remembering that all the family gatherings over the holidays aren't really your teenager's scene right now," says McMahon.
While they'd likely rather be back at school or with their friends, there are steps you can take to limit tech time and ensure they're spending quality time with family over the festive season.
Set screen time boundaries—simple rules like no phones at the dinner table or for the first hour when arriving at a gathering can really go a long way, says McMahon. When setting tech boundaries with your kids, discussing it with them is key. "Let the kids be very involved and contribute to the development of the plan. This gives them ownership of the plan," explains Karanja.
Set boundaries with relatives—there will always be someone who doesn't agree with your parenting technique, especially when it comes to kids and their phones. Setting boundaries with relatives who don't agree with kids using tech is as important as setting boundaries with your children.
8. Catering to all dietary requirements
"Having dietary restrictions is tough, and having dietary restrictions at a time that revolves quite magnificently around food can be isolating," explains McMahon.
"The good news is there are more and more alternatives available for those who miss the festive cheeseboard and those that are always given a slightly miserable looking nut roast while guests around them chomp on pigs-in-blankets and goose-fat potatoes," McMahon adds.
If you're the cook in the situation, planning a dinner that meets everyone's needs can be a minefield and needs lots of preparation. Here's what to consider:
Make a list of requirements in advance—ask guests to share their allergies or requirements well before Christmas week so you can plan your dishes and what you'll need from the grocery store.
Shop the Free-From aisle—lookout for free-from sections in stores as lots of brands offer festive alternatives to Christmas favorites so no one has to miss out.
Be considerate—on the day, if someone isn't drinking wine or finishing their meal, don't take it personally and don't challenge their habits. Some guests may have eating disorders or disordered eating, while others could be struggling to recover from addiction. "Try not to challenge their requirements, restrictions, eating or drinking habits, portions or no-gos. It's nothing on you, it's for them and their safety and comfort," explains McMahon.
w&h thanks Grace McMahon Life Coach at Being Well Family (opens in new tab), Angela Karanja, adolescent psychologist, parenting teenagers expert and founder of Raising Remarkable Teenagers, (opens in new tab) and therapist Dr Kalanit Ben-Ari (opens in new tab) for their time and expertise.
Ciara is the former digital health editor at womanandhome.com and has covered all things health and wellbeing from fitness to sleep to relationships. She's always on the lookout for new health trends, innovative fitness gadgets and must-read wellness books.
Originally from Ireland, Ciara moved to London to study journalism. After graduation, Ciara started her career at Goodhousekeeping.com. Ciara qualified as a meditation teacher with the British School of Meditation in 2020, and outside of her day-to-day now runs her own meditation school called Finding Quiet. She is all about bettering that mind-body connection but believes wellness looks different to everyone.