The price of loneliness: how being lonely could be having a emotional, physical and financial impact
It can take a real toll on our wellbeing...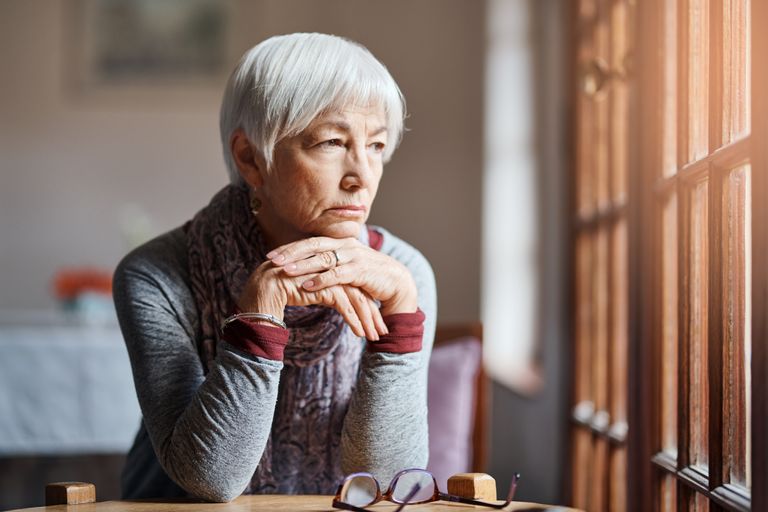 By Amy Hunt
Loneliness might be one of the last things you think of when you consider what sort of things impact us physically and mentally.
As a society, we're always becoming more and more aware of how issues such as depression, anxiety, and other chronic mental health illnesses can have an effect. But loneliness has been somewhat forgotten - partly because it's often considered to 'just be something you have to deal with'.
According to mindset coach Rebecca Lockwood, "Loneliness is when you feel as though you have a lack of affection from others. It is when you crave human connection and social interaction, but are not having any of this in your life."
Recent research has suggested that loneliness isn't just an unfortunate set of cirumstances. It's actually been found to have some debilitating effects on all aspects of our life; including financially, and more importantly, on our emotional and physical health.
In recent years, loneliness has earnt somewhat of a reputation as something that only affects older people. But the older generation aren't the only ones who feel lonely. The Campaign to End Loneliness said that a study by The Co-op and the British Red Cross, revealed that 9 million people in the UK across all adult ages are either always or often lonely.
MORE:A sleepless night can make you more anxious than you think according to new study
And that includes men and women in their mid-life. In fact, the Economics Foundation say that, "A conservative estimate suggests just over 1 million work-age adults experience loneliness in the UK."
Why are people in their midlife struggling with loneliness?
Prevention.com noted that, according to a 2016 Norwegian study of 15,000 people, aged 18 to 79, those between 30 and 49 reported the deepest dissatisfaction with their relationships. And reportedly, when it comes to loneliness, it's the quality of our relationships that matter, rather than the quantity. The Economics Foundation suggested that, in middle age, we surround ourselves mostly with people who we know on a functional basis (such as work colleagues) - rather than those we connect to emotionally, which can promote feelings of loneliness.
Dr Natasha Bijani, consultant psychiatrist at Priory Hospital Roehampton, also stated that changing relationships and approaches to life in mid-age can often contribute. She told w&h, "Ageing leads to many changes in our lives. We tend to become more aware of our own mortality and start to take stock of our lives. Disappointments and unfulfilled ambitions are likely to feel more acute.
"Plus, one's children tend to leave the family home as they mature and we approach our middle age and it might be difficult for some to adjust to an 'empty nest'. Separation and divorce may also accompany the departure of grown children as the couple realise they have lost connection with each other. In addition, as we reach middle age, our own parents become frail and elderly, too. This can all contribute to feelings of loneliness."
For Ruth Douglas, 47, loneliness came following her divorce ten years ago. "I married my husband in 2005 and for three years we ran a scuba diving centre in Gran Canaria," she explained. "Although fun, it became incredibly stressful and on 29th August 2008 we closed the doors on the business.Our daughter Isa was born the next day and so there we were; new parents with no work. After a couple of months, we moved to France to live with my husbands family and, perhaps, predictably our relationship didn't withstand the stress of losing business, moving countries and new parenthood."
Ruth, who runs her own business, explained that single parenthood was the thing that left her feeling lonely and isolated. She said, "I used to get incredibly, heartbreakingly lonely at the beginning of being a single parent. Snotty, weepingly lonely.In the beginning, I think my daughter's age played a part in this. Because she was only one when I became a lone parent, your life is very much run on a babies timeframe, so once they're in bed, that's it your day is done.
"As my daughter has grown up then she's become a better companion - let's face it, toddlers aren't great conversationalists!"
As time has gone on, Ruth told w&h that the loneliness has grown duller, but still comes around in big moments.
"These days I mostly feel lonely when something really brilliant is happening and I think, 'Isn't it a shame there's no-one else to share this with', or when I'm feeling overwhelmed with being responsible for all the things, and making all the decisions."
"It is also frustrating that because I have no spontaneous time off - e.g. no weekends when Isa is with her dad, as he lives in Latvia - then going on dates feels like a massive logistics challenge, so I tend not to date that much anymore. ButI'm hoping that simply by going out and doing more things like networking groups or activity days with my daughter that one day I'll bump into someone who will be the person to share our life with."
So why are we all feeling so lonely - particularly those of us in our mid-life?
Bethan Harris, of the Loneliness Lab, explained that "Loneliness is a massive problem in modern society. And the impact can be terrible for the individuals concerned as well as society."
She went on to share with w&h that her research, trying to design out loneliness, shows that much of the problem is centred in busy - but isolated - cities, where technology (read: social media) keeps people afloat. She said, "For a long time cities have been designed around the individual.
"So much focus is on the amount of private and personal space we have rather than spaces for being together and social connection. And our always-on lifestyles also make it harder for people to invest in social activities and hobbies where we can meet others. But actually we are now realising that knowing your neighbours or colleagues, or having more social ties in our communities, is really positive for our mental health."
Of course, the causes of loneliness vary hugely depending on your circumstances - you may feel lonely following a move, a bereavement, family estrangement, discrimination, or even mental health problems in themselves. Or, you may simply feel misunderstood - which can trigger feelings of loneliness. It will depend on each individual person, whatever age you are.
And a huge part of it is feeling bereft of connections that are meaningful. But Ammanda Major, counsellor and Head of Service Quality and Clinical Practice at Relate,explained that it all depends on which sort of interactions you class as meaningful. "The definition of what a 'deep, meaningful interaction' is, varies from person to person," she told w&h.
"And it can only be understood within the context of their other life experiences. How people arrive at what is deep and meaningful to them is going to be very different. Whatever it is, loneliness means that they lack a connection with somebody that has meaning for them."
For some, a meaningful conversation could happen with the local postman once a week - but for others a little more might be needed - in the form of a coffee with a close friend, or dinner with family.
What is the economic cost of loneliness?
Of course, loneliness can have a serious effect on our wellbeing. But also interesting to note is how it can have a financial impact, too.
The Campaign to End Loneliness, a group set up by charities and local authorities, found that there are 'financial costs of failing to address loneliness effectively'. This is mainly due to the money required to treat and deal with the effects of loneliness, such as depression and other health issues - which could be saved were the root issues of loneliness properly tackled.
Over five years, preventing loneliness could see a saving of £3.6m, say researchers from LSE, alongside the Campaign to End Loneliness.
The Economics Foundation has shared evidence on the subject, revealing that the general reduction in productivity as a result of loneliness has an average cost to businesses of around £665 million. They also surveyed the impact of loneliness on employee wellbeing, and the costs to employers of the related increase in voluntary staff turnover, estimating it to cost around £1.62 billion.
MORE:Lonely heart patients at 'increased risk of dying' after leaving hospital
At the end of the report, the conclusion was that something needed to be done, in order to minimise the economic impact. They said, "Our findings of substantial costs from loneliness to UK employers strongly suggest that it is in their interests to take both reactive and preventative approaches to minimise the loneliness of their employees."
How can loneliness affect our physical health?
It's easy to assume that loneliness might only affect your mental health, but it seems as though it can take a real toll on our physical wellbeing as well.
The Campaign to End Loneliness, citing a 2010 Holt-Lunstad study, revealed that social isolation is as as bad for your health as smoking 15 cigarettes a day. There are also major repercussions on our brain health, too. According to the study, "Lonely people are more likely to suffer from dementia, heart disease and depression. "
Holt-Lunstad also concluded in 2015 that, as a result, "Loneliness is likely to increase your risk of death by 29%." So the physical ill-effects aren't imagined at all - but can be real and devastating.
Dr Natasha also revealed that the risks of loneliness to your health are certainly damaging. "Social isolation and loneliness have been linked to a higher risk of many physical and mental illnesses," she said. "Heart disease, high blood pressure, obesity and a weak immune system leading to increased risk of infection, are some of the physical conditions."
And that's not all - loneliness might even spurn unhealthy coping behaviours, "such as over eating, alcohol and perhaps even substance misuse," said Dr Natasha.
The links between the physical and mental effects shouldn't be dismissed either. She continued, explaining, "physical illness can contribute towards mental illness and vice versa. Physical symptoms can contribute to anxiety, depression and general neglect of health, reduced capacity for and interest in contact with others and pleasurable activities."
And how is loneliness affecting our mental health?
Given that loneliness is so pervasive in society, it's worrying to realise that the effects of loneliness on our mental health can be huge, and long-lasting.
For 35-year-old single parent Holly Thatcher, working from home had an unexpected impact on her, socially."I work from home for a digital marketing company, who have a remote working arrangement. And loneliness is a huge problem for me.Of course, working from home handy for managing family life. But a few weeks/months into the role I found myself becoming anxious, depressed and isolated."
For Holly, intrusive thoughts about whether she was actually awful at her job, begin to spring up. She explained, "Without a bit of light chatter to break up the working day, I actually started feeling sluggish and unmotivated."
For the mum-of-two, those feelings culminated in Holly convincing herself she was going to be sacked. "Looking back, this was completely illogical, but a product of being on my own for too long and over-thinking everything." And it couldn't have been further from the truth. "A week after returning from a break, I got a shout out on our weekly team conference call for the excellent quality of my work. This really shocked me and made me realise how much loneliness was impacting my self-esteem."
Dr Natasha told w&h that some of the mental health issues caused by loneliness include: "depression, anxiety, general cognitive decline and Alzheimer's dementia - these are just some of the psychiatric conditions caused by loneliness."
Mental health charity Mind explained that loneliness and mental health can be a viscious circle - having mental health problems can make you feel lonely, but feeling lonely can also damage your mental health.
"Loneliness can make people feel depressed, uncared for, abandoned. And the more you feel like that, the more difficult it becomes to reach out." Ammanda said.
How can we combat loneliness?
The loneliness Holly has experienced has been such that she's decided to change her jobs, in order to create a more social environment. She explained, "The job role I am going to will be very similar to what I'm doing now, but I'll be mainly office-based, a short commute from my home. I've taken the time to find a company that I know have a flexible working policy, so the option to work from home some days is still there if I need it.
"I got a really positive vibe about the working atmosphere, so I'm hopeful it will be the right move for me."
For you, dealing with feelings of loneliness may mean changing your circumstances. But, Rebecca Lockwood notes, sometimes you might just need a slight shift in your schedule.
She said, "To combat loneliness, be aware of the thoughts you have and make time to spend with loved ones. When you see friends a good tip is to always make sure you have a date in the diary for a catch up.
Or, "Go to local groups and connect with new people if you have a lack of social interaction. Do more of what you enjoy. This will keep you occupied on the things you love giving you less time to worry about feeling or being alone."
If you are older, it might also be helpful to reach out to the various resources available out there. You can call The Silver Line, a helpline for older people, on 0800 4 70 80 90, or, get in touch with ou can also call Age UK on 0800 055 6112, or Friends of the Elderly on 0300 332 1110. Friends of the Elderly offer weekly or fortnighly friendship calls, from someone who you can talk to regularly. The University of the Third Age is also a fabulous resource, where retired or semi-retired people can continue to explore their interests and passions through courses and events, in a friendly, informal environment with no qualifications necessary.
And social media, while it should be used carefully, can also be brilliantly beneficial to people who find it difficult to get out. Join Facebook groups of chat rooms, and speak to people with similar interests. Just check in with yourself, to ensure that your time spent online makes you feel more connected, not less.
It's also important to bear in mind that if you don't feel lonely, you can help others who do feel that way, too. If you suspect someone you know is lonely, Ammanda suggests, "Sometimes it's the smallest thing that can help someone feel lonely and not so on their own. Sometimes, it's just about asking someone how they are. It can make the biggest difference - it's often the little things that can turn someone's day around."
Amy Hunt is Life Channel Editor at womanandhome.com, having been with the brand since 2015. She began as the magazine's features assistant before moving over to digital as a News and Features Writer, before becoming Senior Writer, and now a Channel Editor. She has worked on either women's lifestyle websites previously too—including Woman's Weekly, Goodto.com, Woman, and Woman's Own. In 2019, Amy won the Digital Journalist of the Year award at the AOP Awards, for her work on womanandhome.com. She is passionate about everything from books, to homes, to food and the latest news on the royal family. When she isn't editing or updating articles on cleaning, homewares, the newest home gadgets, or the latest books releases for the website, she's busy burying her nose in a gripping thriller, practising yoga, or buying new homeware of her own.