How you can volunteer at Christmas to help those in need over the festive season
Being a volunteer at Christmas can help to provide some crucial support at what can be a difficult time for many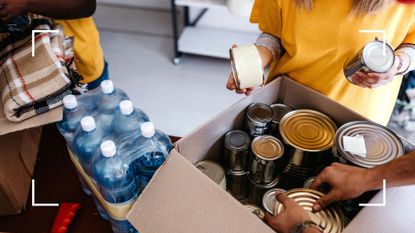 (Image credit: Future/Getty Images)
If you want to volunteer at Christmas, we've rounded up some of the brilliant organizations you could lend support to over the festive season—as well as the different things you can do to volunteer during the holidays.
According to research conducted by the Royal Voluntary Service—one of Britain's largest volunteering charities—74% of people intend to spend more than three hours of their time volunteering across the holidays. And while charitable organizations and vulnerable groups need help throughout the year, the festive season can present particular challenges that means extra hands are more than welcome.
Whatever your skills or capabilities, there's a charity out there that will need a helping hand over Christmas—from animal shelters to food banks. And if you already have commitments for 25th December, don't worry—there's usually a need for volunteers both before and after Christmas Day itself.
Here are just some of the ways you can volunteer at Christmas whether you're in the US or the UK...
Where to volunteer at Christmas in the US
1. Lend your time to a food bank
Unfortunately, food banks experience some of their busiest times during the holidays, so volunteering at one (or lending your support to them in other ways) can be incredibly helpful. Feeding America, America's largest domestic hunger-relief organization, is currently welcoming volunteer sign-ups for their food banks, food pantries, or local soup kitchen over the festive season—all you need to do is enter your name, email and ZIP code to enquire about a spot.
Feeding America do advise interested volunteers to be open about where they want to volunteer though—explaining that Christmas can be a very busy time to volunteer. They suggest that it's important to be flexible with where you work and what you are happy to do. For example, you could be serving hot meals, or delivering boxes of food.
And because the holidays are such a busy time for volunteering, the organization has also explained that if you miss out on a volunteering spot, they encourage you to support them in another way—such as by hosting a food drive, or donating food and money for those who need it most.
Visit Feeding America here (opens in new tab).
2. Volunteer at a local hospice
Volunteering at a hospice can be an incredibly meaningful way to serve your community, and Christmas is one of the most important times to do so. The holidays can be difficult for those in hospices and for their loved ones, so any extra support that can be given is vital.
If you decide you want to volunteer in a hospice, it's worth bearing in mind that you could be asked to complete any number of tasks. This could include supporting patients in a non-medical way (reading to them, taking walks with them, talking to them, or playing music for them), or providing practical support for their families (by completing errands, or allowing them some time alone), amongst many other things.
The Hospice Foundation of America suggests that if you'd like to volunteer in a hospice, that you reach out to specific establishments near you to enquire about their specific needs, to determine how well your interests and skills could fit in.
Visit the Hospice Foundation of America here (opens in new tab).
3. Look into opportunities at ASPCA animal shelters
It can be vitally important for animal shelters to receive extra help and support from volunteers at Christmas time, as it's a time when many staff members at the shelter have time off from work. And, shortly after the holiday season is sadly when many pets, such as cats and dogs, are given up by owners, as they become unwanted Christmas presents.
The American Society for the Prevention of Cruelty to Animals (ASPCA) runs regular volunteer opportunities throughout the year, and these will only continue as we get closer to Christmas. The opportunities vary depending on what state you are in, but can include anything from helping fearful dogs to volunteering at adoption centers, or fostering animals for a short period of time. Keep checking in as we get closer to December for specific festive needs. You could even bring along one of the best Christmas gifts for dogs to give to the pups.
Visit the ASPCA volunteer page here (opens in new tab).
4. Join Americorps to help wherever is needed
Americorps is a US government organization created to help connect volunteers with those most in need—whatever and wherever that may be. You can choose to become a member of the organization, with service length usually lasting anywhere from 10-12 months. Or, you can opt to help out on a shorter-term basis. You can also apply for specific opportunities in your area, or choose from a list of opportunities across the country.
Americorps help in a wide range of areas, including veteran assistance, disaster response, assisting with the homeless community, helping to build affordable housing, and so much more. This is a year-round volunteer opportunity, but as with many organizations, help is especially needed at Christmas. It's worth noting though that with this opportunity, you will be expected to work either full-time or part-time.
Visit Americorps here (opens in new tab).
Where to volunteer at Christmas in the UK
1. Support those living with dementia
The Alzheimers Society—the UK's largest dementia charity—runs many year-round initiatives where you can volunteer to help someone with dementia. Christmas time can be particularly tough on those living with the disease, when being alone can feel all the more evident, so it's one of the best times to lend your support.
There are a huge range of opportunities to volunteer at Christmas. You could become a telephone support volunteer, making regular phone calls to those with Alzheimer's. Or, you could become a Group Support volunteer, helping those with dementia participate in activities. You could also be a Singing for the Brain volunteer, where you participate in a group session centered around music therapy. And of course, you may also get involved with fundraising to help support dementia research. At Christmas, you can also connect online with people affected by dementia at the charity's Dementia Talking Point (opens in new tab) page.
Visit Alzheimer's Society here (opens in new tab).
2. Become a call companion for the elderly or vulnerable
Many of us have had moments of feeling isolated in the last few years, largely thanks to the Covid-19 pandemic. But for the elderly or vulnerable, this can be particularly tricky, with many of them feeling even more lonely at Christmas. One such way to volunteer your time for people suffering with loneliness at Christmas is to become a Call Companion with the organization Re-engage. This role includes calling an older, isolated person (someone you will have been matched with) two to four times per month at an agreed time, to have an informal chat about whatever it is they may want to discuss. Call times are generally agreed to be around 30 minutes, so this type of volunteering can fit around even the busiest of schedules during the holidays.
Visit Re-engage here. (opens in new tab)
3. Volunteer with cats at shelters
At this time of the year, volunteering with the UK's number one feline welfare charity, Cats Protection, can provide vital support for cats living in shelters this Christmas.
Cat care volunteers are usually needed in the run-up to Christmas, as well as Christmas Day itself, to help feed, clean and spend quality time with the cats. No prior experience is needed, as training is provided. One of your only Christmas dilemmas will be choosing which cat to play with next...!
And if you can't volunteer in person this year, there is a way to give back to the cats virtually. Cats Protection welcome donations—with a donation of £5 paying for a microchip, and a donation of £10 providing a cat with warm and cozy bedding.
Visit Cats Protection here (opens in new tab).
4. Take part in the Christmas shoebox appeal
Operation Christmas Child—run by international relief and development organization Samaritan's Purse—holds an annual Christmas shoebox appeal every year, and this year is no different. It's not strictly volunteering, but it's a way to provide much-needed essentials such as hygiene supplies and school supplies, or fun items such as toys, to a child in need. You can make one yourself by picking up an empty shoebox, downloading the appropriate 'boy/girl' label, and filling it up with some items.
The website includes suggestions of what to pack in your shoebox for specific age groups, and also what is not allowed—including toothpaste, sweets and liquids. Volunteers are also needed year-round to "enthuse and equip churches and groups in their communities" to take part in the project.
Visit Operation Christmas Child here. (opens in new tab)
5. Volunteer with the National Trust
Love history? Then being a volunteer at Christmas with the National Trust could be for you. The charity has a number of volunteer opportunities across the Christmas period, where you would help to bring their winter festivities to life. Volunteers are needed for a number of duties—ranging from welcoming visitors to acting as room guides at any of their sites across the country.
Contact your local National Trust site to see if they're in need of helpers. And, if you can't do it this year, bookmark this page for the New Year instead.
You can also support the National Trust by gifting one of their wonderful memberships. One of the best Christmas gifts for couples or Christmas gifts for grandparents, you present will give the recipient access to over 500 of the National Trusts properties in the UK and the money from the membership goes towards supporting the National Trust's important work.
Visit The National Trust here. (opens in new tab)
Amy Hunt is an experienced digital journalist specialising in homes, interiors and hobbies. She began her career working as the features assistant at woman&home magazine, before moving over to the digital side of the brand where she eventually became the Lifestyle Editor up until January 2022. Amy won the Digital Journalist of the Year award at the AOP Awards in 2019 for her work on womanandhome.com.