How accurate are Bridgerton's costumes? Here's what we know about the fabulous frocks
Are Bridgerton's costume designs accurate? Here's what we know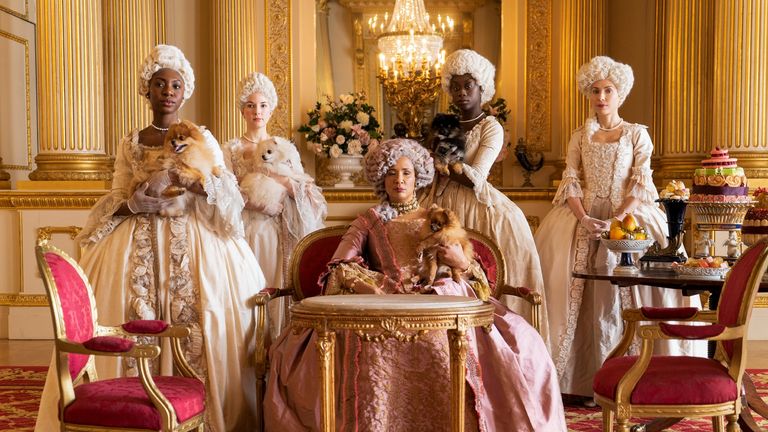 (Image credit: Netflix)
Bridgerton, the new regency era hit has filled our homes with scandal, intrigue and a lot of sex, and we can't get enough.
The period drama, unlike one we've seen before has a witty dialogue, modern music in fun classical style and lavishly decadent costume designs, the latter of which is causing a stir as many question if the costumes are too modern and not at all accurate.
 Are the costumes in Bridgerton actually accurate?
Costume designer Ellen Mirojnick, who has created pieces for films like Fatal Attraction and The Greatest Showman is no stranger to bold and lavish designs. Though the costumes of Bridgerton are a treat to the eye many are questioning the choices of colour and whether regency dress would really be so extravagant.
In the 1800's women were shedding the rib shattering corsets of the Victorian era and swapping them for high waisted style, empire silhouettes that would accentuate the bosom. There is accuracy in Bridgerton as far as the cuts of the dresses, silk gloves and silhouettes, Mirojnick wanted to use these styles but add a new flare to the colours and materials. Speaking to Vogue Mirojnick remarked, "it was about looking at the different silhouettes and shapes while knowing that this had to be aspirational, as opposed to historically accurate. We knew that we had to shift the color palette and the fabrications."
There are many aspects to the Bridgerton costume designs, for example the two families of the Bridgertons and Featheringtons styles are a stark contrast, Mirojnick wanted to represent new and old money. The Bridgertons were an older, classically upper class family so wore more traditional gowns whereas the Featheringtons were of new money, and therefore seeking stature and attention hence the bold yellows and pinks. 
The idea for Bridgerton was lavish, luxury. They needed gowns and suits that matched the grandeur of the parties they attended, it is not a period drama like that of the Jane Austen classics, it is a new take, with a modern cast. The overall aesthetic matches perfectly with the costume design. 
Bridgerton is a period series with modern twists and inspiration. The costume design has the perfect balance of historically accurate shapes and bold modern style, sex appeal to match the scandalous subject matter.