Amazon's latest Fire HD 10 Tablet is now under $80—so obviously we're adding it to our carts ASAP
Among the vast selection of Amazon Prime Day deals, consider investing in the Fire HD 10 tablet, which offers unparalleled tech and convenience at your fingertips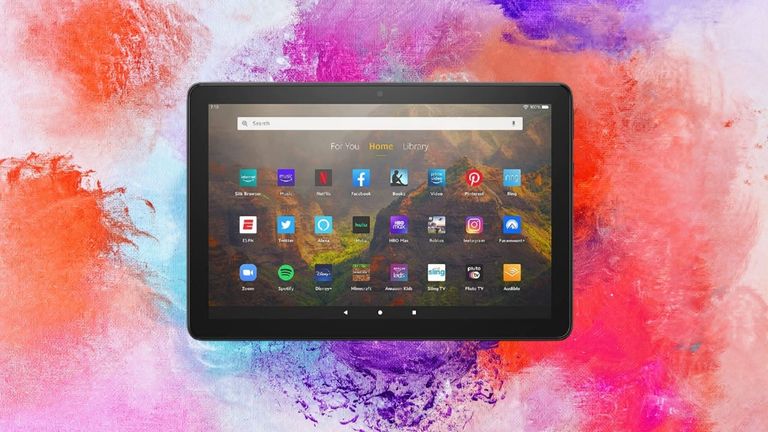 (Image credit: Future)
With Amazon Prime Day at full throttle, now's the perfect time to splurge on the Fire HD 10 tablet (originally $150), which now falls under $80. Don't wait: This is the best price we've seen on the device since November 2020.
Among the best eReaders, the Amazon Fire HD 10 tablet is the antithesis of bare-bones, no-frills performance—especially compared to the Kindle Oasis and even the popular Kobo Clara HD. It exceeds beyond the world of digital reading, offering apps like Netflix, Facebook, Hulu, Instagram, TikTok, and even Microsoft Office and Zoom. The Fire HD also enables users to check their emails, set reminders, and also check their email, and more.
The Fire HD 10 Kids Edition, typically $199.99, is also discounted; however, it's slightly more expensive at $150. Still, we'd say it's a worthwhile investment for everything you get, like unlimited access to access to over 20,000 apps and content from PBS Kids, Nickelodeon, Disney, and more. 
Naturally, the Fire HD 10 tablet has garnered swathes of happy shoppers. One reviewer, who owned three best kindles before this device, shared "This one is extra special because it is so much larger. It is easy to handle, especially with the new case. I had over 60 books to download and it took several days, but they are all on my new Kindle Fire. I love reading books on my Kindle and the more books I have, the happier I am. Thanks, Amazon."
Other reviewers applaud its enhanced features and performance. "This one is much faster, and the touch screen seems more responsive," wrote one shopper. "The 5G Wi-fi connection is also significantly faster than my previous unit."
With the Fire HD 10, the question ultimately becomes what can't it do? For that reason, we're swiping the card on this Prime Day deal, STAT.
Dominique (Dom) is a very online shopping writer at Woman & Home, where she covers products, sales/deals, and market news across categories. Before joining the team, she penned stories as an editorial fellow at Insider Reviews, the affiliate commerce team at Insider Inc./Business Insider. The bespectacled NJ transplant specializes in commerce journalism, women's lifestyle content, and hoarding makeup—much to her mother's dismay. 
Her foray into storytelling began in the early aughts, the era in which she developed a passion for fiction writing and an aversion to math. This passion, along with many failed math exams, led her to Marist College, where she studied public relations, creative advertising, and English. 
Aside from writing, she doodles in notebooks, crafts memes, and sleuths for homes out of her tax bracket on Zillow. Follow her adventures via the web:
Instagram: @dominiquemcintee / @drugstoredomi
LinkedIn: https://www.linkedin.com/in/dominique-mcintee-3a32ab9a/ 
To connect: dominique.mcintee@futurenet.com