Wondering what to snack on when dieting? 14 foods that are great for weight loss
Wondering what to snack on when dieting? We tried the best snacks for weight loss ourselves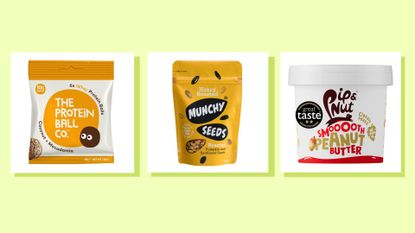 (Image credit: Protein Ball Co./Munchy Seeds/Pip& Nut)
Knowing what to snack on when dieting is often the hardest part of changing your eating habits, as many of our go-to snack foods are carbohydrate-based and high in sugar or saturated fats.
While there's nothing wrong with eating these foods, if you're trying to lose weight and it's not happening, then they could be what's preventing your progress. To lose weight, you have to be in a calorie deficit. This is where you eat fewer calories than you burn every day, and consistently eating higher-calorie snacks alongside regular meals will push you out of this deficit before you know it.
No one should feel pressured to lose weight, but if you are trying to change up your eating habits, having a selection of healthy snacks that are higher in protein, fiber, and healthy fats, and lower in calories may be the way forward. To find out which snacks are best for staying full when dieting, we consulted two nutritionists before trying some of the best weight loss foods ourselves.
What is a healthy snack?
A healthy snack is one that contains a source of protein, fiber, and healthy fats, as these help to keep you fuller for longer, nutritionist Jenna Hope (opens in new tab)explains. Many of us reach for a snack to beat the 3pm post-lunchtime slump, so swapping out a high sugar snack for one that contains these nutrients could make all the difference to your day.
"Additionally, these nutrients will help to slow down the release of any sugars into the bloodstream," she says. "Where possible try to ensure you're opting for whole foods and those rich in micronutrients."
Foods rich in micronutrients include:
Fruits
Vegetables
Nuts
Seeds
Beans
Pulses
Wholegrains
Fish
Good quality meat
Eggs
Often when we think of healthy snacking and what to eat on a diet though, low-calorie options come to mind. It's the same with drinking too, with the lowest calorie alcohol being the most popular for anyone looking to lose weight. While it's essential to stay in a calorie deficit to lose weight, that doesn't mean you always have to go for the lowest calorie option. Eating more when snacking could mean that you don't binge on 'unhealthier' foods later on in the day.
"The narrative is often around calories but it's important to remember that often very low-calorie foods may not have enough energy to sustain you and therefore you may end up feeling hungrier later on," adds Hope.
What to snack on when dieting
1. Popcorn
Popcorn is one of the best healthy snacks, great to munch on through the day if you're on a diet as it's high in fiber, one of the most filling micronutrients, according to Purdue University (opens in new tab). But when choosing your popcorn, make sure you're opting for the air-popped kind which is lower in calories, sugar, and saturated fats than the traditional movie-theater kind.
MyProtein Protein Popcorn
Available in sweet or sweet & salty flavor, this protein-heavy popcorn makes the perfect snack for anyone looking to increase their protein intake. There are six packets in each pack, almost one for every day of the week. 90 calories in one bag, but currently only available in the UK.
(opens in new tab)
SkinnyPop Original Popcorn
Skinny Pop Popcorn is another excellent choice if you're wondering what to snack on when dieting, as it has zero trans fats. It's also peanut free, making it safer for those with allergies, tree nut-free, preservative-free, and it's a good source of fiber. Only 100 calories per bag, but available only in the US.
2. Oatcakes
Oatcakes are one of the best easy, on-the-go snacks to enjoy if you're dieting or looking to lose weight. Famously, oats are nutritious whole, ancient grains that offer a good amount of fiber for the size of the biscuits and slightly higher protein content when compared to other grains.
(opens in new tab)
Nairn's Dark Chocolate Oatcakes
When it comes to oatcakes, you can't really get better than Nairn's. We tried a variety of flavors at woman&home and these ones came out on top. Not only are they filling and delicious, they're made of healthy carbohydrates, and 45 calories per biscuit.
(opens in new tab)
Another great flavor, Nairn's are available to buy on Amazon in both the US and the UK in a variety of textures as well as flavores. While the fine milled cakes are excellent on their own, try some of these Scottish Rough Oatcakes with slices of mozzarella and tomato, topped with basil. 45 calories per biscuit.
3. Protein bars
Protein bars are a natural choice for looking to make the most of the benefits of protein powder, as they tend to contain between 10 and 21g of protein per bar. Along with fiber, protein is another filling nutrient so opting for protein-rich foods over carbohydrates and fats will keep you fuller for longer.
"Protein is the most effective macronutrient that provides a satiating effect," explains registered nutritionist and dietician, Dr Sarah Schenker (opens in new tab). "So, formulating foods with increased protein content can help to modulate food intake, promoting body weight loss and body weight maintenance," she explains.
Grenade Carb Killa High Protein and Low Carb Bar
A classic protein bar, Grenade bars are available in loads of different flavors - including the new lemon cheesecake flavor (opens in new tab). At 220 calories per bar, they're on the lower end of the protein bar calorie spectrum, and contain an impressive 23g of protein per bar. While they're slightly powdery in flavor, they do provide top protein quantity we found.
(opens in new tab)
The Protein Ball Co. Keto Whey Protein Bites
If bars aren't for you, why not try balls? The Protein Ball Co. have a range of whey protein bites designed to offer 10g of protein per serving, in several flavors. We loved the peanut butter or Raspberry Brownie flavors for after-lunch cravings, or Pistachio for something more savory.
4. Crisps
Crisps might not be the first thing that comes to mind when you think of what to snack on when dieting, but if you're a lover of chips then it's going to be very difficult to give them up - so why should you? Gone are the days of deep-fried crisps with sky-high sodium content, many brands are incorporating popular wellness trends into their snacks for the better.
(opens in new tab)
Peter's Yard Sourdough Crisp Bites
Sourdough is famous for its fermentation process, which may produce prebiotics, a type of indigestible fiber that feeds on the good bacteria in your gut. This, according to studies by University of Bari Aldo Moro (opens in new tab), can ease digestion and improve your gut health. Peter's Yard crisps are vegan, low calorie snacks that incorporate all the benefits of sourdough bread into one bag.
(opens in new tab)
Boundless Activated Crisps
Foods that are high in fiber, including nuts and seeds, contain phytic acid which binds itself to essential body minerals like iron, magnesium, zinc, and calcium. When it does so, it can reduce their absorption rate. Boundless snacks aim to end this issue as they flood the nuts and seeds in saltwater, removing the phytic acid but keeping the good stuff.
Their crisps, now available in sea salt and cider vinegar flavor, have been through this "activation" process and are just 99 calories per bag so a great food if you're wondering what to snack on when dieting.
5. Olives
Olives are a foundation of the Mediterranean diet, typical in countries like Spain, Greece, and Italy. While you might not think of them as a go-to snack when dieting, olives are very high in monounsaturated fats and antioxidants, according to a study by the University of Urbino (opens in new tab).
6. Seeds
Pumpkin, sesame, sunflower, and almost all other types of seeds are exactly what to snack on when dieting if you're looking to stay full between meals and aid digestion. As well as offering that much-needed crunch when you're hungry, pumpkin seeds in particular have been proven to come with a range of health benefits.
According to research from University College Cork (opens in new tab), they're particularly high in fats and protein with around 7g of protein, 1.7g of fiber, and 13g of fats (including healthy omega 6) per 28g serving.
(opens in new tab)
For simple pumpkin seeds at a reasonable price, go for these from Aksoy at Amazon. Shelled and ready to eat, these seeds have 9g of protein per serving and are suitable for most diets, including the paleo and ketogenic diet.
(opens in new tab)
Made up of pumpkin and sunflower seeds, Munchy Seeds are a great way to get those much-needed fats and protein. We loved these seeds as they come in an exciting range of unique flavors, including chilli for savory-lovers and honey roasted for those with a sweet tooth. Buy on Amazon or via the Munchy Seeds (opens in new tab)website.
7. Boiled eggs
The egg is one food that is great for weight loss thanks to its healthy 77 calories count, 6g of protein, and 5g of healthy fats. But for those particularly interested in maintaining their heart health, eggs can be an essential part of your diet.
According to research by Loegernes Test Centre (opens in new tab) in Copenhagen, among other studies, eggs raise our levels of high-density lipoprotein (HDL). Often referred to as the 'good' cholesterol, those with higher levels of this tend to have a lower risk of heart disease, stroke, and other adverse health issues.
When it comes to the egg as a snack, Lifesum (opens in new tab)'s nutritionist Signe Svanfeldt (opens in new tab) says that whole grain bread or a rice cake topped with a boiled egg is the way forward. "The whole grain bread has plenty of complex carbs, rich in fiber, and the egg will provide a lot of protein. Top it off with some fresh herbs, pepper, and chilli flakes if you want to add more flavor," she says.
8. Hummus
Hummus is a snack you can vary in many ways depending on what vegetables you are in the mood for, Svanfeldt says, making it an ideal snack for dieting.
"The hummus is rich in protein as well as fiber from the chickpeas. If you add tahini, which is a sesame paste, you also get some healthy fats," she says. "Plus, all the vegetables are full of fiber."
9. Nuts
For years we've been told that a handful of nuts makes a great snack - and it's true. Nuts are packed full of macronutrients, with (on average) 5g of protein, 16g of fats, 3g of fiber, and 173 calories per 28g. Some of the best ones to eat to reap the benefits, according to Loma Linda University (opens in new tab), are:
Walnuts
Almonds
Brazil nuts
Cashews
Hazelnuts
Macadamia nuts
Pecans
Pine nuts
Pistachios
There's even evidence to suggest that nuts can actively help you lose weight. A study from the University of Sao Paulo, for instance, found that participants who were given nuts to eat lost 2 inches from their waistlines. While waistline, much like BMI, is not an entirely accurate or useful way of predicting health as it relates to weight, this was more of a loss than those given olive oil.
"Always keep some in your bag to make sure that you have an emergency snack if you're on the run," suggests Svenfeldt.
(opens in new tab)
Almonds by Whole Foods Market
You can pick up plain, simple nuts like these almonds from your local supermarket or whole food store. While there's not a whole lot of difference in calorie content between smoked and unsmoked, these almonds come in at 160 calories per 28g.
(opens in new tab)
Squirrel Sisters Smoked Almonds
For more flavor, take a look at Squirrel Sisters (opens in new tab)' snack packs. Tucked up in 25g bags, these nuts have no added sugar, are vegan, and gluten-free. While they're smoked, giving additional flavor, these almonds still only come in at 138 calories per bag.
10. Apple with peanut butter
Looking for something a little sweet? Try some slices of apple with peanut butter on them. "The best snacks for satiety are those which are rich in protein, fiber, and healthy fats as these have a higher satiety value than simple carbohydrates," says nutritionist Hope.
When choosing peanut butter though, be sure to pick one that's relatively low or absent of added sugar - and watch out for palm oil.
(opens in new tab)
Pip& Nut is one of the best peanut butters out there and I've been a fan of the brand for years. Suitable for both smooth and crunchy lovers, what's best about Pip& Nut aside from the delicious flavor is that their butters come in both smaller and larger sizes - ideal for those who eat it by the spoonful.
(opens in new tab)
100% Pure Skinny Peanut Butter
For those maintaining a calorie deficit, it's worth looking into lower calorie peanut butter. This one by Skinny Food Co. tastes very similar to many other brands out there, but is just 85 calories per 15g compared to the common 100 calories or more. Available to buy on Amazon or straight from the Skinny Food Co. (opens in new tab) website, in either smooth (opens in new tab) or crunchy (opens in new tab) textures.
11. Greek yogurt with berries
The benefits of strawberries are famous, so top some Greek yogurt with strawberries and other berries the next time you're struggling to stay full between breakfast and lunch. Compared to regular yogurt, a report by the Agricultural Research Service (opens in new tab) found, Greek yogurt is higher in protein and lower in carbohydrates.
But it's also rich in other nutrients like B vitamins, selenium, calcium, phosphorus, zinc, vitamin A, and potassium. In smaller quantities, there are nutrients like magnesium, choline, and copper.
"This is the perfect snack, filled with protein from the Greek yogurt, carbohydrates, and fiber for the berries. Combine with some nuts for healthy unsaturated fats and more protein," Svanfeldt suggests.
12. Chia pudding
Chia seeds are loaded with fiber, making chia pudding one of the best snacks for those dieting or looking to lose weight. In fact, 35% of their total weight is made up with exclusively fiber, according to Sultan Zainal Abidin University (opens in new tab).
To make chia pudding, all you need to do is combine two tablespoons of chia seeds with half a cup of water or milk and leave the mixture in the fridge overnight.
There's also evidence to suggest that chia seeds are one of the top diet snacks, as according to Hacettepe University (opens in new tab), they can make us feel fuller for longer. The study looked at 24 participants and found that eating 7g of chia seeds mixed with yogurt for breakfast increased feelings of fullness and reduced the amount that participants ate in the short term.
13. Granola
Granola is a classic breakfast staple, made of toasted rolled oats, nuts, grains, and dried fruit, combined and baked with a sweetener like honey. But it also makes for a great snack, if you pick the right one.
Various studies, including one by the University of Toronto (opens in new tab), have looked at the components of granola individually and have found that eating it in moderate quantities can improve blood pressure levels, thanks to high fiber ingredients like oats and flax seeds. While Lancaster University (opens in new tab) found that oats are an excellent source of beta glucan, a particular type of fiber that can reduce bad cholesterol levels known as LDL cholesterol and in turn, help to reduce the risk of heart disease.
Many of the larger brands mass-produced granola and often add artificial sugars though, so it's always best to make your own or check the label of more independent brands.
(opens in new tab)
For those following a keto diet, granola is a great snack. For under £5 from Planet Organic, Heylo granola in the Nice & Natural flavor is made up of baked seeds and coconut clusters. Simple and effective, so you can top off your cereal, oatmeal, or yogurt with it.
(opens in new tab)
Oat and Honey Granola by 365 Whole Foods
365 Whole Foods' granola is made up of 34g of whole grains, oats, honey, crisp brown rice, and crunchy almonds. If you're looking for a sweeter version of a classic, no sugar granola, then this is the one to go for as it's sweetened with honey rather than artificial sugars.
14. Chocolate
You might think that chocolate is off the menu if you're snacking on a diet but that doesn't have to be the case. There's really no such thing as healthy chocolate but dark chocolate with a high cacao ratio is proven to have a range of health benefits that can aid weight loss - including lowering blood pressure.
Research by the University of East Anglia (opens in new tab) found that cocoa and dark chocolate improved blood flow in participants and lowered blood pressure overall, although the results were mild.
When it comes to weight loss and particularly those trying to get out of emotional eating habits, dark chocolate can offer that slice of sweetness in limited quantities.
(opens in new tab)
Originally designed for children, PLAYin CHOC is a delicious low-calorie chocolate with just 62 calories per square. Available in both dark and milk chocolate varieties, we tried and tested this chocolate with tasty results. The dark chocolate is especially moreish, resembling more of a truffle chocolate than a traditional chocolate bar.
(opens in new tab)
Lindt Excellence 90% Dark Chocolate
Lindt's 90% dark chocolate is one of the simplest recipes, made up exclusively of low fat cocoa powder, cocoa butter, cocoa mass, sugar and vanilla. While it may be equal in calories to many of the other chocolates out there, it's record high cocoa mass sets it aside from other intense, dark chocolates.
At the end of the day though, if you're dieting and maintaining a strong calorie deficit, a couple of squares of chocolate or any other snack isn't going to make any difference at all. You might find that by continuing to eat your favorite foods in moderate quantities, rather than cutting them out completely, you're less likely to binge on them later on.
And if snacking doesn't end up working for you when you're trying to lose weight, nutritionist Signe Svanfeldt has another idea. "Having well-composed snacks in between larger meals will ensure that you keep your energy levels up and stop you from getting hungry and eating more later on," she says. "But for your wellbeing, you can also plan daily meals so you get enough energy for the whole day based on your individual needs. Including another meal [on top of the standard three and instead of snacking] can help with this, and ensure you stay within the energy requirements."
A digital health journalist with over five years experience writing and editing for UK publications, Grace has covered the world of health and wellbeing extensively for Cosmopolitan, The i Paper and more.
She started her career writing about the complexities of sex and relationships, before combining personal hobbies with professional and writing about fitness. Everything from the best protein powder to sleep technology, the latest health trend to nutrition essentials, Grace has a huge spectrum of interests in the wellness sphere. Having reported on the coronavirus pandemic since the very first swab, she now also counts public health among them.