The best high protein ice cream to add to your next shake
High protein ice cream is hard to come by. We've picked the top choices from supermarkets near you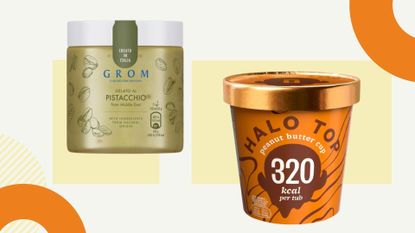 (Image credit: Ocado/Halo Top)
woman&home newsletter
Sign up to our free daily email for the latest royal and entertainment news, interesting opinion, expert advice on styling and beauty trends, and no-nonsense guides to the health and wellness questions you want answered.
Thank you for signing up to . You will receive a verification email shortly.
There was a problem. Please refresh the page and try again.
High protein ice cream is the perfect way to get more of this super-satiating macronutrient into your shakes this summer. While finding high-protein-specific ice cream might be a struggle, we've nailed down the top choices to add for a post-workout boost.
As the weather warms up, we're going to be outside more than ever before. Whether it's long runs in the park or hitting the gym as the sun starts to rise, there's no doubt that working out in the summer is easier than facing the dark and cold in the winter. But with more exercise, you need more protein to aid muscle growth and repair.
So staying in the summery spirit, and hopping onto one of the biggest wellness trends for 2022, here are our picks of the best high protein ice cream that have all the health benefits of protein powder and more.
What is high protein ice cream?
High protein ice cream is lower in calories and higher in protein per serving than traditional ice cream. The additional protein could be from one of the best protein powders incorporated into the mixture, or just because the ingredients are naturally higher in protein.
However, there are very few brands that offer 'high protein'-labeled ice cream. Even though adding additional protein to everything from bread to confectionary has quickly become one of the biggest health trends, finding specific high protein ice cream is difficult for one specific reason.
"For a food product to legally claim this, it must have at least 20% of the energy value coming from protein," explains Jess Hillard, nutritionist from leading sports nutrition brand, Warrior (opens in new tab). "So for example, take a 115 kcal protein bar, at least 23 calories (kcal) of the energy must come from the protein source. There is 4 kcal in 1g of protein so for a 115kcal protein bar, for it to state 'high protein' on the product, 6g or 5.57g to be exact, must come from a protein source."
This is a relatively big chunk when you consider that the average 100g serving of vanilla ice cream contains 194kcal. For this ice cream to be specifically labeled 'high-protein', it would need to offer almost 10g of protein—rather than the 2g it actually contains, which is standard across most brands.
All is not lost, however. While protein from ice cream probably won't be enough alone to reach your protein goal for the day, a dollop in the blender with your pick of the best protein shake makes for a tasty additional helping. Just make sure you don't exceed your recommended protein intake, Jess says.
"Protein recommendations are based per kilogram of bodyweight. For adults, 0.75g per kilogram of bodyweight. Current recommendations are 56g per day for men and 45g per day for women. But this is based on average bodyweights of 75kg for men and 60kg for women, so it will naturally vary," she explains.
The best high protein ice cream
Halo Top Peanut Butter Cup Ice Cream
At 125 calories per 100g serving and 4.9g of protein, this is the highest protein ice cream tub on our list (and one of the tastiest). While it doesn't quite reach the requirement for the 'high protein' label, it's really not far off. Compared to other favors of Halo Top, we also found the peanut butter cup to be significantly creamier and much closer to a traditional ice cream taste. Low cal, higher in protein and delicious? Best of all worlds.
(opens in new tab)
Grom Gelato al Pistacchio Ice Cream
By far the highest in protein is the Grom Pistachio Gelato, available to buy from Waitrose. It contains 6.8g of protein per 100g but because of its 221 calories, it's lower in protein per 100g than Halo Top. If it's just the protein you're looking for, the nuts and dairy in this ice cream offer the macronutrient in decent quantities. It's also the most premium ice cream on our list, offering rich flavor that tastes like real pistachios.
Green & Black's Organic Ice Cream Vanilla
With 4.8g of protein per 100g, this creamy classic is the second-highest in protein on our list. Green&Black's is known for its indulgent taste and this one definitely ticks that box as the ice cream is rich in real vanilla bean flavor. At 221 calories, it's slightly higher on the scale but we reckon that if you're not too concerned about calories and just want a deliciously simple ice cream to add to your shake, this is definitely the best to go for.
Oppo Brothers Cookies & Cream
Oppo Brother's 100g serving offers 142 calories per 100g with 4.3g of protein, making it significantly higher in the macronutrient than others on the market. It's also the one to go for if you love a traditional dairy ice cream but want something lighter in calories as despite the low calorie count, we found this ice cream really brings out a creamy flavor and texture. The cookies add a welcome crunch to the bite as well.
Magnum Sweet & Salty Almond Remix Ice Cream
We're as surprised as you are! While it's certainly the highest in calories at 323 per 100g, making it nearly double that of others on our list, there's 4.3g of protein. It's certainly one for those who love a rich chocolatey flavor, we discovered after testing this ice cream for ourselves. The sweet and salty twist, with the crunch of almond, is an unexpected combination that really works in this case. But we reckon you'd struggle to manage too much of it as the flavors are incredibly rich.
(opens in new tab)
Mackies Real Dairy Ice Cream
Sometimes there's nothing better than the real thing. Coming in a 4g of protein per 100g, Mackie's is a traditional vanilla ice cream made using renewable energy to turn dairy milk and cream. If you're a fan of particularly authentic-tasting ice cream, with all the sweet flavoring of a classic vanilla, we think this is the one to go for. While it's not the most exciting, it certainly stops the craving. And at 192 calories a serving, it's a lot lighter than the more mainstream equivalents.
Lindahls Kvarg White Chocolate
There aren't many high-protein ice cream choices out there, but that shouldn't stop you from getting your protein from ice cream. Create your own at home by freezing a protein yogurt, like Lindahls Kvarg White Chocolate Protein Yogurt, with 15g of protein per serving and 83 calories. Miles ahead of the ice cream brands in terms of protein and calories per serving, freeze one (or a couple) of these overnight for soft-serve ice yogurt, perfect for combining with your protein shake post-workout.
Arla Protein Strawberry Yogurt
Looking for even more protein? Arla's yogurt has 20g and 140 calories per serving. While Lindahls Kvarg focus on sweet flavors like white chocolate and vanilla, Arla's focus is more on fruity ones like raspberry, blueberry and strawberry. They're also a little thicker in texture than the alternative and can taste a little less artificial. The salted caramel flavor is definitely worth a try as well though, as is the vanilla if you have more of a sweet tooth.
Warrior CRUNCH Protein Bar
"Freezing protein bars is a great way to make them last longer and cool you down after a sweaty workout, as well as giving you protein," Jess says. While they might not have the creamy texture of yogurt or ice cream, if you're a fan of an ice cream sandwich then this could work for you. At 20g of protein and 229 calories per serving, the new Warrior CRUNCH flavor is a must have for those who love rich dark chocolate with a fruity twist. When frozen, we found it tasted like sweet Black Forest gateau.
How to make high protein ice cream
Making high-protein ice cream is easy, Jess explains. "You can make your own protein ice lollies with molds, icing clear protein powders with water. Or you can mix a protein powder with milk and freeze it for a creamier texture, more similar to ice cream."
This works particularly well if you're a fan of flavored protein powders or if you prefer alternative milks, such as oat or almond, as you're unlikely to find a high protein ice cream in stores made with non-dairy milk as it won't naturally offer enough of the macronutrient.
"Adding protein powder to fruit smoothies is another great idea," Jess says.
A digital health journalist with over five years experience writing and editing for UK publications, Grace has covered the world of health and wellbeing extensively for Cosmopolitan, The i Paper and more.
She started her career writing about the complexities of sex and relationships, before combining personal hobbies with professional and writing about fitness. Everything from the best protein powder to sleep technology, the latest health trend to nutrition essentials, Grace has a huge spectrum of interests in the wellness sphere. Having reported on the coronavirus pandemic since the very first swab, she now also counts public health among them.