8 Reasons You Should Gorge On Strawberries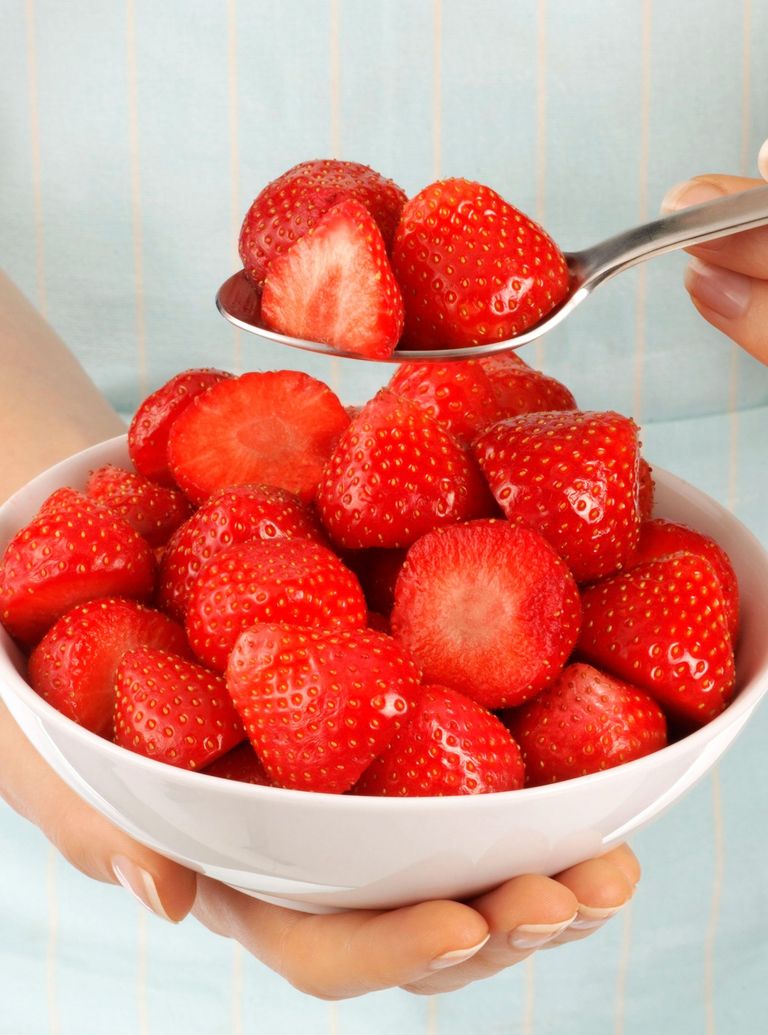 (Image credit: Rex Features (Shutterstock))
Strawberries are synonymous with the fancier side of society - in the past, they were famously beloved by royals, and are the indulgent fruit of choice at Wimbledon every year. And really there's nothing better than a sweet, refreshing strawberry on a hot summer's day. Perfect teamed with cream, chopped in a fruit salad, or garnishing a glass of fizz - there aren't many better options if you're looking to get your 5-a-day. But as well as being a delicious treat, can they also be good for your health?
Nutritionist Jo Travers, of The London Nutritionist, certainly thinks so, "Strawberries - and in fact all berries - are great for health because of the vitamins, minerals, fibre, fluid and phytonutrients."
So, we take a look at the benefits of strawberries...
4 benefits of strawberries
1. They have anti-ageing properties
Studies have shown that these these small heart-shaped fruits can help to slow down the ageing process. Strawberries are filled with the antioxidant ellagic acid, which protects the elastic fibres in our skin to prevent sagging. So those wanting a smooth, wrinkle-free face might do well to reach for a punnet of strawberries!
2. They can naturally whiten teeth
Because of their acid content, strawberries can be a great way to get your pearly whites, well, white again. Simply mash one up, dip your toothbrush into it, and scrub away. The acid content in the strawberry will work to get rid of staining on your teeth. Just make sure to rinse afterwards, with warm water.
3. They help your body to burn fat
They're reported to stimulate your metabolism, and are only 49 calories each! So if you've got a stubborn middle, these could be the fruit for you.
4. They are a natural exfoliator for skin
There can be beauty benefits to strawberries to. Because of the little pips in them they can be mildly abrasive, which means that, if they're mixed into a paste to make a lovely skin mask, they can help get rid of dead skin cells, excess oil and all the dirt of a busy day.
Pair a mushed up strawberry with honey, and apply the mixture to your face for two minutes - then sit back and enjoy the results!
The health benefits of strawberries
Of course it's not all about looks. The strawberry health benefits are aplenty too! Studies have shown that they can help:
1: Protect against heart disease and cancer
The seeded fruit is best known for its vibrant red colour, but a strawberry's appearance also gives a clue to one of it's key health benefits. The colour is a result of large amounts of anthocyanidin, a common plant pigment and reportedly, this little known ingredient can be instrumental in benefitting our general health. Anthocyanidin contains large amounts of antioxidants called polyphenols, which can protect against cancer, heart disease, and inflammation.
2: Defend against colds
We know your first fruity option for defending against the common cold is probably likely to be an orange. But did you know that strawberries are almost just as good an option, given that eight strawberries altogether contain more Vitamin C than an orange?
Vitamin C can also help supportive connective tissue, which can be instrumental in taking care of the skin, bones and blood vessels. A good bet all round then...
3: Safeguard eye health
The antioxidant properties in strawberries we spoke about earlier may also help to keep your eyes in tip-top shape. Our eyes need vitamin C to protect them from exposure to 'free-radicals' which come from the sun's rays and can damage our delicate lenses. So stocking up on strawberries can create more Vitamin C in your body, which in turn can safeguard your eyes.
Fancy whipping up some delicious strawberry recipes? Take a look at our very best strawberry recipes for all occasions here - including a delicious strawberry mousse tart and strawberry and balsamic ice cream!
4: Boost short-term memory
And that's not the only thing this little fruit can do. According to The Journal of Agricultural and Food Chemistry, they can also boost your short term memory.
Strawberries contain anthocyanins, which are antioxidants, that - if eaten consistently, could apparently help improve your short-term memory by 100% in eight weeks!
Strawberry nutrition
All in all, strawberries can be one of the most nutritious little fruits out there. The many, little-known benefits of this small fruit means that it's one of the best options there is.
Discussing strawberry nutrition, nutritionist Jo told us, "Strawberries contain lots of fibre, and fibre is necessary for gut health but also helps to lower cholesterol.
"They contain antioxidants like vitamin C which mop up free radicals that can damage DNA. Another important vitamin is folic acid which is needed for cell division. They also have lots of potassium which can help to lower blood pressure.
"They are also low-GI, which means that the carbohydrate in them enters the blood stream slowly so won't cause sugar spikes. They are low in calories and taste amazing - just watch how much cream you add to them!"
But is there difference in the nutritional value of organic vs. non organic strawberries? According to David Handley, a small fruit expert at the University of Maine, there may only be a few small differences.
He said, "I've read studies that bounce both ways; they are mostly minor differences. One study claims conventional-grown strawberries contain more potassium, while another study might say that organic strawberries are higher in zinc,"
Well then, don't mind us - we're off to the supermarket to grab ourselves a basket of the stuff...
Amy Hunt is an experienced digital journalist specialising in homes, interiors and hobbies. She began her career working as the features assistant at woman&home magazine, before moving over to the digital side of the brand where she eventually became the Lifestyle Editor up until January 2022. Amy won the Digital Journalist of the Year award at the AOP Awards in 2019 for her work on womanandhome.com.