What are the benefits of omega-3 and what foods can omega-3 be found in?
Everyone talks about the benefits of omega-3, but what exactly can it do for you? We asked the experts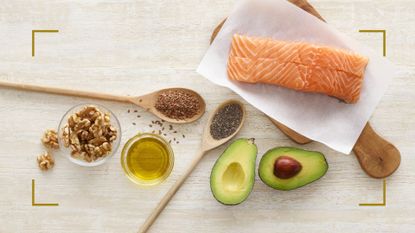 (Image credit: Future/Getty Images)
woman&home newsletter
Sign up to our free daily email for the latest royal and entertainment news, interesting opinion, expert advice on styling and beauty trends, and no-nonsense guides to the health and wellness questions you want answered.
Thank you for signing up to Woman & Home. You will receive a verification email shortly.
There was a problem. Please refresh the page and try again.
Omega-3 is one of those things everyone seems to be talking about. "It's good for you," they say, and we're all left wondering—how exactly? We all want those vitamins that will keep our bodies, hair, and skin healthy and strong, but it's hard to know where to start.
Maybe you already know something about the best vitamins for women and the way they boost your physical health. They're popular for a reason, and women all over the world are seeing real-time results from these added supplements. Omega-3 in particular helps brain function and can be a mood booster, as well as fighting fatigue. If you always feel tired in winter then it could be that you're experiencing a nutrient deficiency in this area.
But while they're important, it's always a good idea to exercise caution when it comes to omega-3 fatty acids and supplements—as overdoing it can have the opposite effect.
What exactly are omega-3 fatty acids and what do they do?
Omega-3 is what's known as an essential fatty acid. Unlike the small number of vitamins we make organically, omega-3 fatty acids aren't actually produced naturally in our bodies. Dr Lynn K. Wagner, an integrative medicine physician, explains that, "essential means [omega-3 acids] are needed to survive. Our bodies do not produce omega-3 fatty acids so we must consume them by eating foods high in omega-3 or by taking supplements".
Tuula Vartiainen, a certified nutrition and lifestyle coach at Keho&Co, tells us the main kinds of omega-3 acids, ALA, EPA, ETA, and DHA:
Alpha-linolenic acid (ALA) is the most common omega-3 fatty acid you'll find in your diet. It occurs in all kinds of nuts and seafood, and your body is going to use those delicious fatty acids for energy.
Eicosapentaenoic acid (EPA) is found in animal products and can become DHA in your body.
Docosahexaenoic acid (DHA) makes up the tissues of your brain, eyes, and tons of other vital organs and you will also find it in animal products.
Eicosatetraenoic acid (ETA) helps reduce inflammation and is quite rare in nature.
Benefits of omega-3
But what does it all do for your body? "Omega-3 fatty acids are important for cardiovascular health and have been found to reduce the risk of heart disease and blood clots," Dr Wagner tells us. "They can also lower inflammation in your body—a huge player in the prevention of chronic disease and aiding the body's immune system.
"For women, in particular, omega-3 fatty acids are important for hormone balancing. They boost dopamine levels which can help with mood and a healthy sex drive. They can even support healthy hair, skin, and nails."
Omega-3 acids are fantastic for our bodies when consumed regularly. There are benefits of omega-3 for the skin, responsible for clear and youthful complexions, and fighting dehydrated skin. Our muscles, tissues, and overall health are aided by these fatty acids. The benefits of omega-3 for hair, and other beauty purposes, are just an added bonus. But be careful, because too much of a good thing can create problems. It comes down to the balance between omega-3 acids and omega-6 acids.
Omega-3 and omega-6 fatty acids
Tim O'Brien, the founder of The Healthy Place cautions on dietary constraints. While he says, "the typical American diet does not include adequate amounts of omega-3 fatty acids," the problem becomes more complex as "most of us are consuming omega-6 fatty acids in excess amounts." Omega-6 fatty acids are in the food we tend to consume way more frequently, including everything from oils to meat to eggs.
"Make no mistake," O'Brien tells us, "omega-6 fats are essential to health as well. But you need to consume a ratio of omega-6 and omega-3 fats in a proportion of approximately 1:1." But that's not what people are doing. "Most are consuming these omega-6 and omega-3 in a ratio of 2:1. The consequences of this imbalance are dire!"
Too much omega-6 will reverse many benefits of omega-3, increasing inflammation and risk of chronic diseases. But don't worry, it's not hard to increase your omega-3 intake to balance out the ratio.
How much omega-3 do you really need?
When you're figuring out the amount of omega-3 you should consume, take a good hard look at your diet. It's all going to depend on what else you're eating and your dietary needs. However, our experts recommend women over 20 consume about 1.1 grams of omega-3 fatty acids a day.
Where to get your omega-3 in your diet
Omega-3 foods for omnivores
"The best way to get enough omega-3 fatty acids is to consume 2-3 servings of fish that are high in omega-3 fatty acids per week. These include fish like wild salmon, mackerel, bass, herring, sardines, tuna, and krill," says Dr Wagner.
Omega-3 rich foods for vegans and vegetarians
If you don't consume fish, don't worry. Your omega-3 intake doesn't have to depend on supplements. Flaxseed products, chia seeds, and walnuts are rich in omega-3 and will help balance your intake. Or, Dr Wagner explains, if all else fails, "a good algal oil does the job".
Omega-3 in supplements
Supplements are always an option. In fact, omega-3 maybe some of the best supplements for women. Dr Wagner specifies that the best omega-3 supplements are, "those that contain a high percentage of DHA and EPA". You can find the breakdown on the back of the bottle.
---

Woman&home thanks Dr Lynn K. Wagner, Tuula Vartiainen of Keho&Co, and Tim O'Brien of The Healthy Place for their time and expertise.
Sign up to our free daily email for the latest royal and entertainment news, interesting opinion, expert advice on styling and beauty trends, and no-nonsense guides to the health and wellness questions you want answered.
Lauren is the former Deputy Digital Editor at woman&home and became a journalist mainly because she enjoys being nosy. With a background in features journalism, Lauren worked on the woman&home brand for four years before going freelance. Before woman&home Lauren worked across a variety of women's lifestyle titles, including GoodTo, Woman's Own, and Woman magazine.