Everything You Need To Know About Palm Oil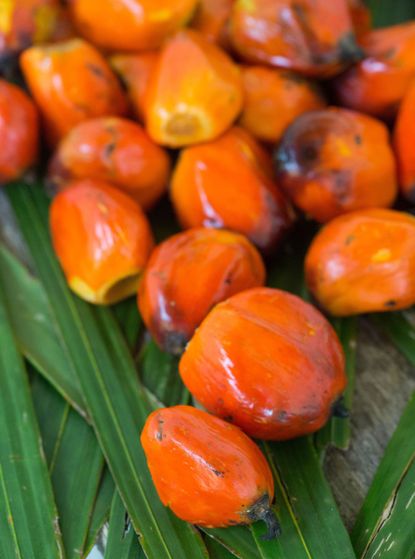 (Image credit: Rex Features (Shutterstock))
New research suggests that consuming palm oil could cause cancerous tumours to spread.
Researchers have discovered that a key component in the fat stimulates a protein called CD36, which seems to trigger metastasis in cancer patients. Blocking the protein with antibodies has been found to prevent metastasis in mice.
Palm oil, an edible oil derived from the fruit of a palm tree, is the world's most used vegetable oil, with 500 million tons produced each year. Almost half of the groceries we buy in the UK, Canada, Australia and the UK contain palm oil, from chocolate, pizza and instant noodles to cosmetics and cleaning products.
The use of palm oil is also affecting the health of the planet. Unsustainable palm oil plantations in Africa, Asia, North and South America contribute to problems such as deforestation, climate change, animal cruelty, animal extinction and the abuse of indigenous rights.
According to the World Wide Fund for Nature (WWF), an area equivalent to the size of 300 football pitches is cleared every hour to make way for the development of palm oil plantations.
Over 300,000 species of animal live in these rainforests, and creatures such as the orangutan and the Pygmy elephant are especially in danger. In the past 20 years, over 90% of the orangutan's habitat has been destroyed to make way for palm oil production, and the WWF predicts that if we continue with this rate of destruction, it will become extinct within the next 5 to 10 years.
Although many British food brands have claimed to show interest or to be joining the GreenPalm trading scheme, which supports businesses to buy from sustainable sources of palm oil, the use of unsustainable palm oil is still a huge problem.
What you can do
Always read the label - like sugar, palm oil can be listed under a number of guises, including: Vegetable Oil, Vegetable Fat, Palm Kernel, Palm Kernel Oil, Palm Fruit Oil, Palmate, Palmitate, Palmolein, Glyceryl, Stearate, Stearic Acid, Elaeis Guineensis, Palmitic Acid, Palm Stearine, Palmitoyl Oxostearamide, Palmitoyl Tetrapeptide-3, Sodium Laureth Sulfate, Sodium Lauryl Sulfate, Sodium Kernelate, Sodium Palm Kernelate, Sodium Lauryl Lactylate/Sulphate, Hyrated Palm Glycerides, Etyl Palmitate, Octyl Palmitate, Palmityl Alcohol.
Better still, shop with brands that either avoid palm oil completely or use palm oil from sustainable sources. Here are some of the best brands to buy your everyday essentials from, and the products you should avoid...
Biscuits
Buy: anything 'all butter' like Waitrose Duchy Organic (opens in new tab), or even McVitie's Rich Tea
Avoid: supermarket own-brand biscuits from Tesco, Morrisons and Aldi
Nut butters
Buy:Biona, Meridian and Whole Earth
Avoid: Nutella
Chocolate
Buy:After Eight, Terry's Chocolate Orange
Avoid: Thorntons, Elizabeth Shaw
Cereal
Buy:Dorset cereals
Avoid: Many supermarket own brand cereals e.g. Tesco Superberry Granola
Pet food
Use:Burns (contains no palm oil)
Avoid: Butcher's
Skincare
Buy: some Neal's Yard products like the Rehydrating Rose Facial Oil (opens in new tab)
Avoid: Avon
Body lotion
Buy:Palmer's Cocoa Butter - Palmer's are members of the Roundtable for Sustainable Palm Oil (RSPO) and are 'committed to responsible and sustainable palm production'.
Avoid: Vaseline Intensive Care Cocoa Lotion
Cleaning products
Buy:Ecover - the eco-friendly company make washing up liquid and soaps using algal oil instead of palm.
Avoid: Vanish
Shampoo
Buy:Johnson & Johnson; Neutrogena (opens in new tab)
Avoid: Head & Shoulders Dry Scalp Shampoo
Shower gel
Buy:Yaoh Organic Hemp Seed Oil Shower Gel
Avoid: Imperial Leather, Original Source