How to get a flat stomach at any age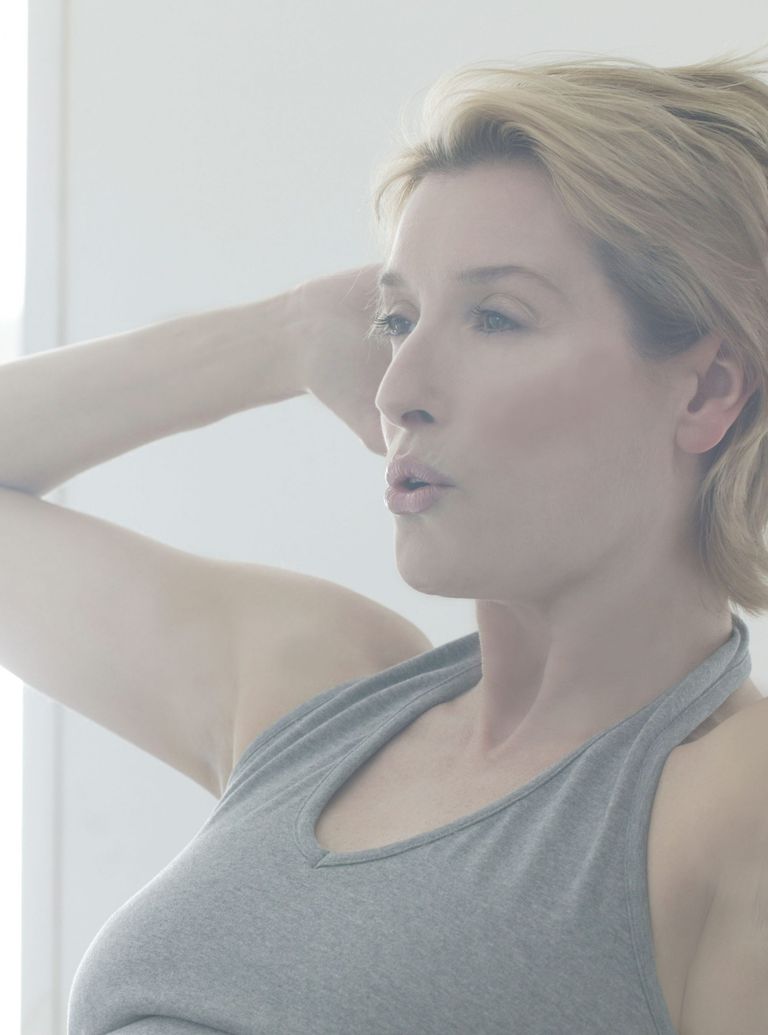 (Image credit: Rex Features (Shutterstock))
Feel good and look slimmer with these easy midriff moves that don't raise a sweat, and diet tricks you need to know.
Would you love to get slim, feel lean and stay strong throughout your 40s, 50s, 60s and beyond? We've got just a few easy lifestyle changes that will show you how to get a flat stomach and rediscover a slimline you no matter what your age.
But as a way of helping to slim down your waistline at any age - one diet in particular is thought to be particularly beneficial.
According to an article inACSM's Health & Fitness Journal fad diets or expensive pills won't help you slim down your stomach area. But if you opt for a simple, heart-healthy diet high in fibre, and low in saturated fats, it could just do the trick.
Kari D. Pilolla, PhD, of the California Polytechnic State University, said "There is still no miracle diet, food, nutrient, or bioactive component that will target abdominal fat,"
He continued,"These recommendations are consistent with heart-healthy diets like the NIH-developed Dietary Approaches to Stop Hypertension (DASH) diet and the Mediterranean-style diet,"
You can find out more about the Mediterranean diet and the DASH diet here.
So what about age-specific tips?
40s
On average, women gain about 2.4kg (around 5lbs) and 2.9cm (around an inch) on the waist between the ages of 44 and 50. This is because a perimenopause starts to kick in, oestrogen levels start to fall and fat is redistributed from the hips and thighs to the tummy.
50s
Falling oestrogen levels mean our bodies start to lose muscle in our fifties, and our stomachs develop a 'doughy' appearance. Broken nights caused by hot flushes and night sweats don't help. A 2013 study shows that sleeping less than seven hours a night can add up to 3.4cm (1.3in) to your waist. This is because missing out on sleep can disrupt leptin - the hormone that switches off hunger.
60s+ Annoyingly, you may notice your tum appears to stick out more around this age. Why? Decreasing bone density can lead to small but gradual loss of height, so we have less body length to accommodate our tummies.
The good news is by following our simple lifestyle changes for how to get a flat stomach you can fight the flab and reduce the health risks it poses. It's never too late to get that flat tum. Try it for yourself with our 17 tips and tricks for how to get a flat stomach that work at any age...
Try this 3 minute desk toner
Stop with the sit-ups! The key to a flatter tummy is in sculpting just one of the six abdominal muscles - the transverse abdominis (TVA) which, when toned, acts like a corset - nipping you in at the waist and smoothing the stomach. And it's easier to get that muscle working than you might think. Stomach vacumming might sound like a medieval torture method, but it's actually a simple breathing exercise that you can do wherever you are. Try it now. Sit up straight and inhale as much air as possible. Then exhale and pull your navel in. Aim for 3 sets of 60 seconds. Combine this core activation exercise with a balanced diet and your usual weekly exercise and you should see results.
Love Protein
High levels of blood sugar increase insulin, which causes fat to gather around the middle. Veggie protein sources - think pulses, quinoa, nuts and seeds - are best for stabilising blood sugar, as too much animal protein (meat and cheese) can make your body acidic, leaching calcium from bones.
Sleep Better
Banish broken sleep caused by night sweats and hot flushes by switching to a Chillow Pillow or Physicool Rapid Cooling Mist.
Resist Resist
Resistance training is vital to help keep bones strong and counteract muscle loss. Try not to reach for lighter dumb-bells and barbells ? research shows that resistance training dramatically improves strength and muscle power. And remember: the more muscle you have, the more fat you burn.
De-stress
When you get stressed, your body releases adrenaline and cortisol, the fight-or-flight hormones. This encourages your body to release glucose in to the blood stream, which your body then converts in to fat. Cortisol also makes you crave sweet things. Instead of reaching for a biscuit when you're feeling stressed, sit for a minute and take six deep breaths or sip on a herbal tea.
Eat right
Be mindful of how you eat. Sit down and take at least 20 minutes over your meal. Don't eat dinner on your lap while you watch TV, or bolt down a sandwich at your computer, as your focus will be on the TV show or work rather than your food. It's also key to chew each mouthful around 20 to 30 times. Food that hasn't been chewed well takes longer to digest and results in bloating. It's well-digested food that reduces the risk of bloating and gives you a flat stomach.
Go For A Walk
Try to go for a five-minute walk after your meal, as moving aids digestion and relieves bloating. A new study also reveals that exercising triggers neurons in your brain to make you feel fuller for longer, so you'll be less inclined to graze between meals. Another tactic to beat bloating is to sip herbal tea containing fennel, as the leaves and seeds stimulate digestion.
Swap Some Foods
Breakfast: A small bowl of granola for a medium bowl of porridge with skimmed milk. Save 152 calories. Morning coffee: Go for a single espresso, not a latte. Save 189 calories. Elevenses: Stick to a Rich Tea instead of a HobNob. Save 35 calories. Lunch: Use tuna in spring water rather than tuna in oil in your salad. Save 100 calories. Snack: Ditch the hummus in favour of salsa. Save 70 calories. Drinks: Instead of wine, make a Mojito using white rum and fizzy water. Save 50 calories. Dinner: Swap pork chops for pork tenderloin. Save 120 calories. Eating out: Order tandoori chicken instead of chicken tikka masala. Save 380 calories.
Really Read The Labels
It's easy to glance and think you are buying something with less than 400 calories, only to discover too late that the calorie count shown is for half a serving, even though it's a portion for one. So make sure you pay close attention to the wrapper.
Practise Breathing Exercises
This exercise strengthens your stomach muscles, says nutrition expert Dr Mary Dan Eades. Sit up straight in your chair, inhale, filling your lungs completely. As you breathe out, suck in your abdomen as if you were trying to touch your belly button to your spine. Hold for 10 seconds; over time increase to 60 seconds; repeat. Do eight times a day.
Use herbs not salt
Salt increases fluid retention and this is most often seen around the stomach, so cut your salt intake by flavouring sauces and stews with a little wine instead, and add herbs such as thyme and oregano to pep up pasta and vegetable dishes. Bacon, ham, soy sauce and cheese are particularly salty culprits, but also be aware of shop-bought salads. A recent survey by salt campaigners CASH discovered some supermarket salad bowls contained more salt than a Big Mac.
Stick To These Flat Tummy Foods
Nuts, seeds, avocados, olive oil and sunflower oil are all rich in monounsaturated fatty acids or MUFAs (pronounced moo-fahs), and a study in the journal Diabetes Care found that testers who followed a MUFA-rich diet lost fat around their stomachs even without exercising. This is because MUFAs help reduce body fat by revving up your metabolism, and also help your body to absorb vitamins and minerals better. A salad may be low in calories, but you may also feel hungry quickly, so try adding a few nuts, seeds or olive oil. This will help your body absorb the nutrients better and, as a result, keep hunger pangs at bay.
Bathe In Epsom Salts
One of the cheapest and easiest steps to trim a bloated tum, Epsom salts are traditionally used for treating aching muscles and sports injuries. Buy some at your local pharmacy and dissolve in a hot deep bath to ease stress, flush out toxins and restore your body's pH balance.
Work Your Core
Tone up your tum with core stability exercises. There's no need to schlep to the gym - just a few minutes at home every couple of days will create visible results in weeks. Download a smartphone app such as Lolo Easy Abs for simple, speedy workouts customised to your fitness level and the equipment you have available - even if that's just a square foot of empty floor!
Ditch The Dairy
After the age of seven, your body stops producing enzymes which absorb the nutrients in milk. Digesting it is harder after this point, creating mucous and acid in the gut and upsetting the balance of bacteria. If dairy is causing your bloating, you should see a change within a fortnight of cutting down.
Do Cardio
There's no point doing hundreds of ab crunches if the results are hidden under a layer of wobble! Cardio exercise a couple of times a week will burn hundreds of calories, slim your middle and allow you to show off the impact of your core exercise and diet.
Keep Moving
Look for opportunities for movement of any sort in your daily life, even if it?s standing up when you chat on the phone, or walking to the photocopier. There?s a name for this ? non-exercise activity thermogenisis (NEAT). It describes the energy expended for everything we do that isn?t sleeping, eating or sports-like exercise, and has been shown to make quite a substantial difference to our metabolism.
Make Your Heart Race
High-intensity interval training (HIIT) is great exercise because it triggers the release of hormones that encourage calorie burning, explains Professor Jamie Timmons of Loughborough University, a leading expert on HIIT. It's also quick: warm up, then work out as hard as you can for 60 seconds. Rest for a minute, and repeat up to five times. Do it three times a week. Not for you? Running, power walking, cycling or dancing for 30 minutes, five days a week, will help to reduce tummy fat, but these are not quite as effective and take longer.