Warburtons crumpet slippers are here and they look pretty toasty
The crumpet slippers you never knew you wanted!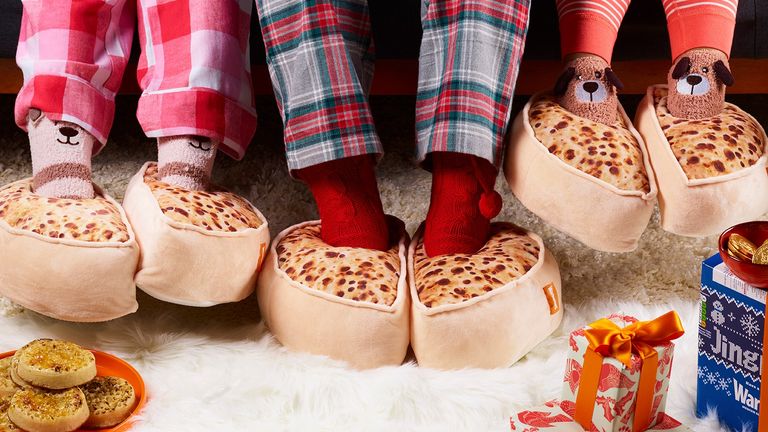 (Image credit: Warburtons )
By Sarah Finley
Fans are going crazy for these crumpet-inspired slippers, which look just like the small griddle cakes.
The limited edition slippers, which went on sale today, via the Warburtons website, are inspired by the circular goodness of the brand's iconic crumpet and even have the crumpet holes decorated on the top of them.
The slippers, which of course have two bigger holes for your feet, have been popular on Instagram with fans excited to get their hands on a pair of them
Over 150 fans have commented on the brand's Instagram picture, with one saying: "Oh my god" and many leaving emojis.
The proceeds of the crumpet slippers, which start in a size 3 and go up to a size 12, are also going to charity.
FareShare is the UK's largest charity fighting hunger and food waste. For every pair of slippers purchased, the equivalent of 64 meals will be donated to those most in need during this festive period; in total, the proceeds from the campaign will enable FareShare to distribute over 85,000 free meals.
The slippers, which would be great as a Secret Santa present for any crumpet lover, or just ideal if you are still working form home, are available now to buy via the website.
Jonathan Warburton, Chairman of Warburtons said about the slippers: "This year has been incredibly challenging for many families and communities across the country, both financially and from a health perspective.
"That's why we have worked hard to ensure we can feed the nation, both by getting product onto shelves but also by supporting food banks, community groups and breakfast clubs across the country.
"As we enter some of the toughest months for those in need, FareShare's incredible work fighting hunger was an obvious partner and we are proud to be able to donate all sale proceeds from the slippers to such a worthy cause."