Will Kamala Harris wear this US designer for the inaugeration?
The fashion stakes are high so what will Kamala Harris' inauguration outfit be by day and for the inaugural ball?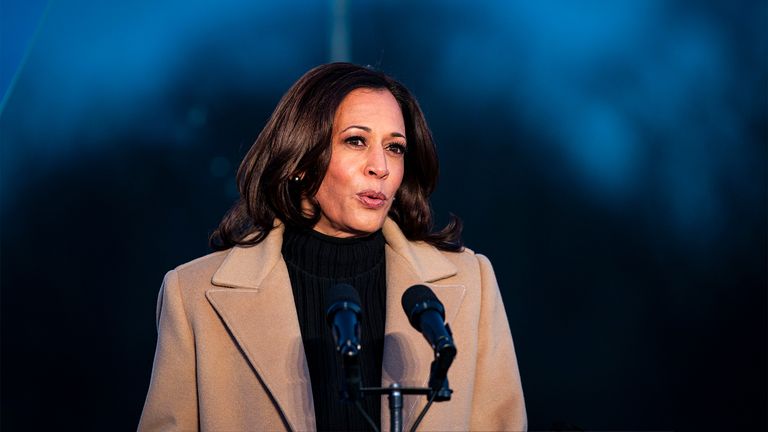 (Image credit: Bloomberg/Getty Images)
It seems the US is as much in thrall to Kamala Harris' inauguration outfit as it is to a new political chapter. Of course, there's a day look and an evening gown at stake here so speculation has been rife as to what the Vice President-elect will wear. 
Harris knows the power of fashion and the message her outfits send out to the world. So the Vice President-elect's choice to wear a camel coat by Pyer Moss - so chic that it easily ranks as one of the best winter coats - was an important one last night. 
On the eve of an historic inauguration, President-elect Joe Biden and Dr Jill Biden, along with Harris and her husband Doug Emhoff gathered on the National Mall in Washington DC for a Covid Memorial honouring more than 400,000 American lives lost to the pandemic so far. 
At the height of the pandemic last year, Kerby Jean-Raymond, the black Haitian-American designer and founder of the brand, transformed his New York studio into a donation centre and gave $5,000 towards PPE for hospital workers. He also raised $50,000 in grants for minority and women-owned independent businesses hard hit by Covid.
Though it's just speculation at this point, it could be that Harris favours Pyer Moss again for the inauguration ceremony. Another contender may be Christopher John Rogers, a young breakthrough fashion designer lauded by Michelle Obama and Congresswoman Alexandria Ocasio-Cortez. 
Or Harris may surprise us altogether. With just hours to go, the big question today is whether Harris might invoke her Indian heritage by wearing a sari on inauguration day. She has made it clear in the past that her mother raised her "with a very strong appreciation for our cultural background and pride."
Whatever Harris' outfit choice, simply the sight of the nation's first Black and South Asian Vice President is a powerful symbol. For now, the eyes of the world wait for history to be made.