Why You Need To Try Hyaluronic Acid Beauty Products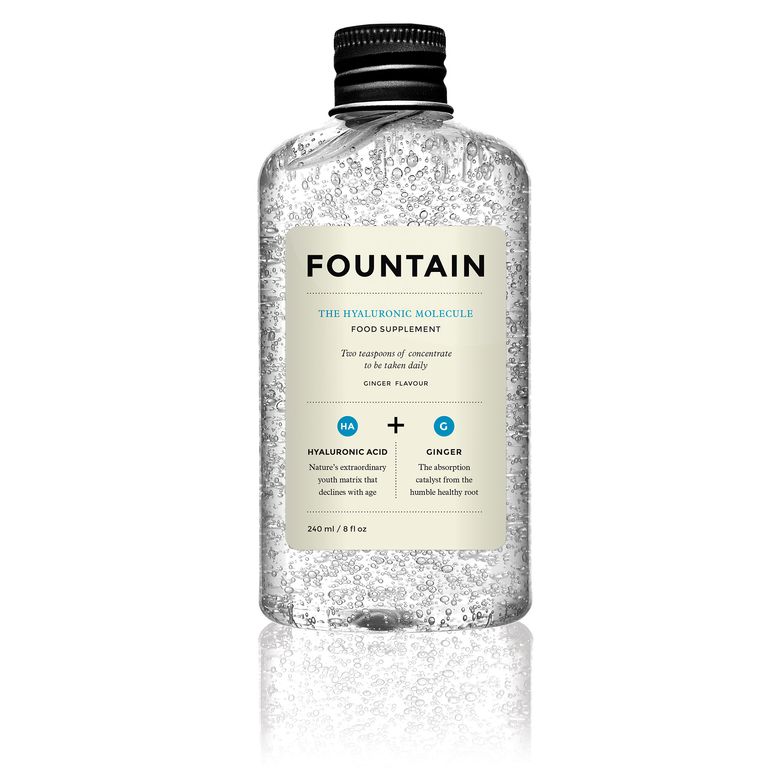 The latest innovation in beauty will plump your skin, strengthen your hair and ease aching joints...
By Lyndsay Conway
Boots new venture, Fountain, have trumped supplement brands to bring us another bio-available first (They also brought us the Beauty Molecule). Their latest offering combines hyaluronic acid's two anti-ageing benefits: Joint care and skin structure. As we age, the body inevitably loses natural hyaluronic acid, which is what gives us stiff joints and slack skin. Fountain The Hyaluronic Molecule is able to hold 1,000 times its weight in water, encouraging your body to hold on to its natural moisture, replenishing from the inside out. This liquid version is more readily absorbed than any other supplement or form, leaving you looking and feeling more hydrated than ever.
Aromatherapy Associates Rose Infinity Moisturiser, £95
New to the AA skincare range is Rose Infinity and although it may dent the purse, it's the first time Aromatherapy Associates has made the commitment to deliver visible results in three weeks, so confident are they in the science behind the line. Well, when you employ Nobel Prize winning findings to create the product, you can't argue! The Rose Infinity Moisturiser's primary aim is to increase the moisture in your skin, thereby helping to fill out fine lines and plump up the skin. And what's the key to boosting moisture levels? You guessed it, hyaluronic acid. Amino acids extracted from palm and coconut oil work to encourage skin to produce more hyaluronic acid and hold on to it for longer. As all AA lovers have come to expect, the combination of essential oils is as potent as ever with the gorgeous scents of jasmine, rose and neroli making this not only an anti-wrinkle buster par excellence, but a pleasure for the senses too.
SkinCeuticals Hydrating B5 Gel, £55
For super-dehydrated, problem skin turn to the SkinCeuticals Hydrating B5 Gel. A non-greasy treatment that glides on and sinks straight in, you only need 2-3 drops to soothe your troubled skin. Apple before your regular moisturiser, after cleansing and toning, to see a more radiant glow - especially with a tailored foundation. This gel won't dry your skin, as other acne treatments can, so is perfect for anyone struggling with combination, irritated skin.
Rodial Dragon's Blood Night Hyaluronic Cream, £58
Part of the Rodial Dragon's Blood range, which uses red sap of the sangre de drago' tree to form a protective layer over the skin, the Night Hyaluronic Cream uses the 8 hours you are asleep to target signs of ageing. Using retinol to plump the skin and hyaluronic acid to reduce wrinkles, results are visible in just four weeks. Rodial also use a clever 'Chromabright' technology to brighten the skin, giving you a youthful glow, with or without make-up.
Phyto PhytoKeratine Reparative Serum, £17
Not just for the skin, hyaluronic acid is also beneficial to the hair. If you have dry, sensitisied or chemically treated hair, the Phyto PhytoKeratine Reparative Serum can help. Apply to the ends of damp hair and dry as normal to help prevent breakage and to renew the shine and strength of your locks.
Nude Cellular Renewal Moisturiser, £72
The Nude Cellular Renewal Moisturiser uniquely encourages skin to produce its own hyaluronic acid, rather than plying you with extra supplies. N-probiotic active cell nutrients help the skin to increase natural hyaluronic acid, antioxidants and collagen. The result? Smoother, younger looking skin.
Darphin Predermine Densifying Anti-Wrinkle Fluid, £85
This light and creamy fluid is well worth the £85 pricetag. Darphin's Predermine Densifying Anti-Wrinkle Fluid sinks quickly into dry or oily skin for a renewed appearance that is denser, firmer and less lined. The delicate scent of all Darphin products is present, but our favourite thing about this fluid is the mattifying effect it has on the skin. Perfect for wearing alone or under foundation, shine is elimiated to reveal a smooth and even texture. Bliss!
Dr Brandt Lineless Lines No More For Lips, £25
If you've noticed feathery lines - or even deep wrinkles - appearing around your mouth, you don't need to give up your favourite red lipstick or resort to Botox. Dr Brandt's Lineless Lines No More For Lips increases levels of collagen and hyaluronic acid to plump your pout, fill lines and define the contours of your mouth - as well as adding volume to thin or thinning lips. Use regularly, either alone or under lipstick and gloss, to keep lines and wrinkles at bay.
By Terry Hyaluronic Face Glow, £44
Sitting somewhere between skincare and make-up, the By Terry Hyaluronic Face Glow eliminates the need for heavy foundation. Thanks to the uniquely whipped hyalronic molecules, skintone is corrected and open pores, wrinkles and blemishes are masked instantly. Skin is plumped and toned and veiled in a beautiful, matte finish. Available in three shades to suit your natural hue.
Hydraluron Moisture Booster, £24.99
The miracle Hydraluron Moisture Booster is perfect for those who suffer from oily skin but still need a serious moisture hit to combat dehydration. Because of the dense content of pure-grade hyaluronic acid, just a small pea-sized amount will suffice under your regular moisturiser. The difference with initial use is clear, but the beauty of Hydraluron is that over time it encourages the skin to retain its own moisture better. The upshot? Lines and wrinkles are reduced as the moisture helps to lessen premature ageing.