The best dermaplane tools for pro-level smoothing and a radiant glow
The best dermaplane tools and dermatologist tips for effective exfoliation and shifting peach fuzz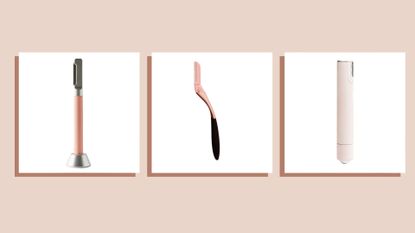 (Image credit: Future / Urban Outfitters / Dermaflash / Schick)
Looking for the best dermaplane tools that'll provide expert results without having to step foot into a dermatologist's office? There are several at-home options that'll do just that.
If you are trying to pin down the best dermaplane tool, you've likely heard about this facial hair removal and skin smoothing practice and fancy giving it a go. Or, maybe you're just plain confused and wondering what is dermaplaning, exactly? According to Kerry Benjamin (opens in new tab), esthetician and founder of Stacked Skincare, dermaplaning is a non-invasive facial procedure that removes dead skin cells and hair using a single edge sharp blade. "The blade is used on clean, dry skin on the forehead, cheeks, chin, nose, and neck," she says. "The instant results are evened-out skin texture and tone, but there are also long-term effects such as increased cell turnover, fewer wrinkles, a reduction of acne scarring, and more plump, hydrated skin."
If you're looking to exfoliate your skin without the use of skincare acids, or if you're seeking a solution to unwanted facial hair, your routine may benefit from dermaplaning . Follow our dermatologist-approved tips, then take your pick from our selection of the best dermaplane tools on the market.
How to pick the best dermaplane tools
As with any of the best skincare devices (opens in new tab), it's important to know what to look for when shopping for a dermaplane tool. Here are the most important factors to consider:
Electric vs. manual: Dermaplaning itself is a form of manual exfoliation, but the tool is available in both electric and manual forms. "Electric dermaplane tools are typically battery-powered and are appropriate for quick touch-ups as well as those who may be less steady with a razor blade," says board-certified dermatologist Dr. Audrey Kunin (opens in new tab) and founder of DermaDoctor. Traditional dermaplane tools are similar to regular razors, but they are more suited to working as the best facial exfoliator than a razor, says Dr. Kunin.
Maintenance: Some dermaplane tools are easier to clean than others, and it's important to keep your tool clean after each use to prevent bacteria from spreading and causing an infection. For non-electric, Dr. Kunin says to wash with soap and water, pat it dry, then wipe down with rubbing alcohol. For electric, it's best to follow the manufacturer's directions.
Extra features: Dermaplaning involves running a sharp blade onto your skin, so it's important to find one that you're comfortable holding and that allows you to get a good grip. If you're looking for a sustainable option, many of the luxe dermaplane tools have reusable handles that simply require a swap of the blade. Finally, price is a factor: if dermaplaning is something you're invested in doing long-term, you may be better off splurging on a sturdier reusable device versus a disposable one.
No matter which of the best dermaplane tools you use, both Benjamin and Dr. Kunin reassure us that dermaplane tools will not cause your hair to grow back thicker. "Hormonal imbalances and fluctuations can change your hair density, but simply shaving your hair will not change the thickness," explains Benjamin. "Hair grows at a blunt edge, so if you touch your face often, you may feel that hair growth coming back in and think that it is thicker, but that is not the case. Once the hair has fully grown back in, it will look and feel exactly the same as before."
The best dermaplane tools, chosen by our experts
1. Tweezerman Facial Razor
Best overall dermaplane tool
Specifications
RRP: $16/£16
Key features: Refillable blades
Comes with: Safety cover, 3 blades
Reasons to buy
+
Safe and gentle on the skin
+
Good value
+
Durable design
The best dermaplane tools tend to suit specific needs, thus they won't necessarily be the best option for everyone. But as an all-around crowd pleaser, this is pretty unbeatable. The blade of Tweezerman's Facial Razor hits at an angle, which is what set it apart from the others on our list and made it incredibly easy to target areas like the eyebrows and upper lip without having to hold it awkwardly.
We love the fact that this pick is made out of a stainless steel material, which makes it antimicrobial and less likely to transfer bacteria (though you should still always clean it after each use). The blade was also very impressive – sharp enough that we didn't find the need to go over the same area twice but gentle enough not to cause micro-cuts.
2. Tinkle Eyebrow Razor
Best budget dermaplane tool
Specifications
RRP: $5/£6.55
Key features: Small blade for precision
Comes with: 6 razors and safety covers
Reasons to buy
+
Lightweight feel
+
Safety cover makes it easy to travel with
+
Long handle for easy gripping
Reasons to avoid
-
Disposable razors are unsustainable
If you're new to dermaplaning and don't want to invest in an expensive tool, you've met your match with Tinkle's Eyebrow Razor. Don't let the name fool you – while it works well for creating the best eyebrow shape, it can be used all around the face to nix peach fuzz, refine pores, and slough away dead skin cells for brighter, more even-toned skin.
Our tester has been using Tinkle facial razors for several years and loves it as a quick and inexpensive way to maintain softer-feeling skin. The disposable razors come with a cap and are easy to travel with, but are unsustainable in the long term if that's important to you.
3. Schick Hydro Silk Dermaplaning Wand
Best dermaplane tool for beginners
Specifications
RRP: $20/£10.99
Key features: Refillable blades, micro-guards
Comes with: 6 blades
Reasons to buy
+
Ergonomic handle allows for easy gripping
+
Pleasing rose gold aesthetic
+
Easy to use
Reasons to avoid
-
Can only get 1-2 uses on each blade
Our favorite feature about this dermaplane tool is its curved, ergonomic handle, which makes it incredibly easy to hold even if you don't have a stable hand. That, and the fact that it's equipped with micro-guards to prevent irritation, nicks and razor burn. The blade glides easily onto the skin, making it perfect for beginners who are nervous about sharp objects around their face.
Even though this is among the most gentle dermaplane tool we tested, our skin felt soft and makeup went on flawlessly afterward. The rose gold metal handle is also definitely the most attractive-looking pick on our list, though we wish the blades stayed sharp and could withstand more than two uses.
4. Dermaflash Mini Precision Peach Fuzz Removal Device
Best dermaplane tool for peach fuzz
Specifications
RRP: $69/£59.99
Key features: Has an under eye de-puffing ball
Comes with: Battery, 2 blades
Reasons to buy
+
Easy to use
+
Lasting charge
+
Travel-friendly
Reasons to avoid
-
Pricey compared with manual tools
Peach fuzz can put a damper on achieving smooth base makeup or learning how to contour. Cue this electric option from Dermaflash – it's a smaller version of the brand's cult-favorite Luxe Anti-Aging Dermaplaning Exfoliation Device and is specifically designed to target tough-to-reach areas that are prone to peach fuzz like the upper lip and brows.
Upon first glance, the tool may look bulky, but the wand has a round shape making it easy to hold. And unlike other electric dermaplaning tools on the market, this one holds a charge and even comes with a stainless steel massaging ball on one end that helps get rid of puffy eyes on groggy mornings.
5. Versed Instant Gratification At-Home Dermaplane Tool
Best value dermaplane tool
Specifications
RRP: $20/£15.99
Key features: Single-edge blade, slip-free grip
Comes with: 2 blades
Reasons to buy
+
Sharp blade
+
No batteries needed
+
High-quality feel
Whether you're a beginner or a pro, this tool from Versed is a staple. With this pick, you get two blades, each of which lasts three to four dermaplaning sessions and is extremely user-friendly to replace.
We're fans of the sharp blade, which offers even exfoliation and instantly smooth skin as well as how high-quality the tool feels (it has a good weight to it without being difficult to maneuver). It's also reasonably priced and glides on the skin with ease, unlike other tools that can cause nicks and cuts.
6. ROUT Adios, Peach Fuzz Facial Razor Set
Best sustainable dermaplane tool
Specifications
RRP: $55 (US only)
Key features: Refillable Japanese blades
Comes with: Holder, safety cap, 4 blade refills
Reasons to buy
+
Blades are recyclable
+
Sharp blade works efficiently
+
Comes with a convenient way to display
Reasons to avoid
-
Could come in more colors
Can't get behind plastic razors? This dermaplane tool will make sure you don't miss the disposable variety. Once you've reached the end of your blade's lifespan (four blades are roughly a 2-month supply depending on how often you dermaplane), you can recycle it and pop in a new one.
We found the blades themselves to be high-quality and easy to move around the face. With just a few swipes, the tool made skin appear more radiant and youthful-looking, all while acting as one of the best pore minimizers. The handle's peach shade went well with our tester's bathroom aesthetic, but we wish it were available in more shades for those who prefer a more neutral color.
7. Stacked Skincare Dermaplaning Tool
Best luxury dermaplane tool
Specifications
RRP: $75/£52.40
Key features: Replaceable blade
Comes with: 1 blade
Reasons to buy
+
Stainless steel blade
+
Good blade control
+
Sturdy aluminum handle
Reasons to avoid
-
Sharp blade can be tricky for beginners
Out of all of the dermaplaning tools we tested, this one from Stacked Skincare was among the ones that offered similar results to an in-office treatment – and at $75, the price is just right considering professional dermaplaning sessions can range anywhere from $200 to $400 depending on where you go.
That's all thanks to the sterile surgical-grade stainless steel blade, which effectively gets rid of all the dead skin, buildup, and facial hair that's been giving your skin that dull, flaky appearance. Benjamin also touts the fact that, unlike electric dermaplane tools, this one is portable, doesn't require charging, and its blade can be used four times (while the electric ones are single-use). All in all, our skin felt smoother and looked brighter after just one use.
8. Spa Sciences Sima Dermaplaning Tool
Best electronic dermplane tool
Specifications
RRP: $29/ £68.91 (Import)
Key features: 3 color options, 3 speeds, rechargeable
Comes with: 7 heads
Reasons to buy
+
Painless exfoliation
+
Made makeup go on smoother
+
Holds a charge
It was oddly satisfying seeing how much facial hair the Spa Sciences Sima Dermaplaning Tool got rid of. With three speed settings to choose from, it delivers 250+ sonic movements per second to soften rough, flaky skin, minimize the look of fine lines and wrinkles, and get rid of facial hair.
We love that the tool comes with a generous seven replacement heads, though they're single-use so you may run out of them quickly if you dermaplane often. We were able to get several uses out of one charge, which is a major plus for busy mornings.
9. Plum Beauty Eyebrow Shaping Razors
Best dermaplane tool for eyebrows
Specifications
RRP: $6 (US only)
Key features: Non-slip grip
Comes with: 3 razors
Reasons to buy
+
Affordable price
+
Easy to hold
+
Quick to use
Reasons to avoid
-
Smaller blade not suited for whole face
These Plum Beauty razors have a smaller blade than the others we tested, which makes them great for tackling straggly hairs around smaller areas like chin hairs or the eyebrows.
For those with unstable hands, the non-slip grip was helpful in ensuring you don't lose hold of the tool. We loved how well it shaped the eyebrows and cleaned up the area, but because the blade is on the smaller side, it took longer to dermaplane our whole face so we suggest reserving this for just the eyebrow area.
10. Miss Sally Eyebrow Razors Set
Best dermaplane tool for travel
Specifications
RRP: $8 (US only)
Key features: Double-sided short and long blades
Comes with: 4 razors
Reasons to buy
+
Versatile tool removes fine and coarse hairs
+
Lightweight, portable design
+
Precise application on both short and long ends
Traveling with beauty products is hard, we get it. That's why we love coming across travel-friendly skincare tools that don't sacrifice quality for portability. Cue this nifty little dermaplane tool, which takes up no more space than a small compact mirror in your makeup bag, yet comes with several features that won't make you miss your electric version back home.
This razor comes with two ends: a short end with a smaller blade (good for areas like the upper lip and eyebrow area) and a longer end with a larger blade (best for facial hair and even for shaving legs). Each side clips into each other, so you won't have to worry about a blade cover falling off in your makeup bag, and the pop of blue and pink is a nice addition to any makeup kit.
---
Michelle Rostamian is a Los Angeles-based beauty writer with 10 years of experience in the beauty industry. She began her career as a publicist, content writer, and social media manager, representing beauty brands and industry professionals. Currently, she is an editor and writer on all things makeup, beauty, skincare, and lifestyle. Michelle graduated from the University of California, Los Angeles with a B.A. in Communications. She has bylines at Cosmopolitan, Elle, Marie Claire, Allure, The Zoe Report, HelloGiggles, Yahoo, Byrdie, Well+Good, Reviewed, Women's Health, Runner's World, The Girlfriend, and more.