How to buy fragrance online when you can't actually smell it, go on treat a loved one (or yourself!)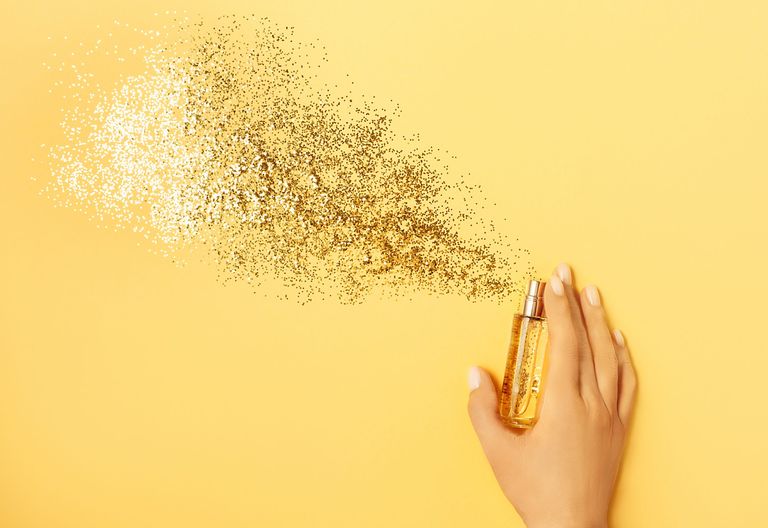 As summer beauty experiences go, buying a new fragrance or perfume is up there with getting a colourful pedicure or that first of whiff of your favourite sun cream.
But what to do if you can't get actually out there and try a fragrance before you buy?
Having to buy fragrance online seems less than ideal. It's not as straight forward as treating yourself to a nail polish that suits your skin tone. Or adding a new product to your skincare routine. Especially considering that scents work by triggering the bits of your brain that control memories and emotion. Reading a list of ingredients is no substitute for spritzing, sniffing and seeing how a fragrance makes you feel, but that doesn't mean you have to forgo treating yourself to a new summer perfume.
We asked The Perfume Society's Suzy Nightingale for her expert advice on everything you need to know to buy fragrance online this summer. From clever research tips to new perfume trends and the notes that are guaranteed to evoke happy memories of sunny days. Here's what she had to say:
How to buy fragrance online
Research is your friend
"A good start is to look up perfumes you already know you love. Do they share any of the Top, Heart and Base notes listed? It could be you are particularly drawn to these, and can use that as a guide to finding your next true love. But don't only look at the list of ingredients, tempting though that is. It's like describing a painting by naming the colours the artist used! Find out the name of the perfumer, if possible – just as an artist has a signature style, so do perfumers often use similar characteristics across the scents they compose."
Try an algorithm
"One of our Co-Founders at The Perfume Society, Lorna McKay, devised a test for customers in stores to find their perfect fragrance, and we had this turned into a Find a Fragrance computer algorithm for our website. Simply type in the name of a perfume you like, and it will suggest six others to try. Again, it's not simply matching up similar notes, it looks at the key words used to describe the perfume – its character, the way it develops, the strength, how it will make you feel."
Get out of your comfort zone
"It's astonishing how many fragrances out of your comfort zone you'll end up adoring. Lots of houses now do 'try-me' sizes or discovery sets – we stock many on our site, along with our own Discovery Boxes: specially curated collections designed to be tried at home. And as we always say – it's not a tattoo: If you don't like it, you can wash it off, or layer with something else"
SHOP NOW: Globetrotter Discovery box, £19, Perfumesociety.org
How to choose the perfect summer fragrance
"Traditionally, we think of the Fresh fragrance family for warmer weather – citruses, Colognes, green notes, sparkling aldehydes, some lighter florals, but these aren't set in stone. Think about places you've been on holiday or spent happy, sunny days with loved ones. Most countries in the world have their own fragrance houses, now, be they big brands or indie artisans. Try searching for scents made in that country and they often evoke the landscape or climate, using ingredients grown there."
Solar perfume is trending
"Recently I've seen a surge of fragrances describing themselves as 'solar' – it's a definite fragrance trend. And I've found many of them contain orange blossom, neroli or petitgrain. They're all ingredients taken from the same tree – the Bitter Orange – but smell quite different. Orange blossom can be sweetly seductive or full-on intoxicating in it's floral lushness, neroli is like distilled sunshine, warmly inviting, while petitgrain is bracing and invigorating. Mizensir's Solar Blossom is a particularly beautiful example of this trend."
Two solar fragrances to try
SHOP NOW: Mizensir Solar Blossom Eau de Parfum, £185, harveynichols.com
"We also associate summer holidays with the smell of suntan lotion and warm skin. Perhaps the ultimate 'solar' warm-skin scent, is Guerlain Terracotta – a sun-soaked homage in scent to their iconic bronzing powder. There's bergamot in the top note, but it's all about the lactic lap of tiaré flowers against the heady exoticism of warm, waxy ylang ylang, transporting us to a faraway idyll."
SHOP NOW: Guerlain Teracotta, £55.80, Johnlewis.com
Our five favourite fragrances for summer 2020 Selected by W&H Beauty Editor Fiona McKim
#1 Estee Lauder Bronze Goddess Azur
SHOP NOW: Estee Lauder Bronze Goddess Azur, £44 for 50ml, fragrance direct.co.uk
Mediterranean escapism in a bottle with Sicilian lemon and bergamot, plus a hint of musk to mellow out the sharper citrus.
#2 Floral Street Arizona Bloom
SHOP NOW: Floral Street Arizona Bloom, £60 for 50ml, floral street.com
Inspired by the desert breeze, campfires and sweet Queen of The Night flower, this is one seriously sexy scent for balmy evenings.
#3 Jo Malone London Waterlily Cologne
Jo Malone London Waterlily Cologne, £52 for 30ml, Jomalone.co.uk
Soft florals risk veering into pot-pourri territory, but the addition of ginger and citrus to dewy waterlily make this as fresh as it is feminine.
#4 Guerlain Aqua Allegoria Orange Soleia
SHOP NOW: Guerlain Aqua Allegoria Orange Soleia, £63 for 75ml, Guerlain.com
Like a mint julep cocktail with a kick of bitter blood orange. Beautifully balanced and pleasingly untraditional.
#5 Sana Jardin Jaipur Chant
SHOP NOW: Sana Jardin Jaipur Chant, £95 for 50ml, Cultbeauty.com
Fleshy, lingering tuberose and exotic jasmine, made with flower oils rescued from landfill and harvested by a women's cooperative.
As woman&home's Beauty Channel Editor, Fiona Mckim has tried more beauty products than she's had hot dinners and nothing makes her happier than raving about a brilliant find on womanandhome.com or her instagram grid (@fionamckim if you like hair experiments and cute shih-tzus)

Fiona joined woman&home as Assistant Beauty Editor in 2013, working under industry legend Jo GB, who taught her everything she needed to know (clue: learn about ingredients and employ extreme cynicism).
In a previous life, Fiona studied journalism back home in bonnie Scotland and honed her skills as a features writer at publications including Junior and Prima Baby, with a brief and terrifying stint on the showbiz pages of a tabloid newspaper in between. She's a skincare fanatic who can't resist adding an extra step to her routine, adores fragrance, has fun with makeup and never turns down the chance to test a new hair tool. Basically, she loves it all.

When not slathering herself in self tan or peering at a tiny ingredients list on a moisturiser, you'll probably find Fiona enjoying something to do with food - cooking it, eating it, cajoling her friends into trekking across London to try a hyped pop-up in a dirty car park.
Come to think of it, the hot dinners and beauty products are probably about even.