The flat-iron clothes hack, and 6 other clever hair straightener uses you might have never considered
Flat-iron clothes and collars to perfection, plus other handy hacks from your trusted straightener you might have never heard of.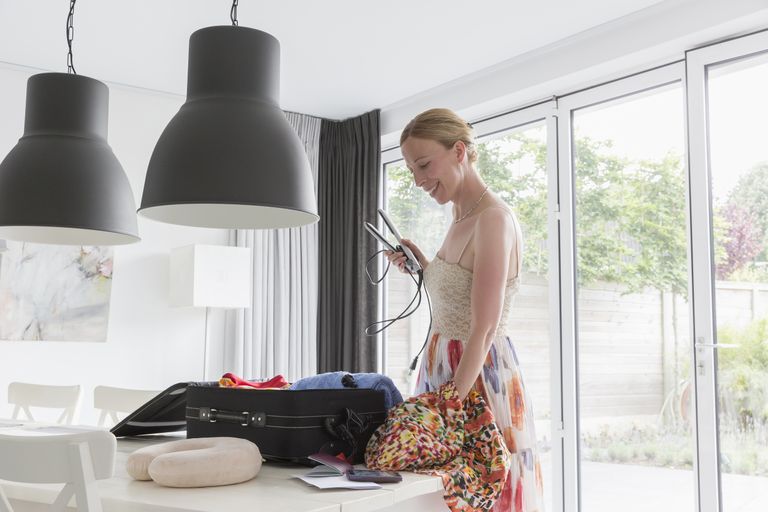 (Image credit: Getty Images)
Not a trick question: what can you use hair straighteners for? We'll assume top of your hair straightener uses list is, well, straightening your hair, but did you know you can also use them to flat-iron clothes?
Aside from that, hair straighteners are designed to be multipurpose tools and are as adept at creating beachy waves or sealing frizz as they are coaxing hair into smooth, glossy styles.
If there's one group of people who know their way around hair straightener uses, it's professional hair stylists. From the red carpet to photo shoots, A-List hair stylists know that only the very best hair straighteners and other hot tools should earn a precious spot in their styling kit. And once they've found them, you can bet the pros will learn a hundred different ways to work that pair of straighteners, covering every hair type, texture, and styling need—plus one or two off-label hacks that might just surprise you.
7 amazing uses for hair straighteners
1. To flat-iron clothes
Flat-ironing clothes are for those times you think ironing, in general, is almost always unnecessary labor (guilty!), and only resort to doing so in the most critical circumstances (read: wedding guest outfits and linen).
For everything else, we find a crisp collar hides a multitude of sins, and hot irons are indeed more than adept at straightening the wrinkles out of a small surface area, as they can truly get into those hard-to-reach corners way better than a regular-sized iron can.
Would straightener brands recommend this? Probably not. But it's fast, effective, and saves us the hassle of dragging the ironing board out of the closet—so what's not to love?
2. To get a tousled wave
"Create a smooth wave by wrapping the hair around the iron from the middle section then pulling down slowly, holding the iron horizontally to created a tousled look."—Stephen Glendinning, session stylist, T3 ambassador
See our full T3 Lucea ID review (opens in new tab).
3. To seal in a treatment
"Pollutants often suck the moisture out of your hair and scalp. GHD Advanced Split End Therapy is a heat-activated treatment that works instantly to fortify split ends and leave hair sleek, smooth, and shiny for up to 10 washes.
"Simply comb through shampooed hair, blow-dry, and then pass your styler over hair to seal in the product."—Zoë Irwin, A-List stylist
See our full GHD Platinum+ Hair Straightener review (opens in new tab).
4. To disguise regrowth
"To really hide roots, the best thing to do is increase movement and add volume. Reach for a straightening iron, or anything that you can use to make loose waves.
"Wave hair away from your face, even at the top, then shake. Blast in a texture spray (we like OUAI Texturizing Hair Spray) and create a wavy natural parting."—Jonathan Soons, Headmasters creative ambassador
5. For easy beach texture
"Section your hair into four parts, like a hot cross bun. Braid each section and secure the ends with an elastic. Then gently run the GHD Platinum+ styler over each braid. Leave to cool down, then unleash the texture."—Patrick Wilson, GHD ambassador
6. To achieve a smooth, sleek bun
"Take one-inch sections and use the Dyson Corralle straightener to smoothen hair from roots to tip. Using an elastic band, secure the hair into a low ponytail. Twist the hair into a bun and secure with French hair pins and a light spritz of hairspray for hold."—Jen Atkin, celebrity stylist, OUAI founder
See our Dyson Corrale straightener review (opens in new tab).
7. To fake a fresh, bouncy blow-dry
"Prep hair using a root spray such as Jo Hansford Voluminous Spray (opens in new tab) and distribute evenly through hair when damp. Rough-dry the hair, lifting it at the roots. Take even sections and, using straightening irons, glide them through the ends of the hair, twisting at 90° to create a flick. Do this in alternating directions. Gently backcomb the roots to create extra volume."—Frankie Moody, Jo Hansford Salon
Have another flat iron hack? Tag us on Facebook!
woman&home thanks Stephen Glendinning, Zoë Irwin (opens in new tab), Jonathan Soons (opens in new tab), Patrick Wilson (opens in new tab), Jen Atkin, and Frankie Moody (opens in new tab) for their time and expertise.
As woman&home's Beauty Channel Editor, Fiona Mckim has tried more products than she's had hot dinners and nothing makes her happier than raving about brilliant finds on womanandhome.com or her instagram grid (@fionamckim if you like hair experiments and cute shih-tzus). Fiona joined woman&home as Assistant Beauty Editor in 2013 under industry legend Jo GB, who taught her everything she needed to know (learn about ingredients and employ extreme cynicism). She has since covered every corner of the industry, from interviewing dermatologists and celebrities to reporting backstage at Fashion Week and judging the w&h Beauty Awards.