Bobbi Brown says THIS is the most important makeup tip that women over 45 should keep in mind
This isn't the first time that makeup guru Bobbi Brown has tackled beauty tips for women aged 40+ and fans are very grateful for her constant words of wisdom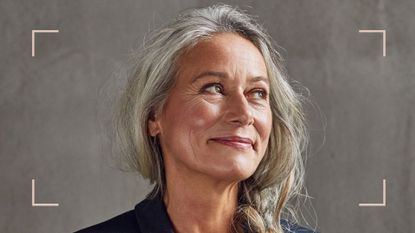 (Image credit: Future/Getty images)
If there is one person we will gladly take beauty advice from, it's makeup guru Bobbi Brown.
After all, whether it's about how to apply bronzer properly, what the best foundation for every skin type is or the best tinted moisturizers for easy, sheer coverage, there is nobody that know more about beauty and makeup than the 65-year-old entrepreneur.
Most recently, Bobbi posted a TikTok video on her Instagram account offering the "most important makeup tip" for women over 45 years old. Spoiler alert: it's all about moisture.
"The most important makeup tip I can give to women over 45 is to use products that are moisturizing and not drying," Bobbi says in the clip. "As we get older, we want to make sure the texture on the skin looks smooth, looks even and doesn't look cakey. I definitely believe that moisture is the way to do it."
The business woman then recommends kicking off your daily skincare routine with a hydrating moisturizer that will prep the area, followed by a hydrating foundation and a cream blush. She makes it a point to suggest staying away from a powder formula when it comes to choosing the right blush blush.
---
Lip and cheek stick ($34 (opens in new tab)), Jones Road
You can use this nourishing product on it sown or layer it for "added payoff."
In the video, Bobbi actually demonstrates the routine. She first applies her own brand's, Jones Road, lip and cheek stick on her cheeks and lips directly from the tube.
"Throw it on your lips and if you need a little extra, you can always put some of the balm on," she then says while using the brand's Miracle Balm. "[It] gives luminosity, tints the skin, [makes your] cheeks pretty, pretty, pretty because, by the way, when you smile, it makes you look better."
Bobbi's followers praised her line of products in the comments section of the posted video.
"I am 70 and am in love with this product," one user wrote.
"I have a COMPLAINT I keep getting carded buying wine because of all your products 😏🥰," another person joked.
---
Miracle balm ($38 (opens in new tab)), Jones Road
The product is light-reflecting, versatile and so easy to use.
"I'm 61 and struggle to find good products for my skin," yet another fan commented. "Can't wait to try all my new goodies."
Bobbi's advice for the 40+ crowd doesn't stop at moisturizing, though. A few weeks ago, she posted yet another video in which she shared a different tip, this one about the importance of shimmer.
"Just because you're always 40 doesn't mean you should shy away from shimmer because, guess what? A little bit of luminosity on the cheek is really pretty," she says in the clip. "I'm not saying put your hand in a big pot of glitter hand or shimmer and put it on but, strategically, a little bit looks very pretty."
She then applies Jones Road's shimmer face oil on her cheeks and lips while on camera to show how moisturizing yet not dense the product is. and the sort of luminosity that will have you look refreshed.
"I just think it just gives you that instant luminosity when you just need to look refreshed," she concludes in the clip.
And so, just to recap, remember to always moisturize and not to be scared of a little shimmer!
Anna Rahmanan is a New York-based writer and editor who covers culture, entertainment, food, fashion and travel news. Anna's words have appeared on Time Out New York, the Huffington Post, Fortune, Forbes, Us Weekly, Bon Appetit and Brooklyn Magazine, among other outlets.