Festive Christmas Tree Decorations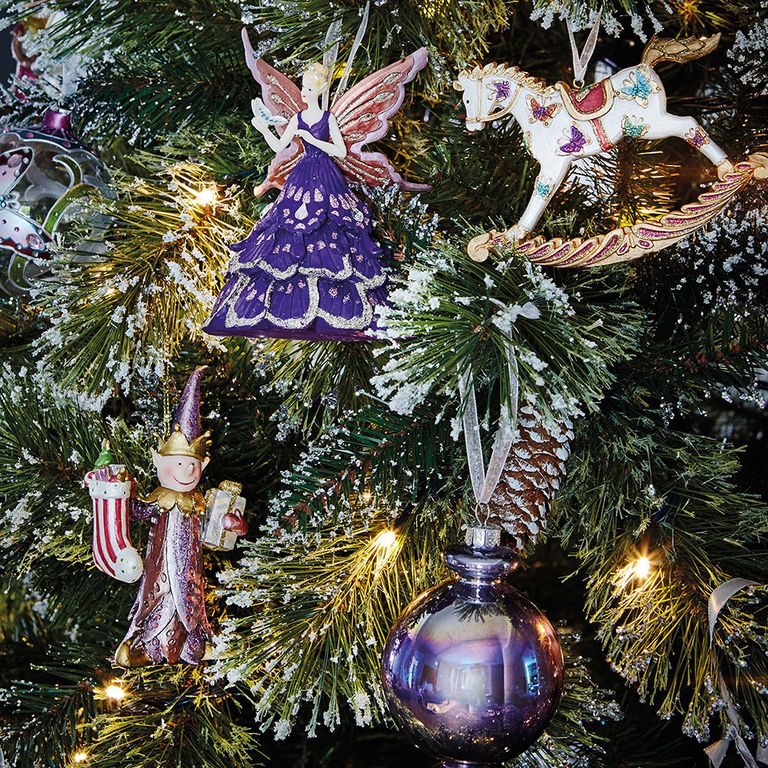 Distinguish your tree with these gorgeous Christmas tree decorations....
The main star of any home during the holiday season is a beautiful Christmas tree - which can't be done without phenomenal Christmas tree decorations. Tree decorations come in all shapes, colours and sizes, and it seems like they're available everywhere. With so many choices, it can be hard to avoid decision fatigue, so woman&home have assembled a versatile collection of Christmas tree decorations meant to inspire and help our readers.
These decorations come in the form of festive garlands and interesting tinsel and ornaments, which are joined by golden tree toppers and garlands that are sure to bring a smile to any face. When we're short on time, Dobbies is always a good go-to shop for on-trend Christmas tree decorations all in one place. Create a magical Christmas tree with stunning decorations like the purple fairy queen decoration and rocking horse decoration paired with iridescent baubles and an elf with stocking decoration, all available from £4.99. With decorations like these, it becomes so easy to create a whimsical fairy tale-inspired Christmas tree!
To get your dream decorated tree, start with lights - go for classic fairy lights or mix it up with fascinating ones shaped like candles, bells, or more. Once those are securely on, try an exquisite mix of beads and bunting, garlands and tinsel, or stick to ribbons with wire. We've even been seeing a comeback of vintage paper chains! Afterward, you can move on to more decorative fun. Unlike baubles, it is easier to find a variety of decorations in different sizes so experiment with oversized decorations and smaller ones too. We've liked the assortment of bird decorations available as ornamental clips: robins, songbirds and peacocks. With everything now on the tree, it's time to gently place your tree topper on top and enjoy your masterpiece!
The Contemporary Home 3D tartan Christmas tree decoration
Tartan is everywhere during the holidays and it's a trend that's been tastefully married with a contemporary wood construction to create this charming Christmas tree decoration from Gisela Graham. Layer on gold and red tinsel and add warm metallic details for a spectacular Christmas look. The Contemporary Home, £3.50
Prezzybox gingerbread man bunting garland
Cheer up any Christmas Scrooge's with this adorable gingerbread man bunting garland. Wrap this around your tree, and combined with the scent of pine needles, it'll create a merry Christmas atmosphere. Prezzybox, £11.95
Poundland Christmas two-tone blue tinsel
Blue is often an unanticipated colour on a Christmas tree - that's why we recommend it all the more so. It looks fabulously wintry when paired with an all-white Christmas tree and white poinsettias with sparkly baubles. Poundland, £1
Monty's Vintage Shop reindeer white garland
What dashing reindeer! Let these white metal reindeer prance around your festive tree on an chic modern garland like this one. Monty's Vintage Shop, £10
The Contemporary Home humming bird tree decoration
A deviation from the traditional red, white and green, create a colourful candy pop with these visually striking humming bird decorations. Each little acrylic humming bird shines with a rainbow array of colours for an affordable tree decoration that looks very expensive! The Contemporary Home, £4.50 each
Rigby & Mac carousel tin decoration
This nostalgic tree decoration will transport you to carnival days spent riding on the carousel with your favourite people. Make some new memories with your special ones with this endearing decoration. Rigby & Mac, £9.95
Debenhams gold star Christmas tree topper
We love a classic star tree topper, and this one does the job - but with a glamourous edge! The sparkly gold swirls will pick up the twinkle of fairy lights for a beautiful Christmas glow. Debenhams, £12
Nordic House bird tree ornament
Enjoy the beauty of nature with your family by adding these humble feather and fabric bird ornaments from Nordic House to your tree decorations. Clip one onto a bough for a rustic Christmas experience. Nordic House, £5 each
Dotcomgiftshop festive jingle bells garland
Jingle all the way when you adorn your tree with this garland. It's got all the makings of the perfect Christmas decoration - red and green and bells - what more could you ask for! Dotcomgiftshop, £8.95
Monty's Vintage Shop Christmas pompom garland
This pompom garland from Monty's Vintage Shop is a bestseller for a good reason. With incredibly soft pompoms interspersed on a seven-foot long string, it's an interesting alternative to a traditional popcorn garland. Monty's Vintage Shop, £14
B&Q 6 ft bauble garland
It's okay to cheat a little with this garland that comes with gold and white baubles pre-attached. Simply wrap it around your tree, dress it up with classic fairy lights and a gold tree topper and you'll have yourself a stylish Christmas tree in no time. (No one will ever know how easy it was!) B&Q, £18
Ginger Ray Christmas honeycomb baubles
Available right in time for the holiday festivities, these honeycomb baubles in crisp red and white will fit in with any Scandi decorations. Ginger Ray, £7.49
Poundland Jingle Brights peacock tree decoration
Peacock decorations add the perfect flair for any home tree. These vivid clips brighten any Christmas tree while bringing a display of elegance. Poundland, £1
Ginger Ray Christmas snowman & Santa paper chain decorations
Yes, they're back! We've been seeing retro paper chain decorations everywhere, and these fun snowman and Santa ones will be easy to assemble and hang up. Ginger Ray, £6.49
Dotcomgiftshop Scandi Christmas peg decorations
These Scandi-inspired Christmas pegs are a festive way to spruce up your Christmas tree, plus you can use them to hold up your favourite family Christmas photos and heartfelt cards from previous years. Dotcomgiftshop, £1.50
Nordic House round pine cone tree ornament
Indulge with these pine cone tree ornaments. Each one is carefully crafted with an antique silver finish for the perfect shine. Nordic House, £6 each
Wyevale Garden Centres stag head tree topper
Finish off your Christmas tree with one of the most unique tree toppers we've seen this season. Intricately woven with champagne-gold wire, this stag head tree topper is guaranteed to awe guests. Wyevale Garden Centres, £14.99
The Contemporary Home gingham tinsel
Red tinsel becomes instantaneously more chic when it's got a touch of gingham like this one from The Contemporary Home. It's so festive you'll be tempted to string it all around the house as well as the Christmas tree! The Contemporary Home, £5 for a pack of three
Dotcomgiftshop flickering Christmas candle LED tree lights
Did you know that LED lights are flameproof, fireproof and don't heat up? For a majestic Christmas tree, choose these stately candle lights which flicker for a realistic effect without the dangers of open flames. Each candle is attached to a clip for stability so you can place them at intervals for a regal touch to your tree. Dotcomgiftshop, £14.95