Royal family has 'no interest' in talking to Prince Harry at the Coronation - but two members will be the exception
Prince Harry will be 'snubbed' by many members of the Royal Family, according to insiders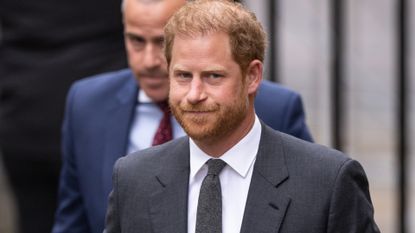 (Image credit: Dan Kitwood/Getty Images)
Prince Harry is likely to be 'ignored' by members of the Royal Family at King Charles's Coronation on May 6, but two of his family members 'won't snub him.'
---
Following the news that Prince Harry will attend King Charles's coronation in a few weeks, insiders have said that Harry was aware that the historic occasion will be "pretty much the most important day" of the King's life and knew he would regret not attending.
However, he is not expected to take part in either the King's Procession or the Coronation Procession to and from Buckingham Palace, nor will he be on the famous balcony alongside senior royals.
According to royal insiders, with his wife Meghan not there, this will leave Harry with only two allies - his cousins, Princesses Beatrice and Eugenie.
Royal sources have told the Daily Mail that the royal family has "no interest" in talking to Harry "beyond the most basic of greetings."
However, they added that Princess Beatrice and Princess Eugenie - who has stayed close friends with her cousin and visited him in California - may be the only "exceptions."
It's claimed that Prince William has no desire to speak to his younger brother after feeling hurt by his recent behavior, which includes accusing William of "attacking him" following a heated argument.
Harry and William will reportedly be separated and sat several rows away from each other, with organizers keen to make sure there aren't any public rows on the big day. In fact, they will be sat so far apart that cameras will not be able to get a direct shot of the pair together, according to the Daily Express.
While there is tension between Harry and many members of his family, it is thought that he's remained close to his cousins Beatrice and Eugenie.
Harry and Meghan are thought to have a particularly good relationship with Eugenie, who has visited them in California and has even considered moving stateside herself, with her husband Jack Brooksbank.
The similarities between Harry and Eugenie were recently revealed, with insiders pointing out that Eugenie is "following in Harry's footsteps" when it comes to her royal announcements.
Prince Harry's attendance at the Coronation will be bittersweet for him, as with his wife Meghan and two children at home, it means he will miss his son Archie's fourth birthday, which falls on the same day as the coronation.
But one person who is relieved that Meghan won't be attending is Princess Catherine, who according to insiders, had a hand in "preventing" Meghan attending.
Robyn is a celebrity and entertainment journalist and editor with over eight years experience in the industry. As well as contributing regular to woman&home, she also often writes for Woman, Woman's Own, Woman's Weekly and The Sun.