How Princess Eugenie is 'following Harry and Meghan's example' when it comes to royal life
Princess Eugenie is in a 'similar position' to Prince Harry and Meghan Markle, royal expert says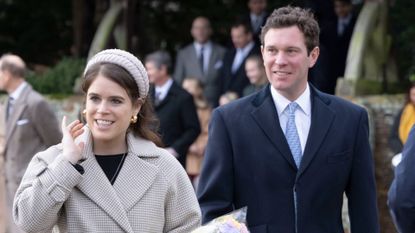 (Image credit: Photo by UK Press Pool/UK Press via Getty Images)
Princess Eugenie makes her royal announcements in a very similar way to Prince Harry and Meghan Markle, a historian has pointed out.
---
Buckingham Palace only confirmed Eugenie's pregnancy after she announced it herself. The official Palace statement read, "Princess Eugenie and Mr Jack Brooksbank are pleased to announce they are expecting their second child this summer. The family are delighted and August is very much looking forward to being a big brother."
This is a very similar scenario to how Prince Harry and Meghan Markle make announcements. The Sussexes revealed that their children Archie and Lilibet would be using their new Prince and Princess titles in the royal line of succession following Lilibet's christening - before the Palace announced it.
This suggests that Princess Eugenie is in a similar position to Harry and Meghan - none of them are working royals and therefore don't need to make announcements via the palace, a connection made by historian Marlene Koenig.
Referencing Eugenie's first pregnancy with her son August, she told the Express, "The Palace announced she was expecting her first child in 2020. This time they confirmed it rather than announcing it because Andrew no longer has an office. The first news of the second pregnancy was on her Instagram account."
"In a normal situation, members of the Royal Family use the official channels to make announcements, and I should point out that this applies to what has become the term 'working royals.'"
Adding how Prince Harry's situation is very similar to Eugenie's, Marlene added, "Harry is not a working royal, he is not obligated, and has no interest in using the Palace to make announcements about his family. Harry and Meghan do not come under the auspices of Buckingham Palace. They left."
"Harry is going to do his own thing. It's clear that he and his wife are determined to control their own narrative." She added that the Palace's press office "has no real involvement with Harry and Meghan" and that news about Harry and Meghan is "going to come from Harry and Meghan."
But while their situations are similar on the surface, there is one big difference between The Sussexes and Princess Eugenie. This is because it was recently reported that Harry and Meghan were 'hoping' that the Palace would announce Archie and Lilibet's titles before they did.
Robyn is a celebrity and entertainment journalist and editor with over eight years experience in the industry. As well as contributing regular to woman&home, she also often writes for Woman, Woman's Own, Woman's Weekly and The Sun.