Queen Camilla's go-to $5k good luck charm for 'courage and confidence'
Queen Camilla's $5k bracelet is one of her go-to pieces of jewelry - and it has a special meaning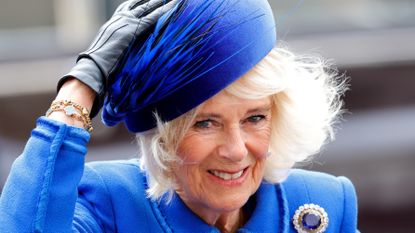 (Image credit: Getty Images)
Queen Camilla's go-to $5k bracelet is a symbol of calming courage and soothing confidence.
---
Queen Camilla's love affair with her favorite luxury jewelry brand, Van Cleef & Arpels, is clearly shown in just how often she reaches for her precious Vintage Alhambra bracelet.
The beautiful piece by the high-end name is one that Queen Camilla, who also wore a stunning $86k Van Cleef & Arpels Ballerina brooch last year, regularly teams with her signature style outfits, using the gold chain with royal blue motifs to add a regal pop of color to her looks.
The Vintage Alhambra Van Cleef & Arpels bracelet features a delicate 18k yellow gold chain with five blue agate stone motifs in the brand's signature four leaf clover silhouette.
The sought-after piece is priced at $5,208 (£4,250) on the official website, with the bracelet described as possessing "unique, timeless elegance".
Meanwhile, the matching Vintage Alhambra necklace with 10 blue agate motifs has a cool price tag of $10,411 (£8,500).
It seems that Queen Camilla's Van Cleef bracelet offers more than just a touch of expensive sparkle, with the pieces beautiful blue stones holding a particularly special meaning.
The blue agate stone is said to represent calmness, peace and soothing energy with Peace Love Crystals describing the gemstone as one that can "dispel fear, and impart courage, energy and strength, traits which increase self-confidence," adding that it can be used for "balance and harmony".
Meanwhile, jewelry expert Maxwell Stone explains, "Due to its clover design, the bracelet is said to bring the Queen Consort luck.
"Further symbolism lies in the inclusion of blue agate, which is a soothing stone, associated with imparting courage, energy and strength - this makes it the perfect stone for Camilla, who has a busy schedule of royal engagements that can place her out of her comfort zone and require her to make regular speeches."
And it's been speculated that a little boost in courage and confidence has been needed by Camilla following the death of Queen Elizabeth II, with the new Queen Consort stepping into her new high-up role at the top of the monarchy beside King Charles.
Body language expert Judi James recently pointed out that Camilla lacks the same self-belief and relaxed banter that King Charles has when it comes to interacting with the public, following the awkward moment she was given a burger crown during a visit to Colchester earlier this month.
Behavior expert Judi told the Express that Camilla "lacks easy social confidence".
"Queen Camilla's signals of ongoing awkwardness are visible in this 'moment' when a fan gifts her a paper crown from a burger bar," she added.