Queen Camilla's favorite luxury jewelry brand, Van Cleef & Arpels, started as a simple love story
Camilla knows a thing or two about following her heart despite the obstacles, so this could be why she's known to favor Van Cleef & Arpels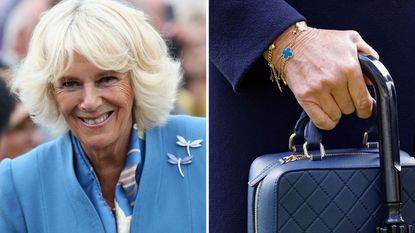 (Image credit: Getty)
The Queen Consort has a style all her own, and she's often sporting jewelry from luxury house, Van Cleef & Arpels. From a $5K bracelet she's known to wear frequently to playful brooches that hint at her quirkier nature, let's take a look at Camilla's Van Cleef collection – and a look at the brand's history.
Queen Consort Camilla regularly wears jewelry from Van Cleef & Arpels, known for their quality gemstones and intricate, more playful designs
As someone who defied convention to follow her heart, it's interesting to note that Van Cleef & Arpels started out as a romantic love story
---
While Camilla has settled into her role as Queen Consort with ease – meeting dignitaries with all the traditional elegance expected from a monarch – she's also not afraid to make her own mark.
From breaking from tradition with her coronation crown to wearing her husband's coat alongside a sparkling tiara, Camilla has brought something of her own style to the role.
And this is particularly true in her choice of jewelry. While she has dipped into the royal vaults, Camilla continues to wear the whimsical and colorful Van Cleef & Arpels pieces she favored before she was Queen.
Who are Van Cleef & Arpels?
As a luxury house, Van Cleef & Arpels have dressed the world's elite – from actual royalty to Hollywood royalty - in fine jewelry since its opening in 1906.
The brand's expertise is rooted in their procurement of rare stones and gem setting, with distinctive enameling, watchmaking and designs.
What's perhaps most charming about the brand is that it's all rooted in love – a perfect foundation for something as romantic and enchanting as jewelry.
The daughter of a precious stone dealer, Estelle Arpels, married the son of a stonecutter, Alfred Van Cleef, in 1895. A meet-cute plucked straight from the best of romcoms, their passions combined to build their first maison on 22 Place Vendôme in Paris. Their flagship boutique still remains at this legendary address until today.
And the rest, as they say, is history.
Everyone from Grace Kelly and Elizabeth Taylor to Wallis Simpson has worn the brand over the years, and now the Queen Consort of the United Kingdom is perhaps their most famous patron.
What Van Cleef & Arpels pieces does Queen Camilla wear?
Arguably one of the Queen Consort's favorite bracelets, she wears the Van Cleef & Arpels Magic Alhambra bracelet repeatedly.
The bracelet is defined by its distinctive blue agate and 18K yellow gold bracelet.
The brand describes its collection as "Faithful to the very first Alhambra jewel created in 1968, the Vintage Alhambra creations by Van Cleef & Arpels are distinguished by their unique, timeless elegance. Inspired by the clover leaf, these icons of luck are adorned with a border of golden beads."
If you love this bracelet like Camilla, it's still available to purchase. It costs around $5,110 (£4250).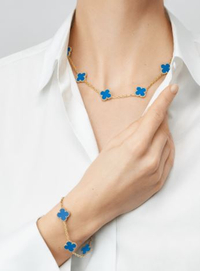 (opens in new tab)
Vintage Alhambra bracelet, 5 motifs, £4250 - Van Cleef & Arpels (opens in new tab)
The Vintage Alhambra creations by Van Cleef & Arpels are distinguished by their unique, timeless elegance. Inspired by the clover leaf, these icons of luck are adorned with a border of golden beads.
Perhaps as proof of her love for the brand, Camilla relied on her favorite brand to boost her confidence and make a mark during her first ever Buckingham Palace Garden Party back in 2005.
On a refined, pastel-looking pistachio green jacket, Camilla wore a pair of Van Cleef & Arpels Cosmos clip brooches. One of the diamond brooches is set in yellow gold, and the other is set in white gold.
Camilla's jewelry collection also contains a collection of brooches from the Parisian maison.
These include the Libellule dragonfly clip brooches, made of white gold set with diamonds and sapphires.
Recently, when welcoming Ballet legend Mikhail Baryshnikov to the Palace, the Queen Consort donned an exquisite Van Cleef & Arpels Bouton d'or Ballerina brooch, replete with 59 stones and estimated to cost around $86K.
Jack Slater is not the Last Action Hero, but that's what comes up first when you Google him. Preferring a much more sedentary life, Jack gets his thrills by covering news, entertainment, celebrity, film and culture for woman&home, and other digital publications.
Having written for various print and online publications—ranging from national syndicates to niche magazines—Jack has written about nearly everything there is to write about, covering LGBTQ+ news, celebrity features, TV and film scoops, reviewing the latest theatre shows lighting up London's West End and the most pressing of SEO based stories.