Inside Queen Camilla's family who have starring roles in King Charles' coronation
Queen Camilla's children and grandchildren will play big roles during her and King Charles' coronation next month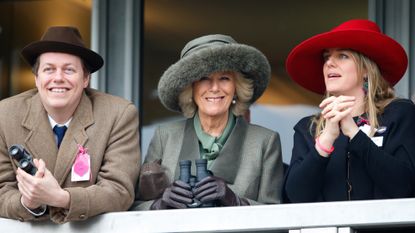 (Image credit: Getty Images)
Three of Queen Camilla's grandchildren have been given key roles during her and King Charles' Coronation ceremony.
King Charles and Queen Camilla are set to be crowned at the Coronation next month at Westminster Abbey.
And as well and Prince George being given the role of Page of Honor, it turns out Camilla's family will also have important roles in the historic event.
Before marrying King Charles, Camilla had two children with her ex-husband Andrew Parker Bowles; Tom Parker Bowles and Laura Lopes.
She now has five grandchildren on that side of her family; Lola, 14, and Freddy Parker-Bowles, 12, and Eliza, 15, Gus, 13, and Louis Lopes, 13.

Camilla is also grandmother to Prince William and Princess Catherine's children, George, nine, Charlotte, seven, and four-year-old Louis, as well as Prince Harry and Meghan Markle's children Archie, three, and Lilibet, one.
Despite her children preferring to stay out of the public eye, it has now been revealed that her three grandsons Gus, Louis and Freddy will be pages at the Coronation and will walk in the procession.
It's thought that Eliza and Lola will also have roles on the big day which will be announced over the next few weeks.
Eliza was a bridesmaid at the wedding of the Prince and Princess of Wales back in 2011 and was held up by Charles on the balcony.

Speaking about her relationship with her grandkids, Camilla previously said the little ones have shown her how to use TikTok and word app Wordle.
Meanwhile, Camilla's oldest child Tom Parker Bowles, will also be at the coronation with his children.
Tom shares his children with his ex wife Sara Buys, with the pair splitting in 2018. He went on to find love with journalist Alice Procope, but she tragically died in 2021 at the age of 42 after a battle with cancer.
Camilla's daughter Laura will also be in attendance at the coronation and currently works as an art curator.
She will be joined by her husband Harry Lopes, who is the son of a baron and is set to take over Gnaton Hall in Devon and the Skelpick estate in the Scottish Highlands.
Naomi is a news and lifestyle journalist and digital content creator with bylines in The Independent, The Sun, Cosmopolitan, and Fabulous. She covers a range of topics and currently works at Heart Radio in London.