Prince William's flirty comment that left Princess Catherine 'blushing' on fateful night that sparked their romance
Prince William was wowed by Catherine during one particular night at university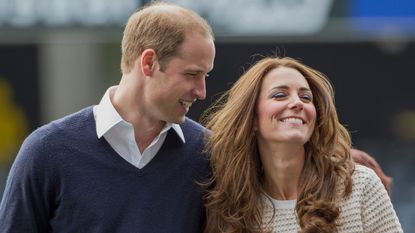 (Image credit: Getty Images)
Prince William's flirty comment that left Princess Catherine blushing during a fateful night out at university is said to have sparked the start of their romance.
---
Prince William and Princess Catherine famously found love at St Andrews University where they both met as young students in 2001.
While the Prince and Princess of Wales, who now mainly reside at Adelaide Cottage in Windsor with Prince George, Princess Charlotte and Prince Louis, were friends at first, they soon found romance.
The young lovebirds shared a blossoming love at university before they went on to get engaged in 2010 and married in April 2011 during their iconic wedding at Westminster Abbey.
And while Kate catching William's eye on the catwalk as she strutted scantily clad for a charity fashion show is one of the most famous stories about their budding romance, it's been claimed that the future King made Catherine blush with a flirty comment that night.
Along with reports that Kate earned herself a very flattering nickname in her first week at university, Vanity Fair once shared details of William's flirty chat with Kate after her impressive catwalk moment.
"He had paid £200 for his front-row ticket, and when Kate appeared in black underwear and a see-through dress William barely knew where to look," royal expert Katie Nicoll wrote.
A fellow St Andrews student who was at the event is said to have told the publication, "It was clear to us that William was smitten with Kate."
"He actually told her she was a knockout that night, which caused her to blush.
"There was definitely chemistry between them, and Kate had really made an impression on William," the friend of the couple added.
Despite their flirtatious encounter, William and Catherine remained close friends and went on to move in together, joining two other pals in a student house.
With their undeniable chemistry, it wasn't long before the relationship progressed and the two became more than friends.
Recalling their time at their student digs in Scotland during their 2010 engagement interview with Tom Bradby, William said, "We moved in together as friends because we were living together, we lived with a couple of others as well, it just sort of blossomed from there really.
"We just saw more of each other, hung out a bit more and did stuff," he added.
When asked if their housemates were fazed by their relationship, William went on to say, "I think at first they were a bit surprised that it had happened, then they realised it was really nice and it was good fun and we got on really well.
"They were good friends of ours as well so we had a good giggle with them as well."