Sporty Princess Catherine's fitness ritual she gets into her routine 'every morning'
Princess Catherine stays in shape with a dedicated morning fitness ritual, according to a royal expert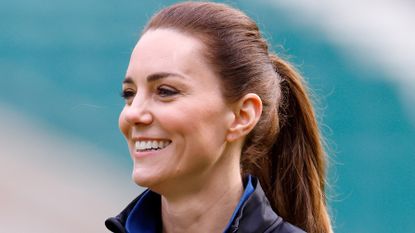 (Image credit: Getty Images)
Keeping fit is a key part of Princess Catherine's daily routine and she hits the gym 'every morning', according to a royal expert.
Princess Catherine is known for her sporty nature and loves to keep fit, making sure to find time for morning workout every day.
According to a royal insider, the Princess of Wales stays in shape and keeps healthy as she heads to the gym 'every morning'.
In other royal news, the shoe option Princess Catherine avoids for royal engagements has been revealed.
---
Princess Catherine is known for her love of keeping active, having taken part in sport from a young age, been on teams such as tennis and rowing in her years at school and university and always impressing with her athleticism on more active royal engagements.
A royal expert has claimed that Kate keeps her physical health in tip top condition and maintains her slim figure with morning dedication to the gym.
Speaking to OK! magazine, royal pro Tessa Dunlop said, "She's in the gym every morning and even her figure hasn't really changed."
Kate is said to love incorporating running, strength training, tennis and even CrossFit into her exercise routine, reportedly having enjoyed a countryside run with the Wales family's late cocker spaniel Lupo, before she passed away in 2020.
However, with new pup Orla having become part of the family in recent years, we imagine Princess Catherine enjoys all the benefits of running with her four-legged running partner nearby to Adelaide Cottage.
Zara Tindall's husband Mike Tindall previously shared an insight into Catherine's impressive stamina levels when he was asked which members of The Firm he'd choose for a rugby team, telling House of Rugby that he'd have Kate "on one wing".
He added, "She loves running, she can run all day. Engine!"
Princess Catherine also proved that she's no stranger to a spin class or high-intensity bike ride recently, when she thrashed Prince William at a cycling challenge on stationary bikes during a royal visit to Aberavon Leisure and Fitness Centre in Wales.
The pair were tasked with 45 seconds of cycling as hard as they could, with Kate wowing royal fans as she smashed the tough fitness test in a skirt and heeled boots.
Princess Catherine doesn't just stay fit, she eats healthily too. The Princess of Wales is reported to enjoy lots of fresh, nutritious food when it comes to her diet, opting for the likes of fresh fish and vegetables for dinner, superfood salads at lunchtimes and hearty oatmeal, fruits and vitamin-packed smoothies for breakfast.
When it comes to a night in with a takeout treat for dinner, Prince William once revealed that he and Kate are huge fans of sushi, while the Princess once confessed that an Indian curry is her favorite for a night on the couch with a boxset.
During an appearance on BBC Radio 1 in 2017, the pair were asked how they like to spend a night in, with Kate responding, "Curry, definitely," as William explained that they don't get the food delivered directly to them, with a member of staff going to collect it instead.
"It doesn't usually get ordered to the palace, we tend to go and pick it up."