Kate Middleton and Prince William's healthy takeout food they 'love'
Kate Middleton and Prince William's healthy takeout option is delicious and nutritious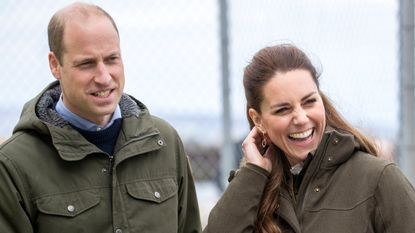 (Image credit: Getty Images)
Kate Middleton and Prince William's healthy takeout option that they 'love' was once revealed by the future King himself.
---
Before moving to Adelaide Cottage in Windsor in 2022, Prince William and Kate Middleton mainly resided at Kensington Palace's Apartment 1A with Prince George, Princess Charlotte and Prince Louis.
During a trip to Japan House, a nearby Japanese Restaurant in the heart of Kensington in 2018, Prince William divulged some information about his and Kate Middleton's eating habits.
Chatting to Japan House chef Akira, Prince William sampled some of the eatery's salmon sashimi.
"Thank you very much. My wife and I love sushi," he said, hinting that he and Kate are partial to a night in with some takeout sushi or a trip to a sushi joint.
"We might have to come down here for lunch when no one else is in," he added.
The Prince and Princess of Wales previously opened up about their love of takeaway Indian food, too.
During an appearance on BBC Radio 1 in 2017, the pair were asked how they like to spend a night in, with Princess Catherine confessing that curry is their go-to.
"Curry, definitely," Kate said, with William explaining that they don't get the food delivered directly to them, with a member of staff going to collect it instead.
"It doesn't usually get ordered to the palace, we tend to go and pick it up."
Prince William shared more details about what he goes for when it comes to ordering a curry, chatting to Peter Crouch on his podcast.
"Chicken masala. Love that, a bit of flavour. I'm not a vindaloo man put it that way," William joked.
Meanwhile, pizza is also on the menu in the Wales household. Although Prince William's messy couch dinners don't always go down well with Kate.
During a visit to a British military base in Cyprus, William joked with serviceman about spilling pizza on the couch.
He quipped, "Keep the pizza off the sofas!"
Proving that she and Prince William are just like any other couple when it comes to messiness, Kate replied, "You're a nightmare with that!"