Carole Middleton's flexible eating habit that helps her stay healthy and in shape at 68
Carole Middleton is said to follow a 'flexitarian' diet with vegan elements in order to stay in shape and keep healthy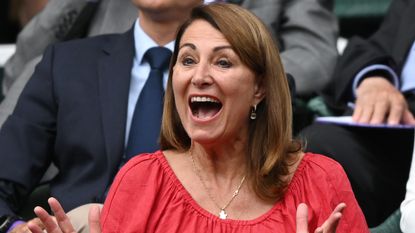 (Image credit: Getty Images)
Carole Middleton is believed to stay healthy and in shape with 'flexible' food habits and reportedly has a 'diet and exercise mentality' for keeping healthy.
Carole Middleton once revealed that she follows 'vegan' diet with some flexibility in order to keep fit and healthy.
Her own brother also shared that her impressive figure is a result of exercise and a good diet - a mentality that he says Carole has passed down to daughters Kate and Pippa Middleton.
In other royal news, Carole Middleton was left out in the cold in an awkward wedding blunder, an author has claimed.
---
Carole Middleton is said to focus on diet and exercise with a flexible mindset when it comes to staying in shape and looking incredible at 68.
The Princess of Wales' mother, who lives in Berkshire's Bucklebury Manor with husband Michael and is the proud founder of decorations business Party Pieces, once gave an insight into her eating habits, and it doesn't sound like she's too strict when it comes to food.
While Carole, who is partial to a soya milk latte, is thought to incorporate vegan elements in her diet after starting a plant-based diet several years ago, it sounds like she allows herself to stray from being 100% vegan at times.
Back in 2018 she told the Telegraph, "I've recently gone vegan. Or maybe that should be flexitarian."
Carole, who is grandmother to Kate and Prince William's children, Prince George, Princess Charlotte and Prince Louis, plus Pippa and James Matthews' children, Arthur, Grace and Rose, also opened up about how important she believes it is to teach her grandkids all about healthy eating and where food comes from, from a young age.
Chatting to Saga magazine about how she loves to grow her own produce and get her grandchildren involved in the garden, Carole explained, "Digging for spuds is fun at any age.
She added, "There's no better way to encourage healthy eating than to allow your grandchildren to see how food is grown and let them pick their own."
Meanwhile, Carole's younger brother, Gary Goldsmith, says that Carole has always been health-focused with her food and has passed a mentality of eating well to look good and feel good down to her own children.
"Carole has always looked after herself and eaten healthily," Gary told the Daily Mail.
He added, "That mentality of considering your diet and exercise is evident in the girls also."
Carole has also opened up about the important role her kitchen plays in her life, with the room being the heart of her home and kept warm by a toasty Aga oven.
She told Good Housekeeping, "I love a kitchen supper. Where I have a small number of guests.
"I'll cook something delicious and make it look lovely, then we'll finish with a kitchen disco."