Princess Catherine's very flattering nickname she earned in her first week of university
Princess Catherine quickly became known for her good looks when she arrived at university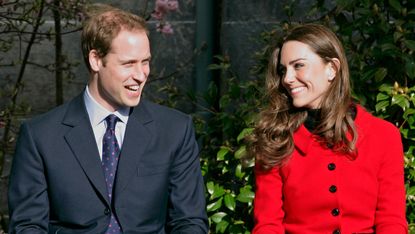 (Image credit: Getty Images)
Princess Catherine reportedly earned a rather flattering nickname within just days of life as a student at St Andrew's University in Scotland.
---
Prince William and Kate Middleton's love story is one that warms the hearts of royal fans all around the world, with the Prince and Princess of Wales having met at university, forming a friendship before finding budding romance.
The couple went from college sweethearts to loved-up and engaged when Prince William popped the question in 2010, with the pair tying the knot at their wedding at Westminster Abbey in April 2011.
Both Prince William and Princess Catherine, who now live at Adelaide Cottage with kids Prince George, Princess Charlotte and Prince Louis, arrived at St Andrews University back in 2001, with both residing at St Salvator's university halls, nicknamed Sally's.
After moving in to her new living quarters, Catherine reportedly quickly earned a name for herself thanks to her famous good looks.
According to Vanity Fair, "Kate Middleton had been crowned the prettiest girl at Sally's by the end of freshman week".
With Prince William also lived at St Salvator's, with royal expert Katie Nicholl going on to report that Catherine certainly caught his eye.
"He had noticed her as soon as he arrived. It was hard not to."
Despite being future King and second in the royal line of succession at the time, Prince William wasn't set apart from other students at university and could enjoy some freedom.
"William wanted to be treated the same as everyone else, and at St Andrews he was," the publication went on to reveal.
"The media had agreed with the Palace to leave the prince in peace after he granted the world's press a brief interview and photo call the day he arrived. He could walk down the street without being bothered and shop at the local Tesco grocery store."
Prince William and Princess Catherine shared an insight into their relationship during their 2010 engagement interview, after Prince William got down on one knee during a romantic trip to Kenya.
Chatting to journalist Tom Bradby, Prince William recalled how the couple came to be.
"We obviously met at university - at St Andrews we were friends for over a year first and it just sort of blossomed from then on," he simply said.
"We just spent more time with each other had a good giggle, had lots of fun and realized we shared the same interests and had a really good time."