The Queen's 'sharp' words to Prince William over her fears for Prince George
The Queen reportedly had 'sharp' words with Prince William over worries for Prince George's safety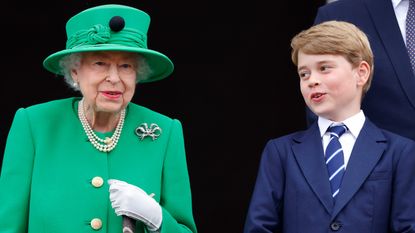 (Image credit: Getty Images)
The Queen is said to have had 'sharp words' with her grandson, Prince William, over concerns for young Prince George's safety when flying in the Wales family's helicopter.
A royal expert has claimed that the late Queen Elizabeth II wasn't happy with Prince William's decision to fly with young Prince George via helicopter.
The beloved monarch is said to have given her grandson some 'sharp words' over fears for George's safety, as heir to the throne.
In other royal news, these 'jaw-dropping' old pictures of Prince William with a full beard have got royal fans swooning.
---
The late Queen Elizabeth II is said to have expressed her concern over Prince William's decision to fly via helicopter with young heir to the throne, Prince George, reportedly having given him some 'sharp words' over it.
With the nine-year-old son of the Prince and Princess of Wales set to take the throne some day, author Robert Jobson has claimed that Her Majesty the Queen had concerns about the young royal flying by helicopter with his father, who is also in line to the throne.
In his new book, Our King: Charles III: The Man and the Monarch Revealed, the royal expert claims that the Queen had concerns about multiple heirs flying together, for fear of an accident, having to urge William to always keep 'succession' in mind.
Robert reports that the Queen was driven to have a word with William, after he flew to Norfolk via helicopter with his young son, presumably for a stay at Amner Hall.
"She had sharp words with William after he defied her wishes by taking a helicopter flight to Norfolk with all his immediate family," the book reads.
"She had warned him against flying with George in case of an accident, telling her grandson he always had to be aware of the succession."
Following the death of Queen Elizabeth II, Prince William is now first in line to the throne, with his father King Charles now monarch.
Prince George is second in line, with his little sister Princess Charlotte and little brother Prince Louis in third and fourth place.
Despite stepping back from royal life in 2020, Prince Harry remains in the line of succession in fifth place, with his own children Prince Archie and Princess Lilibet placed after him.