Kate Middleton's shiny hair is down to this £10 tool
Kate Middleton's hairbrush is set to go viral...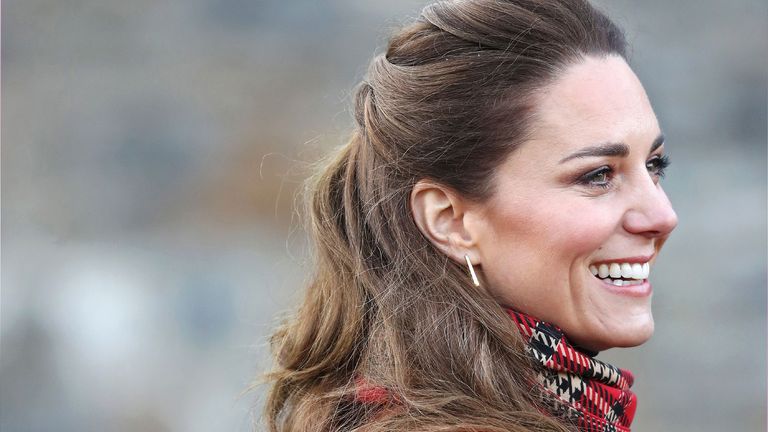 (Image credit: Britain's Catherine, Duchess of Cambridge smiles as she leaves after visiting Cardiff Castle in Cardiff in south Wales, on December 8, 2020, on the final day of her engagements with Britain's Prince William, Duke of Cambridge on their tour of the UK. - During their trip, their Royal Highnesses hope to pay tribute to individuals, organisations and initiatives across the country that have gone above and beyond to support their local communities this year. (Photo by Chris Jackson / POOL / AFP) (Photo by CHRIS JACKSON/POOL/AFP via Getty Images))
Kate Middleton's hairbrush should surely get an Instagram account of its own as we can't be the only ones obsessed with her shiny hair. 
Perfectly coiffed, it never puts a foot (or cuticle, should we say) wrong, whether Duchess Catherine opts for a classic up-do or relaxed beachy waves.
But let's face it, the new caramel block highlights do come with a price, whether you're a Duchess or not. Taking strands a lighter shade ups the risk of damage and dullness to an otherwise glossy head of hair. 
But somehow Kate has graciously side-stepped that issue.
So what is the Duchess of Cambridge's secret?
Interestingly, it's not something that will make your credit card break out in the sweat. It's a £10 detangling brush. 
Kate's hairdresser Richard Ward has waxed lyrical about his Tangle Angel since 2016 when he first started explaining its role in ensuring Kate Middleton's blow-dries looked healthy and full of bounce.
Of course, the combination of a glossy serum and smoothing the hair's cuticles with one of the best hair dryers will always encourage hair to reflect light. But according to trichologist Anabel Kingsley, the way we brush our hair is also a big factor in whether it stays shiny and healthy or simply snaps off.
According to Kingsley, boar bristle brushes are a too heavy handed "as they can remove sections of your hair's outer cuticle (its protective layer)." Metal prongs are another no-no as they overheat when you blow-dry, potentially burning both your scalp and hair. 
The key to the Tangle Angel's success are the bristles, explains Ward. "They are soft, they flex and return. They don't pull the hair, they separate and guide the strands smoothly. They are also heat resistant for blow-drying."
All of which elevates the Tangle Angel to hairbrush royalty. Who's putting their order in as we speak?