10 secrets to Queen Elizabeth's long life following her 95th birthday
Want to know how to age as well as the Queen? Follow Her Majesty's lifelong rules, says royal author Bryan Kozlowski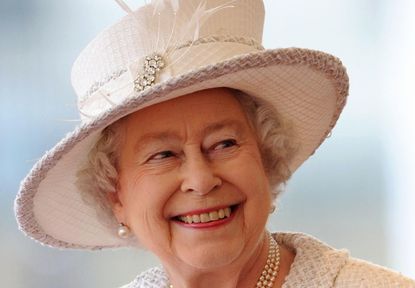 (Image credit: PA Images)
woman&home newsletter
Sign up to our free daily email for the latest royal and entertainment news, interesting opinion, expert advice on styling and beauty trends, and no-nonsense guides to the health and wellness questions you want answered.
Thank you for signing up to . You will receive a verification email shortly.
There was a problem. Please refresh the page and try again.
Ever wondered how old Queen Elizabeth II is? Well, once you know, it can feel as though singing 'God Save the Queen' is almost superfluous.
While for some, her longevity seems a natural by-product of royal privilege, good genes coupled with, perhaps, the luxury of never having to look for a parking spot—the Queen sees things very differently. Quoting Groucho Marx, she reportedly likes to say, "Anyone can get old. All you have to do is to live long enough."
But to age like Elizabeth II is another royal secret entirely. These, according to royal author Bryan Kozlowski in his book Long Live the Queen!, are her mindsets and secrets to copy, for longer and more regal life.
How old is Queen Elizabeth?
The monarch recently celebrated her 95th birthday on 21 April 2020, meaning Queen Elizabeth II has already fulfilled the national anthem's most elusive plea—long to reign over us.
The Queen actually has two birthdays however. While she celebrates her actual birthday in April, she also has an official birthday on the second Saturday in June. The monarch's birthday has been marked at this time for generations, in order to try and guarantee as far as possible good weather for her official birthday parade, Trooping the Colour.
Typically, Queen Elizabeth II celebrates her actual birthday privately with her family.
The secrets to Queen Elizabeth's long life
Queen Elizabeth II has no doubt lived a long, eventful, and impactful life—full of hard work, duty, and shaking many, many hands. So how exactly does she do it? Below, we explore the likely secrets to the monarch's longevity—and, surprisingly, some of them actually sound like a lot of fun...
1. Exercise 'intuitively'
The Queen has never technically worked out in her life, yet her physical stamina is iconic. 'I'm as strong as a horse,' she says. Her secret? Her Majesty has always kept her exercise light and pleasurable, often involving a brisk walk with her corgis. Doing so has kept her fit for decades, as she has never given up on the daily activities that give her most joy. In fact, walking for weight loss is a fantastic option for most people.
2. Indulge in playtime
Often an overlooked component of mental health, the Queen has kept up what most of us abandoned long ago: playtime. She still plays, every day, with the same things that thrilled her heart as a child, namely horses. From pretending to be a carthorse in the nursery to riding her Fell ponies today, her unbroken relationship with play has kept her body agile, and her brain young.
3. Rethink negativity
Hot, Hanoverian tempers have cursed many of the Queen's ancestors, which is why she was cautioned since childhood against indulging too often in negative mind chatter. She doesn't think it's helpful or wise to 'vent' or analyzes her negative feelings, nor brood on past miseries. 'Least said, soonest mended' remains one of her guiding royal maxims. Of course, we personally think it's great to talk out and about your problems, worries, or issues—but there can be value in not languishing too long on negative topics or emotions if you are able to focus on something more positive.
4. Enjoy adapting to life changes
When once asked how she copes with an endless round of duties and ever-evolving royal news, the Queen revealed a brilliant life philosophy. No matter how new, strange, or dull the experience, she explained that she "set[s] out to enjoy it". Psychologists call this crucial skill 'benefit finding'—looking for the good in every situation—which remains one of the top survival skills of the most resilient people.
5. Keep the faith—whatever that means to you
The Queen might be the titular Defender of the Faith, but faith itself has more accurately defended her. Saying prayers every night and attending church every Sunday have grounded her life with assurances that a higher throne has her back. When one's face is on coins, postage stamps, and banknotes, it's good to know 'Someone Else' is in charge. Of course, this one won't be relevant to all of us out there—but maintaining faith in a higher power, whatever that means to you (be it God, spirits, forces we don't understand, or even science), can be a great comfort in all of our lives in difficult times.
6. Drink with purpose!
Alcohol is an acceptable (sometimes essential) tonic for decompression in the Queen's life. Gin cocktails are her go-to, but she's always been what, in psychological vernacular, is called a 'self-transcendent' drinker, careful to indulge with bigger responsibilities in mind. She has taken more out of alcohol than it has taken out of her.
7. Remember to rest
Given the Queen's relentless work ethic, it's important to remember her balanced views on rest. We all need to 'hibernate', as the Queen puts it: to understand how we, as individuals, rejuvenate best. The Queen depends on annual pilgrimages to Balmoral Castle, her Scottish haven where she can reconnect with her basic need for solitude. Sleep-guided meditations and sleep apps can help you to unwind at night though—if you don't have a castle to escape to!
8. Don't deny yourself the odd treat
When it comes to food, the Queen is famously unfussy, but she does cherish her teatime routine – a sacred break when she pushes work aside and indulges in something sweet. It's a brilliant key to her grasp of willpower. Similar to the battery on your mobile, willpower needs daily recharging in order to operate at peak condition, recharging best when we give ourselves permission to indulge.
9. Honor your purpose
A sense of purpose has kept the Queen consistently upright, as it does for many who continue to embrace their true calling long after normal retirement age. The Queen has, of course, a very powerful sense of duty as the monarch—but your purpose could be to anything that means something to you, be it your family, friends, work, or hobbies that you are passionate about.
10. Embrace aging
Like her long-lived mother before her, who reached the age of 101, Elizabeth II seems born for old age, becoming warmer and more adaptable as the decades go by. As the Queen Mother often said, 'Things are much more fun past 80.' Looking at the Queen, it's great to know that aging often means more fun, less pressure, and a chance to indulge in your passions.
---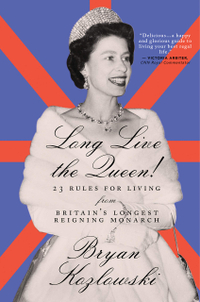 (opens in new tab)
Bryan Kozlowski is the author of Long Live the Queen: 23 Rules for Living from Britain's Longest-Reigning Monarch
The Queen is famous for her longevity and physical stamina—and for the first time, this books delves into the secrets and little known strategies behind the monarch's iconic and much-admired resilience.
---
Byan Kozlowski is a lifestyle and British-culture researcher, bookworm, and Dickens devotee. A member of the Dickens Fellowship, his writings on Charles Dickens' life and legacy have appeared in Slate, Country Life magazine, Anglotopia, and Historic UK.
His books include the children's book Cook Me a Story (Quarto), Long Live the Queen! and The Jane Austen Diet, along with three previous books, and his works have been featured in Vogue, the New York Times, and The Washington Post.