Yellowstone 1923 prequel: When does the Paramount drama start, who narrates the trailer and who's joining Helen Mirren and Harrison Ford in the cast? All we know so far
The Yellowstone 1923 prequel is almost here and the teaser trailer has given us a glimpse of the action-packed moments set to come in this new show...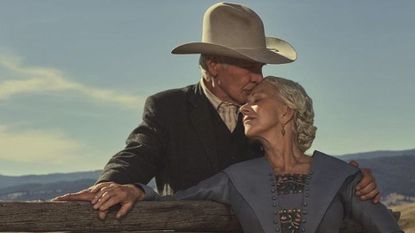 (Image credit: James Minchin III/Paramount+)
The Yellowstone 1923 teaser trailer has landed and if it hasn't got you eager to know what lies in store for this generation of Duttons we don't know what will!
If the premiere of Yellowstone season 5 wasn't already enough excitement for one day after months of asking ourselves questions like what we can expect from Beth Dutton, Paramount+ have also now released the teaser trailer for the Yellowstone 1923 prequel, originally titled 1932. Back in May it was announced that Helen Mirren and Harrison Ford were teaming up for the Taylor Sheridan-created show. Now fans have been treated to their first glimpse of them in action as Jacob and Cara Dutton.
The teaser might be brief, but it's packed full of details and as fans make their way through season 5 of Yellowstone and TV shows like Yellowstone they might well also be wondering more about 1923 and how long it could be until it lands.
Here we reveal what we know so far about about the Yellowstone 1923 prequel start date, narrator, cast and, of course, what we've learnt from *that* teaser…
*Warning: Spoilers ahead!*
When does Yellowstone 1923 start?
It's official! The countdown to Christmas just got that little bit brighter this year as it's been confirmed that December 18, 2022 is when 1923 starts for US and Canada-based viewers. For any fans living in the UK and Australia you have only to wait an extra day, until December 19, to enjoy all the intense moments in 1923 yourself. Further global premiere dates have yet to be confirmed and 1923 is reportedly set to run for two seasons, each consisting of eight episodes. To enjoy 1923 this December you simply have to ensure you have a subscription to Paramount+ and for Sky TV customers Paramount+ is also available via this if you have a Sky Cinema subscription.
What have we learnt from the 1923 trailer?
Like all trailers, whilst we might not know exactly what lies in store in the full series, we've been given plenty of intriguing moments and details to reflect on in that 1923 trailer. Taking place 40 years after 1883 (another Yellowstone prequel), it focuses on Dutton family patriarch Jacob (Harrison Ford) and matriarch Cara (Helen Mirren). The 1923 trailer begins as it means to go on - with fast-paced action and emotional turmoil.
We see someone horse-riding at speed through a herd of sheep followed by a scene of a man on the ground, his horse fallen beside him, desperately reaching for a gun. The narrator declares resolutely, "Violence has always haunted this family."
It is then that Jacob appears riding into shot, followed by scenes of gunfire, someone seemingly being beaten in a frenzy and a shot of Cara rising, concerned, as someone enters what looks to be her home.
The narration calmly continues, "It followed us here from the Scottish Islands, the slums of Dublin and it followed us here. And where it doesn't follow, we hunt it down. We seek it."
Cara is no stranger to using a gun, it seems, as we next see her holding one and looking grimly at a man whose identity remains unknown. The 1923 trailer draws to a dramatic conclusion with epically tense music, scenes of gun-wielding horse riders and, ultimately, a shot of Jacob with his rifle, his eyes turning suddenly towards the camera in shock.
The trailer introduced the new characters, both Duttons and outsiders, in suspenseful style. And it's clear that the era the show is set in, which sees Prohibition, the Great Depression and Western Expansion all take place, was one of serious challenges for the family that ties all the Yellowstone seasons and spin-offs together.
There is a sense of gritty lawlessness about the trailer and we definitely feel the Duttons continuing the legacy set up by James and Margaret Dutton in 1883. Now established in Montana since James and Margaret moved from Texas, the Duttons look to have plenty to contend with in 1923.
Who is the 1923 narrator?
The 1923 narrator might sound more than a little familiar if you loved fellow Yellowstone prequel 1883. According to PEOPLE, the narrator of the 1923 teaser trailer is Elsa Dutton, another ancestor of Yellowstone's primary family and the daughter of James and Margaret Dutton. It certainly sounds like Elsa, who also narrated parts of 1883, and this would also be a lovely link given that 1923 is a direct sequel for 1883, chronology-wise. Given her sad passing in 1883 she also definitely has the hindsight from beyond the grave to speak those chilling words about her family, too.
Who's in the 1923 cast?
The Yellowstone 1923 cast:
Harrison Ford as Jacob Dutton
Helen Mirren as Cara Dutton
Brandon Sklenar as Spencer Dutton
James Badge Dale as John Dutton Sr
Marley Shelton as Emma Dutton
Darren Mann as Jack Dutton
Michelle Randolph as Elizabeth Stafford
Robert Patrick as Sheriff William McDowell
Aminah Nieves as Teonna Rainwater
Sebastian Roché as Father Renaud
Jerome Flynn will be Banner Creighton
Jennifer Ehle as Sister Mary
Julia Schlaepfer as Alexandra
Brian Geraghty as Zane
Timothy Dalton as Donald Whitfield
The 1923 cast is led by Star Wars icon Harrison Ford as Jacob Dutton, brother of James Dutton and husband of Cara, who is played in the show by Dame Helen Mirren. She might've played Queen Elizabeth II but here she is the Queen of the Dutton Ranch as the family matriarch. They are joined in the cast by Brandon Sklenar as Jacob's nephew Spencer, James Badge Dale as Jacob's nephew John Dutton Sr and Marley Shelton as John's wife Emma.
The Dutton family has also extended beyond these generations in 1923, with Darren Mann playing John and Emma's son Jack, who is Jacob's great-nephew and a loyal rancher. Michelle Randolph plays the very capable Elizabeth Stafford who is set to marry into the family and Robert Patrick stars as Sheriff William McDowell, who is a friend of the family.
Aminah Nieves plays Teonna Rainwater who is a young woman at a governmental residential boarding school, with Sebastian Roché as Father Renaud, the principal of a school for the Native American community. Game of Thrones' star Jerome Flynn will be Banner Creighton, with Jennifer Ehle as an Irish Nun at the school, Sister Mary, Julia Schlaepfer as British woman Alexandra, Brian Geraghty as ranch foreman Zane and James Bond himself, Timothy Dalton, as powerful Donald Whitfield.
Opening up to Vanity Fair about playing Jacob Dutton in the new Yellowstone 1923 Paramount show, Harrison Ford described his character as a "silverback".
"He's the silverback," he explained. "He's responsible for that branch of the family. These are two people with a very strong bond to each other who are facing really complicated circumstances."
He also revealed that Jacob and Cara, who have been married for many years are still "wrapped up in each other" in 1923.
"Their lives are totally wrapped up in each other," Harrison said. "There's very little that sustains them other than themselves and the hard work and investment they put into their future and their family. It is a tough life, and it's full of not just physical challenges but moral ones as well."
Whilst Helen Mirren shed some intriguing light on her approach to playing Cara and why you won't hear her character speaking with an American accent.
The Oscar-winner said, "I see Cara as an immigrant. One of the things I very strongly wanted was that she would speak with an Irish accent, not with an American accent. It's always slightly annoyed me with Westerns that you have all these people speaking with modern American accents when in fact so many of them were fairly recent immigrants."
She continued, "The big Irish immigration to America, because of the potato famine, was in the late 19th century. That absolutely chronologically works for Cara. She's now in her late 60s, we imagine. So she would've come, I think, as a young woman from Ireland. I think that's one of the extraordinary elements of America. The people who arrived, and are still arriving, are people with enormous resilience and enormous courage and independence."
It's the dawn of a new era. #1923TV arrives December 18, exclusively on #ParamountPlus. pic.twitter.com/9lcPE0jbrbNovember 14, 2022
See more
Meanwhile, when it comes to Helen's perception of Jacob as a character, she shared that the Duttons need someone like him.
"You need someone who is capable of making decisions, and hopefully making the right decisions, but at least making a decision and going with it - in other words, a leader," she disclosed. "That's what has propelled them into this position of running the ranch, running the family, being the linchpin around whom, at this moment in time, the family revolves."
The Yellowstone 1923 prequel premieres on December 18 in US and Canada and December 19 in UK and Australia.
Sign up to our free daily email for the latest royal and entertainment news, interesting opinion, expert advice on styling and beauty trends, and no-nonsense guides to the health and wellness questions you want answered.
Emma is a Royal Editor with seven years of experience working in digital publishing. Her specialist areas including literature, the British Royal Family and knowing all there is to know about the latest TV shows on the BBC, ITV, Channel 4 and every streaming service out there. When she's not writing about the next unmissable show to add to your to-watch list or delving into royal protocol, you can find Emma cooking and watching yet more crime dramas.