Who's getting married from Love is Blind season 4?
After a chaotic season, we finally find out which couples could make it to the altar...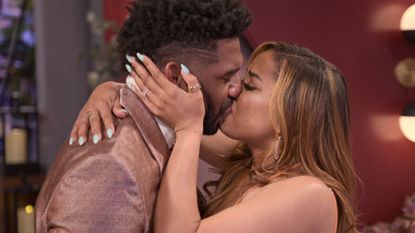 (Image credit: NETFLIX)
After a season of high highs and low lows, all episodes of Love is Blind season 4 are out for the world to see... and we finally find out which couples could make it to the altar.
*Spoilers ahead.*
As is the case with any reality TV show, especially the dating ones, Love is Blind season 4 has proved to be quite the tumultuous one. After Micah and Irina's "mean girl" behavior, all of the singing (we're still recovering from this), and the complication and love triangles that went on between some of the cast members, the season is coming to a close.
At the end of every season of Love is Blind, viewers get the satisfaction of seeing which couples make it to the altar after dating in the "pods," heading to Mexico post-proposal, and living together. Of course, some couples can withstand the test, and other couples really can't.
Here's who we think will make it through the "I Do's" from season 4 of Love is Blind.
Paul and Micah
After meeting the parents, Micah and Paul seem to be headed into smooth sailing. However, things go south after Micah's friends express a disdain for Paul.
Then, Kwame and Micah have a bit of a flirtatious exchange at Chelsea's birthday party. But, aside from that, her relationship with Paul seems to remain steady, and we predict that the two will indeed make it to the altar. In fact, we're positive she does, because in a previous trailer for season 4, Micah is seen at the altar saying, "In this moment, the best thing I can do for us is give you the opportunity to answer first."
We'll have to see if the couples makes it beyond that point.
Chelsea and Kwame
Chelsea and Kwame have been the epitome of "will they/ won't they" throughout this season. Although the couple undeniably has had a strong connection, a series of roadblocks have been standing in their way. For one, Kwame and Micah have had unresolved tension and feelings that have lingered throughout the whole of the season, which has certainly caused strain between him and Chelsea.
Additionally, Kwame's mom has made it very clear to him that she does not approve of their relationship - so much to the point that she refuses to meet Chelsea. He also reveals that if he does go to the altar, he'd have to move from Portland to Seattle for Chelsea - a place where he has no friends or family.
Although we do see footage of Chelsea trying on wedding dresses, we haven't seen any of her at the altar with Kwame. So, we think the odds of them making it to "I Do's" are slim.
Jackie and Marshall
Jackie and Marshall were off to a great start. Aside from a breakdown she has in Mexico, the couple is smooth sailing - until they move in together.
Things start to head south after the couple is revealed to have some off-camera tension. Jackie notes in a clip that Marshall and her "don't have sex" and then the two begin drifting apart.
Then, in enters Jackie's other love interest from the pods, Josh, who Marshall was very adamant about asserting his power over in previous episodes. Then, later on, Jackie is seen hanging out with Josh, where Josh pleads her to choose him.
But then, Jackie is seen hugging Marshall, saying, "Just love me." So, whether they end up together or not at the altar is really anyone's guess.
Brett and Tiffany
These two, dare we say it, are relationship goals. Although, of course, no couple is perfect, Brett and Tiffany are pretty damn close - especially in comparison to the other couples we see in this season.
After their romantic Mexico getaway, and then a few blissful weeks of living together, in episode 8, Brett confidently declares that he has no doubts, and he thinks they're "gonna make it."
Although the teaser trailer for the upcoming episodes pointed to Brett appearing to look a little stressed on their wedding day - he says, "This should not be happening," although we aren't sure of the context - we have no doubt that these two are kismet and in it for the long-haul.
Zack and Bliss
Ahhh, Zack.
Before Irina and Zack got engaged in the pods, he initially had a very strong crush with another woman in the pods, Bliss.
Bliss warned Zack about Irina's behavior, telling him that she found her to be mean - but Zack went ahead and proposed to Irina anyway, leaving Bliss in the dust. From there, Irina and Zack both self-admittedly had a "horrible" time in Mexico, where Irina constantly would ignore Zack's bids for physical connection and would make snide remarks about him - not to mention her flirting with Paul on the side.
Once Irina and Zack officially called it quits, he reached out to Bliss in hopes of reconciling their relationship. Although Bliss is hesitant at the beginning, the two have a connection that is undeniably stronger than his connection with Irina was - but is it strong enough that he feels ready to be together forever?
Apparently, yes, because he proposes to her on a boat date that the two have in episode 7. Bliss admits that she feels like a "second choice" - but Zack assures her that she's not, and he has every intention of staying with her beyond the altar.
Madeline Merinuk is woman&home's US lifestyle news writer. She covers celebrity, entertainment, fashion, and beauty news but is also obsessed with internet trends - you can find her reciting trending TikTok sounds out loud at any given time.
After winning multiple student journalism awards for her investigative work, she graduated from Hofstra University in 2021 with a B.A. in Journalism. After graduating, she worked at today.com, the digital site for the Today Show, where she wrote pop culture news and interviewed big-name personalities like Emily Ratajkowski, Haley Lu Richardson, Emma Corrin, and more.
Her personal interests, in no particular order, are: cheese, Joni Mitchell, reading, hot yoga, traveling, having multiple chapsticks in every handbag at all times, and dancing to ABBA songs as if she were in the Mamma Mia movies.