Who is the next Bachelor? Zach Shallcross goes from contestant to bachelor
At the end of a pretty dramatic The Bachelorette finale, host Jesse Palmer announced that fan-favorite Zach Shallcross will be the next Bachelor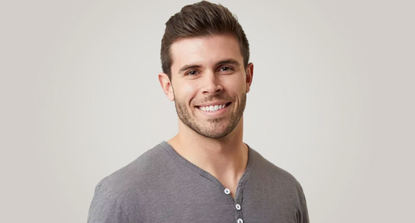 (Image credit: ABC)
woman&home newsletter
Sign up to our free daily email for the latest royal and entertainment news, interesting opinion, expert advice on styling and beauty trends, and no-nonsense guides to the health and wellness questions you want answered.
Thank you for signing up to Woman & Home. You will receive a verification email shortly.
There was a problem. Please refresh the page and try again.
Ladies and gentlemen, meet the new bachelor: 26-year-old tech executive Zach Shallcross, who hails straight from Anaheim, California.
The announcement was made during The Bachelorette finale to an audience already familiar with Zach. In fact, the bachelor was part of Gabby Windey and Rachel Recchia's season as a contestant before he made the decision to leave the show, claiming he felt like he didn't meet the real version of Rachel after their fantasy suite date.
Jesse Palmer introduced Zach earlier this week but fans will have to wait until January 23, 2023 to scrutinize his journey to finding his soul mate on the 27th season of the franchise.
WHO IS ZACH SHALLCROSS?
Currently based in Austin, Texas, Zach graduated from California Polytechnic State University back in 2019 and currently works as a senior cloud technology sales executive at Oracle.
"Zach's perfect woman is compassionate, kind and ready for romance because Zach is excited to lay it on thick," reads the bachelor's biography that was published on ABC while he was a contestant on The Bachelorette. "He loves to plan thoughtful surprises, and nothing makes him happier than seeing the look of excitement on his partner's face when his meaningful gifts are appreciated. Zach is serious about finding a love that will lead to marriage, so whatever grand romantic gesture it takes for him to get there, he's ready to go!"
HOW FAR DID ZACH GET ON THE BACHELORETTE?
Competing on the latest season of The Bachelorette, which just wrapped up this past week and featured two main women for the first time in the franchise, Zach made it pretty far. Choosing to pursue Rachel (the bachelorette ended up picking Tino Franco but, spoiler alert, that relationship is now over), Zach decided to leave the show after his fantasy suite date.
"In the morning, I'm expecting to feel more in love with the future Mrs. Shallcross," Zach said on camera during the episode. "Nothing coming out of tonight can change that."
However, following their night together, Zach had a change of heart. "It's like we were two strangers," he said. "I don't know what it could be but Rachel's concern [about my being 25 and being ready for marriage] came out of nowhere. I think it's bulls**t, to be honest. She was putting on a front. That scares me. That scares me a lot."
Right before the rose ceremony, Zach explained his feelings again.
"I was more than ready to get on one knee," he said. "The Rachel that I was falling in love with, I trusted her enough at least to show me her real self and I don't think I got that. And I still don't know why or how. What was that Rachel I was getting. That's the biggest concern to me."
At that point, Zach took Rachel to the side and expressed his insecurities connected to their relationship.
"That Fantasy Suite felt a little off," he said to the bachelorette then. "Since day one I've always been honest with you. I thought what I was seeing wasn't the real Rachel, what I was seeing was Bachelorette Rachel. I did really love you. I saw a future with you but I need to go."
While in the car driving away from the mansion, Zach spoke up about the situation once more. "It's over just like that," he said to the camera. "I could just see in her eyes that it really meant something different to her than it meant to me. I don't know what I missed. This still doesn't feel real, because she was, in my mind, the future Mrs. Shallcross."
HOW DOES ZACH FEEL ABOUT BEING THE NEW BACHELOR?
Zach is clearly very excited to star in the upcoming season of The Bachelor.
"I'm ready to go again," he said to PEOPLE in a new interview about the recent announcement. "I'm more excited than anything. I just want to start already."
In the article, Zach also went into detail about what he's looking for in a potential wife. "There are really two main things that I look for and first is how kind and compassionate they are," he said. "I think that's something that's pretty rare nowadays. The other thing is having someone that loves to do fun, adventurous stuff with me, whether it's traveling, trying cool foods."
What he is certainly not looking for is chaos, though. "I know it's kind of inevitable when you're in a house with 30 others and there's going to be arguments or conversations that don't go that well, but I'm not a fan of the drama," he said. "If there's a lot of drama going on in the house, what it tells me is that they're not really serious and why they're there is probably more for finding Internet fame or whatever it is. So I'll probably be pretty quick to cut that out."
As for what his experience on The Bachelorette taught him now that he'll be on the other side of the relationship, Zach mentioned the importance of honesty.
"One of the biggest lessons I learned was I'm a guy that typically wears his heart on his sleeve," he said to the magazine. "If you can show your emotions and not be scared about it, I really think that's an important attribute, but in my case, I think I fell in love really hard and really fast and I didn't necessarily take a step back and look at the entire situation from her perspective."
Sign up to our free daily email for the latest royal and entertainment news, interesting opinion, expert advice on styling and beauty trends, and no-nonsense guides to the health and wellness questions you want answered.
Anna Rahmanan is a New York-based writer and editor who covers culture, entertainment, food, fashion and travel news. Anna's words have appeared on Time Out New York, the Huffington Post, Fortune, Forbes, Us Weekly, Bon Appetit and Brooklyn Magazine, among other outlets.